Ticket pricing meeting with Fulham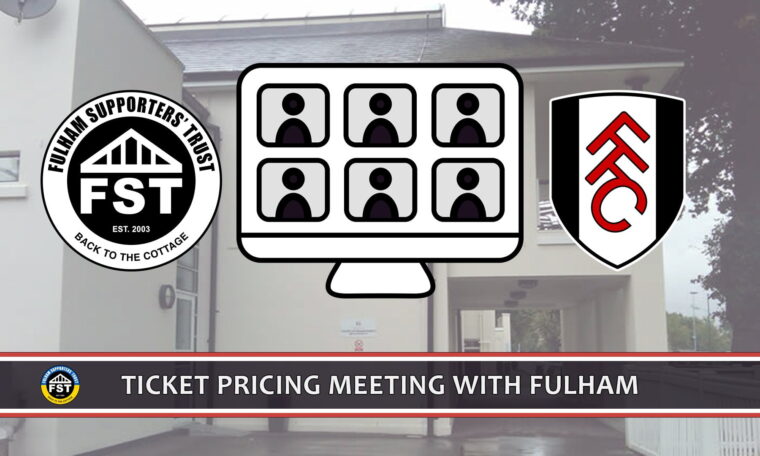 On Thursday 14th July, representatives of the Trust (Tom Greatrex, Ian Clarke and Sarah Keig) met with Fulham CEO Alistair Mackintosh, Marketing Director Matt Lowery and Head of Ticketing Katy Brecht to discuss the recently announced matchday ticket pricing for the Liverpool fixture.
This was a single agenda item meeting, arranged at short notice, and with a limited time slot. The Trust requested that some of the August meeting be set aside for consideration of options and suggestions that we would bring forward, informed by surveys of the fanbase, for pricing of other fixtures this season.
Communication of pricing
The Trust stated how disappointed we were that, despite the Memorandum of Understanding, the rules the Premier League are putting in place on supporter engagement and extensive work we carried out on ticketing in 2019, there was no prior discussion, forewarning or opportunity for the Trust to provide input into matchday pricing. We said that the greatest impact will be on supporters who, for whatever reason, do not have or cannot commit to a season ticket. To have had no engagement, despite requesting information on matchday pricing, suggests to Trust members that the Club does not take this dialogue seriously when it comes to issues which most impact upon most supporters.
The Club responded that, in retrospect, they should have discussed matchday pricing with the Trust ahead of release, and that there was now an opportunity for us to influence pricing for subsequent fixtures. The Club also reminded the Trust that they had asked for (and were given) feedback on season ticket pricing in other areas of the ground at the time the Riverside lower tier season tickets went on sale.
Rationale for ticket prices and wider ticketing strategy
Liverpool prices
The Trust asked about the rationale for the Liverpool pricing, particularly in comparison with other London clubs playing "category A" opposition for their first home games.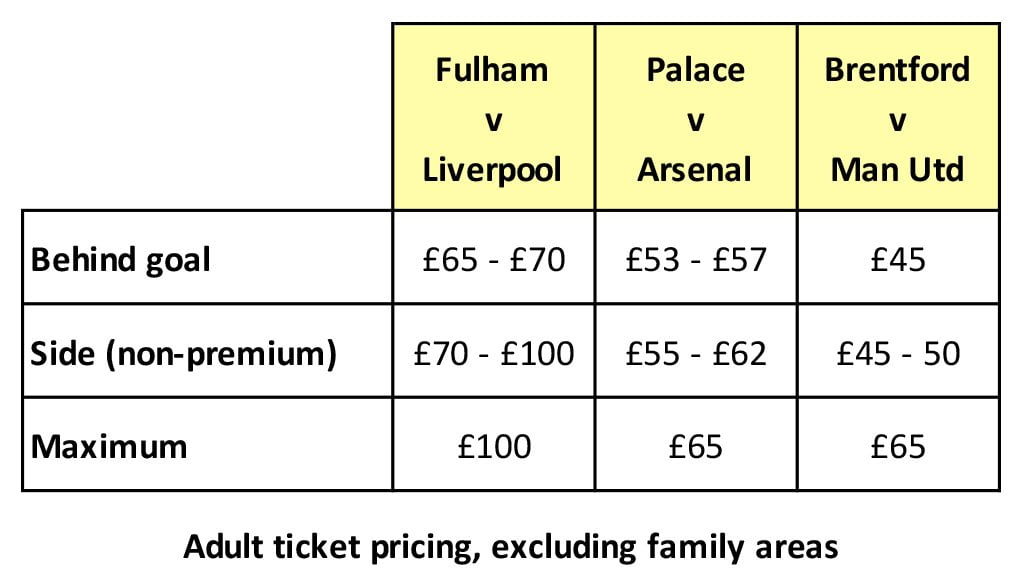 The Club described Liverpool as a one-off game, although other games may have the same category designation, and said the ticketing model is to have a high proportion of ground capacity as season tickets at reasonable prices, with higher prices for individual games to meet revenue targets.
We also raised concerns expressed by supporters about the very low discounts for concessions (£5) and prices for under 18s that have increased significantly since last season (over 200% in some cases).
The Club reiterated the one-off nature of the game and advised that tickets will sell out quickly and they could have charged more given the demand, but this would not be the usual level of pricing.
Since the meeting, the Club have announced that the Liverpool match has sold out. It seems that a small number of tickets were made available to season ticket holders but the majority were sold to members.
Other fixtures
The Trust also asked why, unlike a number of other clubs who have multiple game categories (e.g. Leicester, Southampton, Aston Villa, Spurs of clubs who have announced prices so far), the Club does not publish matchday prices for all fixtures for the season, enabling supporters to plan ahead.
The Club responded that their model is designed to assess demand in setting prices for each fixture, so they can be flexible in pricing and optimise supply and demand. This means they will decide pricing for each match when tickets go on sale. The Club are therefore unable to state how many fixtures are in each category and are unwilling to confirm the pricing for each category, as it is subject to change. The Trust pointed out that the description of Liverpool pricing as a "one-off" was therefore not necessarily accurate.
Impact on long-standing fans
The Trust asked the Club whether they could see the impact this will have on long-standing fans without season tickets, and that this was effectively making available matchday tickets "tourist" tickets rather than geared to regular attenders, with prices out of the reach of many of the fans who supported the Club when demand was not so high. A jump on promotion from £35 maximum (2021/22) to £65 for the same adult Hammersmith End seat was out of reach for many such fans regardless of the opposition.
The Club responded that whilst people have focused on the £100 tickets, there are relatively few of them and that they would sell to Fulham fans, because members have first priority. The Trust challenged that view, knowing that ticket touts and one-off ticket purchasers, be they tourists or supporters of away teams, can and have purchased memberships to access tickets. The Club countered that the Trust do not know that those buying tickets for the Liverpool fixtures are not all Fulham supporters. We suggested we would likely be able to judge that relatively easily on the day.
Away fans in home areas
When asked how they will deal with the possibility of away fans in home areas where they are clearly identifiable by seat numbers, the Club responded that memberships will be cancelled, as will other memberships based at the same address. In relation to tickets bought via third-party sites, the Club explained that they have supported people claiming refunds from their credit card companies in exchange for information on who they bought the tickets from or how they purchased their tickets.
Memberships
The Club confirmed that they will not refund membership packages sold to fans who now judge ticket prices to be too high, and have decided not to buy tickets. They reminded the Trust that membership packages have benefits beyond a £5 discount for a home match ticket, including access to away tickets and other benefits.
Verbal abuse of ticket office staff
The Club mentioned that ticket office staff had received some verbal abuse about ticket pricing. The Trust immediately agreed that this was not acceptable in any form, we did not condone it under any circumstances, and that we would make this clear via our social media channels.
Fan feedback
To illustrate the level of anger, frustration and disenchantment felt by many long-standing supporters, The Trust quoted from some of the feedback received from the fanbase, including people who previously might have questioned ticket prices but ultimately bought them, who simply cannot afford these prices given the increases in cost of living.
Incredibly sad that during these financially difficult times Fulham has chosen to make it impossible to get a reasonably priced ticket for a game


via FST email
I can't think of any way I could justify to my wife (or myself) spending more than our family's weekly food budget on a ticket for a single game. I'm sickened by it.


via Fulham Lillies Twitter
My son is about 7. He attended his first game 4 years ago. He went to 3 home games and caught the bug. Last season he had his first season ticket. He has another this season. Now had the cost of taking him back then been £50-£70, adding on a 250-mile roundtrip and all other costs I wouldn't have taken him, he wouldn't have caught the bug and he'd probably be supporting Bristol City instead of being the 4th generation of Fulham in his family.


via FST Twitter
It's short-term gain for a few quid but long term it doesn't build the club who will be there in the future


via FST email
I can't afford to pay these prices. I've been going since the 80's. There's no point in me having a season ticket due to my shift work. I work more weekends than I get off. It's disgusting but they will still rely on my support if we go down or play a less fashionable club.


via FST email
The Club acknowledged the strength of feeling, but in relation to concerns expressed on the impact on building the future fanbase, pointed out that in the family areas there are around 500 matchday tickets, priced at £30 for adults and £20 for juniors. The Club stated their business plan is to optimise revenue and attendance given FFP constraints and that they price matchday tickets accordingly, with those tickets focused on going to Fulham fans.
The Trust restated our view that many of those Fulham fans feel priced out, and pointed out that across a season the overall increase in income from selling matchday tickets at the highest prices (rather than something similar to Crystal Palace) equated to under half of the difference in merit payment from finishing 16th as opposed to 17th in the Premier League. We emphasised that we did not ask for or expect any revenue reduction to be funded by the owners given their already very large financial commitments to the Club, but rather by balancing the budgets differently when choosing where to spend.
Impact on diversity
The Trust also cited recent work we have been involved in through HerGameToo, with the newly formed Fulham Lillies group and with the local Age UK branch to encourage and introduce more women, girls and local older people to Fulham, both for men's and women's teams, and queried how it would be possible to do that with tickets at such high prices.
The Club responded that they intend to continue to find ways to encourage new fans, working with the Fulham Foundation and other groups, and would be pleased to hear ideas and work with the Trust on how that can be done given the constraints on current capacity.
Next steps
The Trust confirmed that we will be surveying the fanbase and exploring a number of ways in which the Club could seek to mitigate the impact of what are some of the-highest published matchday prices in the League, provide greater recognition of long-standing supporters in selling tickets to members and encourage a larger fanbase, considering we will soon have a much higher capacity to seek to fill.
The Trust concluded by reiterating our view that the ticket pricing for the Liverpool fixture is damaging to the reputation of the Club across football, gives the impression of seeing a proportion of the fanbase as expendable, and undermines the connection between Club and supporter. The Club and its ownership have frequently referenced the importance of the supporter base and the character and history of the Club as being integral to its identity, and respecting the game's traditions. Disillusionment on this issue is real, and if not addressed, the Club should not expect that it will just dissipate.