The Fulham Supporters' Trust is run on a voluntary basis by a board of Fulham supporters elected from its membership.
Any member of the FST is welcome to stand to become a board member when elections take place. At the most recent election in August 2018 a board of nine members was elected. A tenth board member was co-opted in November 2018 to add further skills to the group.
Tom Greatrex
Gerry Pimm
Sue Couch
Owen Smith
Ian Clarke
Dan Crawford
Chris Gilbertson
Les O'Gorman
Archie Rhind-Tutt
Jerry Cope
The formal roles of Chair, Secretary, Membership Secretary and Treasurer were allocated at the first meeting of the new board. Additionally members of the board have areas of responsibility for which they take the lead in Trust activity.
The current board is drawn from a number of industries including business, politics, media, property and finance and the broader Trust membership has an even more diverse set of skills.
Tom Greatrex (Chair)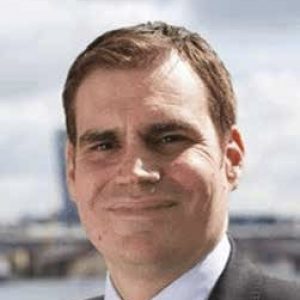 @tomjgreatrex
I think the voice of Fulham fans is very important, both in good times and bad. As a fanbase, we have had to communicate, persuade and sometimes campaign for the best interests of our Club, and maintaining Fulham in Fulham, back at Craven Cottage
Day job
Chief Executive of the UK's civil nuclear industry trade body.
Joined Trust Board when?
Back in 2002, I was one of the initial group that formed Back to the Cottage  – and when it was formed as a Trust in 2003, I was the first Chair. After moving to Scotland in 2004, I stood down – but got back involved again and became Chair for a second time in 2016.
Why are you on the Trust board?
To help ensure that there is an effective, representative voice for Fulham fans – as relevant in the good times as the bad.
Why are you a Fulham fan?
First got dragged along as a young child by my dad, as he had been by his – so never really had a choice.
What's most important to you about Fulham?
The character of the Club, that is so tied up with our ground. Craven Cottage is an integral part of why our Club is not only special to us, but also fans of of many other clubs. We should always be vigilant about protecting and safeguarding our home.
First match
The first game I remember actually watching properly (rather than running up and down the mostly empty terrace for a few years previously) was a 0-0 v Carlisle in 1984.
Favourite ever player
Steve Finnan – underrated, consistently good, dependable but integral part of our rise back to the top level.
If I was a Fulham player I'd be
Living the dream.
On match days you can find me …
In different parts of the ground match by match – but most often somewhere in the Johnny Haynes stand. Jolly Gardeners in Putney pre-match at the weekend, and The Old Suffolk Punch on FPR midweek.
Best ever Fulham moment
Going back to the Cottage, never imagined I'd be emotional about a pre-season friendly v Watford…
Worst ever Fulham moment
Being tipped off that the then owner was manoeuvring to abandon Craven Cottage for a soulless stadium in White City while publicly saying something very different
Gerry Pimm (Secretary)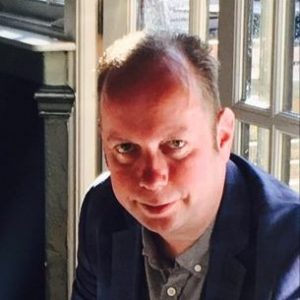 @gerrypimm
I am passionate that we stay at Craven Cottage, a ground synonymous with the Club and rich in history and heritage. I believe we should continue to keep holding the Club's 'feet to the fire' in a constructive way whilst evolving to meet the needs of Fulham supporters. 
Day job
Manager at the Bank of England
Skills
Working 24/7/365 and still being able to have the odd pint.
Joined Trust Board when?
Co-opted in February 2017, elected in August 2018
Why are you on the Trust board?
My main passion has been about staying at the Cottage. However, the chance to affect things positively for our members and fans and working with like-minded Fulham fans has been a real bonus. Also the chance to speak to leading Club officials about our issues. A rarity in the football environment.
Why are you a Fulham fan?
Dad worked in Bishops Palace and the Cottage was the obvious ground to go to when his sons wanted to watch football.
What's most important to you about Fulham?
Craven Cottage
First match
I think Watford v Fulham in the FA cup 1983 (Watford being our local team at the time)
Favourite ever player
Very tough call. Four if I may from different eras: Ivor, Sean Davis, Clint Dempsey, TC
If I was a Fulham player I'd be
Tom Cairney – stylish and cool. Obviously.
On match days you can find me
H3 and pubs on the Hammersmith bridge side.
Best ever Fulham moment
Wembley 2018– a dream finally came true. Off the pitch, winning the various battles against mergers and the threats to the Cottage
Worst ever Fulham moment
The real prospect of Fulham Park Rangers. On the pitch, Fulham 0 Hayes 2.
Sue Couch (Membership Secretary)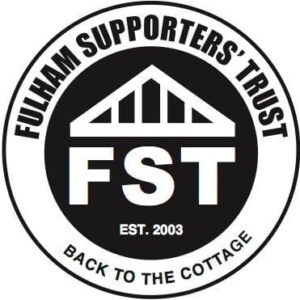 Supporters need a voice, particularly perhaps in the Premier League where the concerns of ordinary fans risk being lost in the machine of corporate sponsorship. I feel the Trust should represent the generations who have supported Fulham through thick and thin, and who still spend their wages and time demonstrating this commitment.
Day job
Amongst other things I manage a subscriptions database of thousands, which gives me a little practice for when the FST membership grows that big.
Joined Trust Board when?
In November 2018. I have supported Fulham since 87/88, and I was almost immediately co-opted onto the Supporters Club committee as Press Officer after David Lloyd stepped down to concentrate on TOOFIF, and I was closely involved in the Fulham 2000 and Back to the Cottage campaigns. I am the only female on the board, and would love to feel I can represent the other women and girls who support Fulham as well. There are plenty of us, so please make your voices heard and contact me via the Trust. There's room on the Board for at least one more of us too.
Why are you a Fulham fan?
I am a Fulham fan because of having the pure good fortune of moving nearby with a football crazy six year old whose dad was a lifelong Fulham supporter. My dad was West Ham and I hadn't really thought about football for years, but suddenly I got Fulham and Fulham got me. From the start I loved the humour of the (then) terraces and the generosity that our fans showed one another. I always felt safe, on my own or with my boy. Fulham seemed to attract the funnier, more self-deprecating, more thoughtful SW London fans and I've always seen that as strength rather than weakness. And we have enormous resilience – just don't mistake our good nature for a lack of passion.
What's most important to you about Fulham?
Memories, I think, and heritage and history. The memories of fans who have been supporting through all the ups and downs, taking care of our heritage for the future generations, and our memories of those who are no longer with us. These are integrally tied to Craven Cottage – Fulham should always play here in this ground on the banks of the Thames and our battles to preserve the Cottage have all been worthwhile. The FST is here because of those battles fought by fans, from fledgling spontaneous groups handing out leaflets in Fulham and Shepherds Bush, to the more organised committee-led FULHAM 2000 and BTTC. We owe everyone involved in those earlier campaigns a huge debt of thanks.
On match days you can find me …
I have a season ticket in H7. You can contact me via the Trust email address.
Best ever Fulham moment
Watching the players walk out at Old Trafford when we reached the Premier League under Jean Tigana – I cried. Seeing that giant Fulham flag on the pitch at Hamburg, before the game. I'll be perfectly honest and say the result didn't hurt me at all. The pinnacle was being there. And of course, Wembley last year. 
Worst ever Fulham moment
Leaving the Cottage for Loftus Road and fearing that we'd never return.
Owen Smith (Treasurer)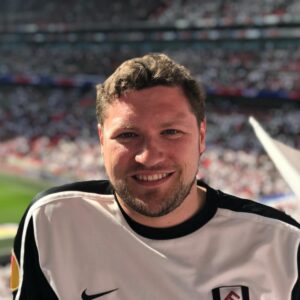 @OSmithFFC
I would like to leverage skills from my work in business to help the Trust to improve the matchday experience and grow the club on and off the pitch.
Day job
Asset manager
Skills
Financial forecasting, modelling, deal negotiation and accountancy.
Joined Trust Board when?
August 2018
Why are you on the Trust board?
From the operating side I am a qualified accountant and the Trust Treasurer. On the Fulham side I bring, I believe, a different point of view to the table being a younger fan who hasn't grown up in London.
Why are you a Fulham fan?
Dad wouldn't let me have it any other way! Thanks Dad.
What's most important to you about Fulham?
Staying at Craven Cottage, modernising while not losing track of what makes Fulham special and the team not being totally awful.
First match
Lost 1-3 to Portsmouth in 2005/06. Malbranque scored a cracker, Michael Brown nearly snapped Sean Davis's leg in two. A Fulhamish result best summed up by Chris Coleman : "We beat Chelsea, drew at Villa but then we got over-excited and lost this one".
Favourite ever player
Simon Davies, he's from Solva in South Wales which was on my doorstep growing up in South Wales. Also…that goal.
If I was a Fulham player I'd be
Adil Chihi, because I'd be pulling one heck of a prank masquerading at being a footballer.
On match days you can find me …
Bit of a nomad pre and post game to be honest. A mix of The Brick, Durrell, Oktoberfest, Fox & Hound. Midweek most likely the Temperance. At CC you can find me in H7, row BB.
Best ever Fulham moment
Wembley day! The game will never be topped for moments of sheer euphoria. Smiling now thinking about it. Was the best day supporting Fulham made all the more special sharing it with the people I go with to games and all of our families.
Worst ever Fulham moment
There have been a few dark days over the last 15 years but the standout for me was the moment Hull equalised as we blew a 2 goal lead in 2014. I still maintain and believe that, at least on paper, there were 3 worse teams than us that year but we just kept shooting ourselves in the foot. That goal going in was pretty dark and for me was the moment we really knew we'd blown it.
Ian Clarke
@_Ian_Clarke
When the Trust was first established the future of the club at Craven Cottage was endangered. Fortunately, we're now living in better times, but we should always be vigilant; that's why I've remained a member of the Trust since its inception. Now that we're back in the world of big TV deals and sponsorships we need to make sure the supporters aren't forgotten.
Area of responsibility
Ticketing, web site
Day job
Business consultant, helping companies fix problems with their operations.
Skills
My day job is all about understanding how businesses work, asking difficult questions when necessary.  I'd love to use my experience to help Fulham adopt a 'supporter first' attitude.
Joined Trust Board when?
I was part of the initial board of the Trust when it was formed in 2003 out of the BTTC movement.  The moment Craven Cottage was under threat I wanted to be a part of the campaign to save it.  I have remained a member ever since but was re-elected to the board in August 2018.
Why are you on the Trust board?
The Trust has made huge strides over the last decade and currently has a constructive relationship with the Club. I want to help strengthen that relationship to ensure that when decisions are made Craven Cottage and Fulham supporters come first.
Why are you a Fulham fan?
At my primary school you were either black and white or blue.  I always had good taste so chose correctly and never looked back.  Once I'd been to the Cottage, like most people, I fell in love with it and I couldn't be dragged away, even though the football was often terrible.  It didn't take long before I had a season ticket and was a regular on the supporters' coach (more often than not it was just one coach).
What's most important to you about Fulham?
Craven Cottage and Fulham are synonymous.  One without the other is unthinkable and there is no finer place to be than at the Cottage under the floodlights.  There's also something extra special about Fulham supporters.  We may not be the most numerous or always the loudest, although we definitely have our moments, but I'm proud to be a Fulham fan.
First match
My Dad first took me in the late 1970s but unlike many fans I don't really have a clear memory of my first match.  The earliest I can remember is a 1980 defeat to Cambridge in the run-up to relegation.  I doubt I realised how painful the next 15 years would become.
Favourite ever player
My hero was Gordon Davies and I don't think he will ever be replaced as my favourite player.  In recent years Brede Hangeland was an absolutely perfect fit for Fulham.  The way he conducted himself on and off the pitch was exemplary.
If I was a Fulham player I'd be
Terry Angus.  A wholehearted centre back with tons of enthusiam although perhaps not always the most skillful – a description that best sums up my very limited Sunday league career.  I always loved the way Terry played with a smile on his face.
On match days you can find me …
… in the Crabtree before and after home matches where my season ticket is in the back row of H4.  I travel to all the away matches too, usually by train.
Best ever Fulham moment
Of course Wembley was brilliant, but if I could wind back and relive just one Fulham moment in time it's the pandemonium as Clint Dempsey's chip hits the back of the Hammersmith End net to beat Juventus.  I thought Craven Cottage could never be that loud, although Zoltan Gera versus Hamburg and Denis Odoi against Derby came pretty close.
Worst ever Fulham moment
There have just been too many of them.  As a youngster it was every time I heard that the club and the ground were in danger of disappearing; I was inconsolable.  The thought of Fulham Park Rangers still makes me shudder.  On the pitch Swansea away in 1994 to confirm relegation to the bottom tier stands out for all the wrong reasons.
Dan Crawford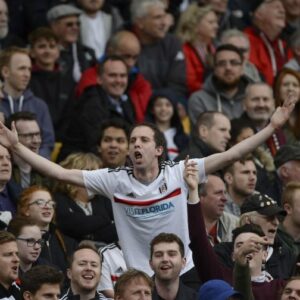 @dancrawford85
We have made significant progress in representing the fans' views to the Club and building a better relationship between the fans and the Club. I am proud of our work in establishing a regular meeting between both parties and the signing of the Memorandum of Understanding.
Area of responsibility
Communications
Day job
Journalist/Media consultant, Local councillor for the Labour Party
Skills
Communicator, wordsmith, negotiator (allegedly)
Joined Trust Board when?
Joined the Board for the first time in 2009 and have returned since after a couple of spells away.
Why are you on the Trust board?
I was involved with the Back to the Cottage campaign and remained a member when we formed a Trust. I have become passionate about supporter involvement in football clubs and want to do my bit to further the interests of Fulham fans.
Why are you a Fulham fan?
I was taken to watch my first Fulham game by my neighbours when I was very young. Even though the football wasn't great, I was immediately hooked. Everything about the experience was incredible – and I begged my Dad to take me to the next game as soon as I got home.
What's most important to you about Fulham?
Craven Cottage.
First match
I can't remember which game was my first, but it would have been in the very early nineties. I remember an enthralling comeback from 3-0 down at home against Hull City in 1993 – and being convinced that we would get promoted as a result, but that proved to as wide of the mark as most of my Fulham predictions ever since!
Favourite ever player
Nick Cusack – classy on the ball and incredibly versatile. A mainstay of one of my favourite Fulham sides – the team promoted under Micky Adams from Division Three.
If I was a Fulham player I'd be
I have no footballing ability whatsoever as my friends will tell you. The most unkind of them would suggest I'd be a Mark Fotheringham type in central midfield, whilst I'd outrageously claim to be more like Chris Baird.
On match days you can find me …
My pre-match routine usually takes me to the Chancellors, where I'm happy chatting about Fulham, the Trust and most topics in one of the few remaining traditional Fulham pubs.
Best ever Fulham moment
Probably the Europa League semi-final against Hamburg and, specifically, the superb goal by Simon Davies that gave us all hope. Wembley runs it exceptionally close though.
Worst ever Fulham moment
Any of the times it looked like we'd be losing Craven Cottage – because the ground means so much to me. Exile at Loftus Road really hurt, especially as at times returning home seemed such a forlorn hope.
Chris Gilbertson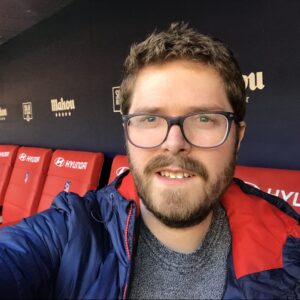 @ChrisGilbertson
I strongly support the FST continuing to promote a strong working relationship with Fulham Football Club. I believe it is only through a strong, two-way, relationship that the FST can truly further the voice of FFC fans
Area of responsibility
Riverside Stand
Day job
Chartered Surveyor
Skills
Property & Business
Joined Trust Board when?
July 2012
Why are you on the Trust board?
The Riverside Stand development is one of the key ongoing issues for Fulham supporters. As a Chartered Surveyor, I try to use my professional expertise to help the FST make regular and relevant contributions to such an important development for the future of our beloved club.
Along with my professional capacity as a Chartered Surveyor I am a local resident in SW6. I feel passionately that the Fulham Supporters Trust should have a key voice in issues local to Craven Cottage. I strongly support the voice of locally resident Fulham fans in the community.
Why are you a Fulham fan?
I did not grow up a Fulham fan as a child, having no local professional team near where I grew up. Being able to go to matches was always important for me. Upon going to my first Fulham game it was like something clicked, this was the club for me.
What's most important to you about Fulham?
Craven Cottage. It is not just that we have an architecturally significant and beautiful ground, but also what Craven Cottage symbolises and what it evokes. It is the history, the uniqueness, the character and the charm. The location is unparalled with Bishop's Park, the River Thames and Fulham itself as nice an area for a football stadium that any fan could ever wish for.
First match
Fulham v Portsmouth at the Cottage. We won 3-1 and my enduring memory is of Brian McBride scoring the second.
Favourite ever player
Zoltan Gera. He was everything you could want in a Fulham player, great on the ball and clever with his play, yet unassuming off the pitch. His play as Bobby Zamora's foil in the Europa League run was a joy to behold and no player could have encapsulated our improbable run in a more perfect manner than Zoltan and his celebration against Hamburg. I've also always had a soft spot for some of our Scandinavian players, Erik Nevland, Brede Hangeland and now Stefan Johansen. I'm probably also the only Fulham fan to have owned both Bjorn Helge Riise and Leon Andreasen shirts.
If I was a Fulham player I'd be
Jean Michael Seri. £80k a week doesn't sound too bad!
On match days you can find me … (inc where you sit, pubs etc)
I live in Fulham with my wife and baby daughter and go to matches with my Dad. Before the match we'll be at home having lunch as a family before taking our seats in the Riverside Stand.
Best ever Fulham moment
Wembley. TC scoring, the #FFCWhiteWall, the tension and the pure elation of victory. It was and will forever be one of the best days of my life.
Worst ever Fulham moment
Relegation is a bit cliché, and I was on my stag do in France on the day it was confirmed in 2014 so I was able to distract myself (plus we knew it was coming). My worst moment is really a series of moments, all at Villa Park, where I've seen us lose in the last minute more than once. One particular occasion my Dad and I were sat high up in the Doug Ellis Stand having gone as guests of some Villa supporting friends, we deserted them at half time to retreat to an empty section of the stand where we could sit and talk about the game openly. Unfortunately Andy Weimann scored a last minute winner and we had to sit and watch the entire ground celebrate.
Les O'Gorman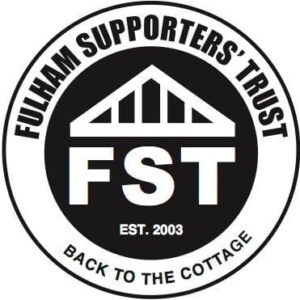 @lesffc
My longevity as a supporter means I've seen the great highs and the massive lows. I've managed to 'do the 92' and I've travelled to some far off and not very glamorous places, so feel I'm a good person to represent my fellow supporters. Together we are stronger.
Area of responsibility
Matchday experience
Day job
Retired (early)
Skills
As an ex Union Rep. I've had a lot of experience negotiating at a high level of management. 
Joined Trust Board when?
August 2018
Why are you on the Trust board?
To try and be a link between the club and supporters.
Why are you a Fulham fan?
My Grandad became a Fulham supporter when he came to this country from Ireland, this was passed onto my dad then onto me then onto my daughters.
What's most important to you about Fulham?
The club identity as being slightly left field, we don't do things the way other clubs do, also no one else has a ground like Craven Cottage.
First match
Fulham vs Man Utd, 23 March 1960, Fulham 0 Man Utd 5
Favourite ever player
Graham Legget.
If I was a Fulham player I'd be
Johnny Haynes, skilful, silky and debonair.
On match days you can find me …
Johnny Haynes Stand G block.
Best ever Fulham moment
Championship Playoff Final
Worst ever Fulham moment
The time around Marler Estates, Fulham Park Rangers etc.
Archie Rhind-Tutt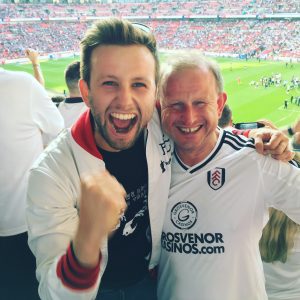 @archiert1
Living in Cologne and talking to people within the game has given me a much better insight into how German football stays in touch with their fans. The way they deal with issues such as ticket prices, your average fan's experience and maintaining club's traditions is something that I bring to the table. The best for the club is preserved by a strong Supporters' Trust. As someone in their mid-twenties, ensuring that the number of young people involved in the trust in years to come is something I also want to be a part of.
Area of responsibility
International fanbase, ticket pricing
Day job
Freelance football reporter, covering the Bundesliga for Fox Sports, BBC, the Independent, and the Guardian's Football Weekly podcast, amongst others.
Skills
Media, Communication.
Joined Trust Board
August 2018
Why are you on the Trust board?
To ensure the club stays in touch with the fans and to try and keep ticket prices affordable.
Why are you a Fulham fan?
When I was seven, I went to the Cottage the season before Jean Tigana arrived and the whole feel of the place had me hooked. My Dad and I became season ticket holders the following season. So began the ups and downs that come with following this club!
What's most important to you about Fulham?
The fans because they are the ones who help to shape the character of the place.
First match
Fulham 1-1 Nottingham Forest – April 2000
Favourite ever player
Brede Hangeland. Embodied everything that the club should stand for, both as a player and his common decency off the pitch. That he always made a point of running over to the Fulham fans before every away game was a classy touch.
If I was a Fulham player I'd be
Chris Baird. Might take me a while to adjust to my surroundings but an attempted utility player!
On match days you can find me
These days, following updates on my phone somewhere in a Bundesliga stadium but if I'm back, usually at the Golden Lion.
Best ever Fulham moment
The day out at Wembley with my Dad.
Worst ever Fulham moment
Watching us win away at Brentford under Felix Magath and knowing that it would only prolong his time at the club.
Jerry Cope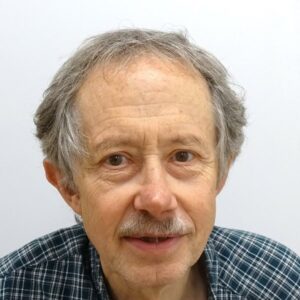 @CopeEwart
It is critical to the future of football, a game I love, that Clubs and fans get closer together – I would love to help that a tiny bit.
Day job
I do a portfolio of quite a few things, maybe the main one is Chair of London South Bank University.
Skills
Negotiating, finance, analysis, sorting out problems.
Joined Trust Board when?
Co-opted December 2018.
Why are you on the Trust board?
To help bring the Club closer to its fans.
Why are you a Fulham fan?
Grandfather's influence.
What's most important to you about Fulham?
The Cottage
First match
Sheffield United 21 Jan 1961 (lost 6-1!)
Favourite ever player
Simon Morgan because he pushed his limited talent as far as it could go, and went to visit my best football friend when he was dying.
If I was a Fulham player I'd be
Simon Morgan …because I have no football talent either.
On match days you can find me …
Picking my son up at Clapham Junction, perhaps stopping at the White Horse, before sitting in JH Stand.
Best ever Fulham moment
Beating Juventus in that evening game, closely followed by Denis' headed goal.
Worst ever Fulham moment
That away game at Torquay.