Craven Cottage. Why do we love her so? What is it that makes us fight tooth and nail to stay at our historic home when a majority of top level clubs have moved on to more modern and better equipped stadia?
Why do many vow they would stop following Fulham if they ever did up sticks? The majority of our chairmen in this modern era have attempted to cash in on the high value land and move us on. Fan pressure is a factor that has ultimately stopped them each time.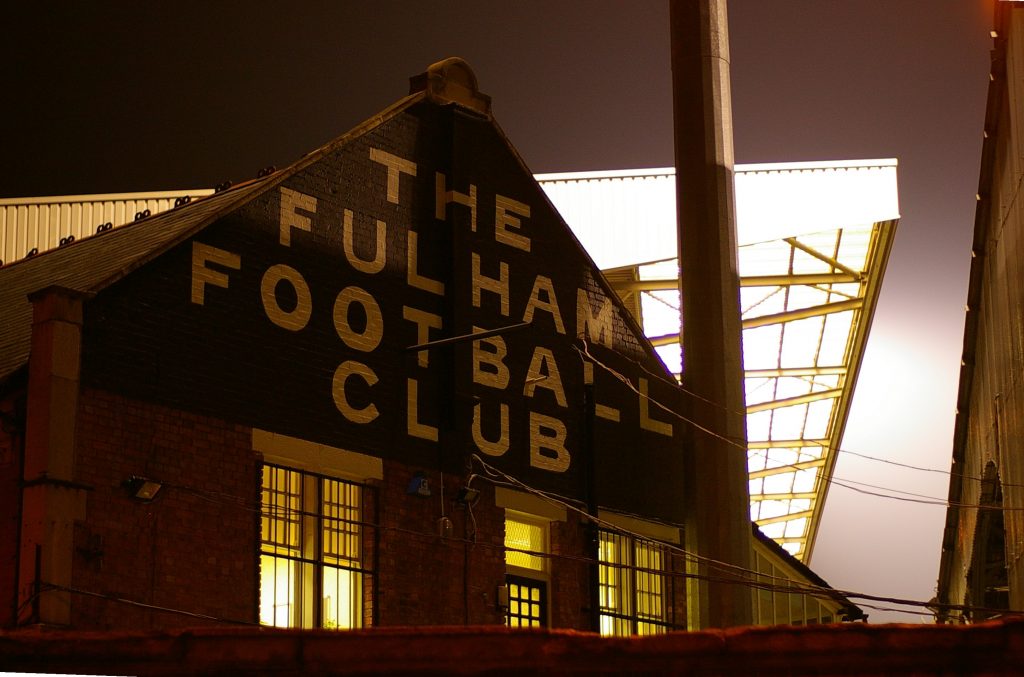 The Cottage itself makes the ground so unique and characteristic, the stunning Archibald Leitch façade on the Johnny Haynes stand, the wooden seats and structure within the stand, the setting on the bank of the river Thames, the walk through the picturesque Bishops' Park along the river amongst the trees approaching the ground.  Even from Hammersmith Bridge you can virtually walk the whole way accompanied by the waves of the Thames.  All of these factors combine to make it a ground that supporters all over the country love.  But not as much as we do; it's our unique ground we cherish so much.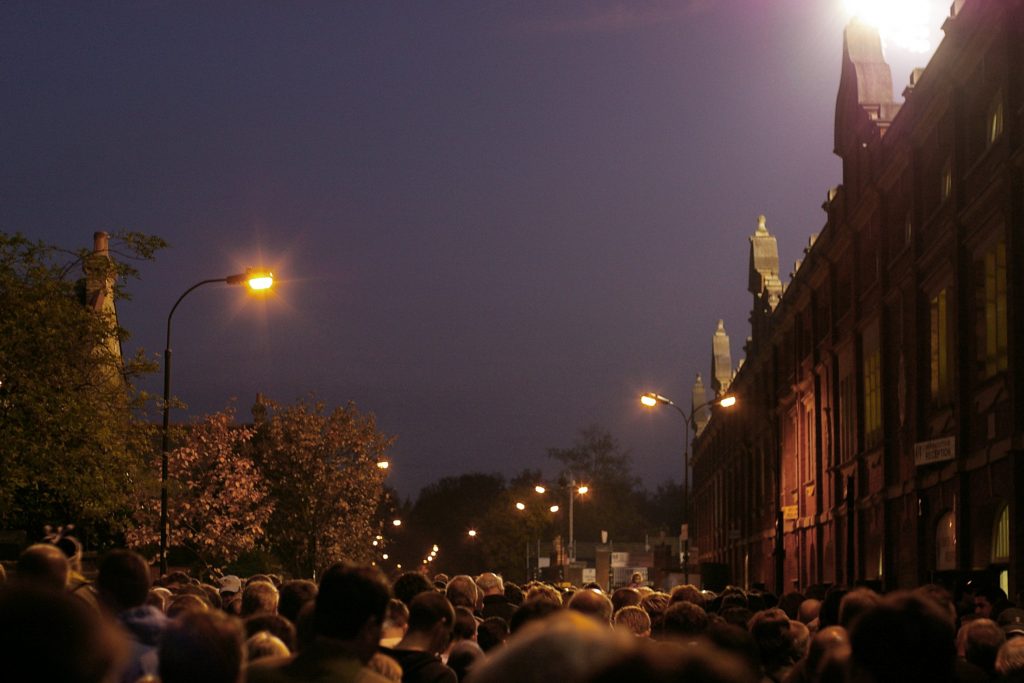 And when sadly other clubs move from their historic homes to modern, plastic, generally out of town colourless places, we marvel the Cottage even more. One hopes that younger fans who have grown up within these more modern stadia will still appreciate the unique character and love of Craven Cottage.
The history of the Craven Cottage site and it's development can be found on Fulham FC's official page, whilst Tom Greatrex paints below the battles fought to keep us at our historic home in his foreword to the TOOFIF 30th Anniversary book. This ultimately led to the creation of Back to the Cottage and the Fulham Supporters' Trust.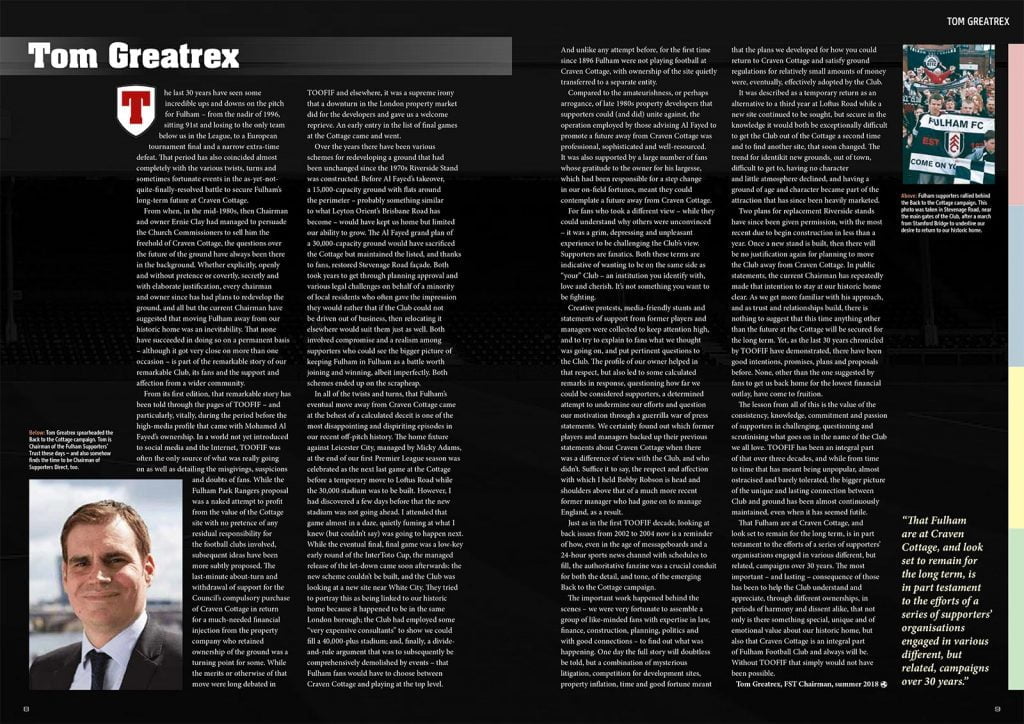 The last 30 years have seen some incredible ups and downs on the pitch for Fulham – from the nadir of 1996, sitting 91st and losing to the only team below us in the League, to a European tournament final and a narrow extra-time defeat. That period has also coincided almost completely with the various twists, turns and sometimes fortunate events in the as-yet-not- quite-finally-resolved battle to secure Fulham's long-term future at Craven Cottage.
From when, in the mid-1980s, then Chairman and owner Ernie Clay had managed to persuade the Church Commissioners to sell him the freehold of Craven Cottage, the questions over the future of the ground have always been there in the background. Whether explicitly, openly and without pretence or covertly, secretly and with elaborate justification, every chairman and owner since has had plans to redevelop the ground, and all but the current Chairman have suggested that moving Fulham away from our historic home was an inevitability. That none have succeeded in doing so on a permanent basis – although it got very close on more than one occasion – is part of the remarkable story of our remarkable Club, its fans and the support and affection from a wider community.
From its first edition, that remarkable story has been told through the pages of TOOFIF – and particularly, vitally, during the period before the high-media profile that came with Mohamed Al Fayed's ownership. In a world not yet introduced to social media and the Internet, TOOFIF was often the only source of what was really going on as well as detailing the misgivings, suspicions and doubts of fans. While the Fulham Park Rangers proposal was a naked attempt to profit from the value of the Cottage site with no pretence of any residual responsibility for the football clubs involved, subsequent ideas have been more subtly proposed. The last-minute about-turn and withdrawal of support for the Council's compulsory purchase of Craven Cottage in return for a much-needed financial injection from the property company who retained ownership of the ground was a turning point for some. While the merits or otherwise of that move were long debated in TOOFIF and elsewhere, it was a supreme irony that a downturn in the London property market did for the developers and gave us a welcome reprieve. An early entry in the list of final games at the Cottage came and went.
Over the years there have been various schemes for redeveloping a ground that had been unchanged since the 1970s Riverside Stand was constructed. Before Al Fayed's takeover, a 15,000-capacity ground with flats around the perimeter – probably something similar to what Leyton Orient's Brisbane Road has become – would have kept us home but limited our ability to grow. The Al Fayed grand plan of a 30,000-capacity ground would have sacrificed the Cottage but maintained the listed, and thanks to fans, restored Stevenage Road façade. Both took years to get through planning approval and various legal challenges on behalf of a minority of local residents who often gave the impression they would rather that if the Club could not be driven out of business, then relocating it elsewhere would suit them just as well. Both involved compromise and a realism among supporters who could see the bigger picture of keeping Fulham in Fulham as a battle worth joining and winning, albeit imperfectly. Both schemes ended up on the scrapheap.
In all of the twists and turns, that Fulham's eventual move away from Craven Cottage came at the behest of a calculated deceit is one of the most disappointing and dispiriting episodes in our recent off-pitch history. The home fixture against Leicester City, managed by Micky Adams, at the end of our first Premier League season was celebrated as the next last game at the Cottage before a temporary move to Loftus Road while the 30,000 stadium was to be built. However, I had discovered a few days before that the new stadium was not going ahead. I attended that game almost in a daze, quietly fuming at what I knew (but couldn't say) was going to happen next. While the eventual final, final game was a low-key early round of the InterToto Cup, the managed release of the let-down came soon afterwards: the new scheme couldn't be built, and the Club was looking at a new site near White City. They tried to portray this as being linked to our historic home because it happened to be in the same London borough; the Club had employed some "very expensive consultants" to show we could
fill a 40,000-plus stadium; and, finally, a divide- and-rule argument that was to subsequently be comprehensively demolished by events – that Fulham fans would have to choose between Craven Cottage and playing at the top level.
And unlike any attempt before, for the first time since 1896 Fulham were not playing football at Craven Cottage, with ownership of the site quietly transferred to a separate entity.
Compared to the amateurishness, or perhaps arrogance, of late 1980s property developers that supporters could (and did) unite against, the operation employed by those advising Al Fayed to promote a future away from Craven Cottage was professional, sophisticated and well-resourced. It was also supported by a large number of fans whose gratitude to the owner for his largesse, which had been responsible for a step change
in our on-field fortunes, meant they could contemplate a future away from Craven Cottage.
For fans who took a different view – while they could understand why others were unconvinced – it was a grim, depressing and unpleasant experience to be challenging the Club's view. Supporters are fanatics. Both these terms are indicative of wanting to be on the same side as "your" Club – an institution you identify with, love and cherish. It's not something you want to be fighting.
Creative protests, media-friendly stunts and statements of support from former players and managers were collected to keep attention high, and to try to explain to fans what we thought was going on, and put pertinent questions to the Club. The profile of our owner helped in that respect, but also led to some calculated remarks in response, questioning how far we could be considered supporters, a determined attempt to undermine our efforts and question our motivation through a guerrilla war of press statements. We certainly found out which former players and managers backed up their previous statements about Craven Cottage when there was a difference of view with the Club, and who didn't. Suffice it to say, the respect and affection with which I held Bobby Robson is head and shoulders above that of a much more recent former manager who had gone on to manage England, as a result.
Just as in the first TOOFIF decade, looking at back issues from 2002 to 2004 now is a reminder of how, even in the age of messageboards and a 24-hour sports news channel with schedules to fill, the authoritative fanzine was a crucial conduit for both the detail, and tone, of the emerging Back to the Cottage campaign.
The important work happened behind the scenes – we were very fortunate to assemble a group of like-minded fans with expertise in law, finance, construction, planning, politics and with good connections – to find out what was happening. One day the full story will doubtless be told, but a combination of mysterious litigation, competition for development sites, property inflation, time and good fortune meant that the plans we developed for how you could return to Craven Cottage and satisfy ground regulations for relatively small amounts of money were, eventually, effectively adopted by the Club.
It was described as a temporary return as an alternative to a third year at Loftus Road while a new site continued to be sought, but secure in the knowledge it would both be exceptionally difficult to get the Club out of the Cottage a second time and to find another site, that soon changed. The trend for identikit new grounds, out of town, difficult to get to, having no character and little atmosphere declined, and having a ground of age and character became part of the attraction that has since been heavily marketed.
Two plans for replacement Riverside stands have since been given permission, with the most recent due to begin construction in less than a year. Once a new stand is built, then there will be no justification again for planning to move the Club away from Craven Cottage. In public statements, the current Chairman has repeatedly made that intention to stay at our historic home clear. As we get more familiar with his approach, and as trust and relationships build, there is nothing to suggest that this time anything other than the future at the Cottage will be secured for the long term.
Yet, as the last 30 years chronicled by TOOFIF have demonstrated, there have been good intentions, promises, plans and proposals before. None, other than the one suggested by fans to get us back home for the lowest financial outlay, have come to fruition.
The lesson from all of this is the value of the consistency, knowledge, commitment and passion of supporters in challenging, questioning and scrutinising what goes on in the name of the Club we all love. TOOFIF has been an integral part of that over three decades, and while from time to time that has meant being unpopular, almost ostracised and barely tolerated, the bigger picture of the unique and lasting connection between Club and ground has been almost continuously maintained, even when it has seemed futile.
That Fulham are at Craven Cottage, and look set to remain for the long term, is in part testament to the efforts of a series of supporters' organisations engaged in various different, but related, campaigns over 30 years.
The most important – and lasting – consequence of those has been to help the Club understand and appreciate, through different ownerships, in periods of harmony and dissent alike, that not only is there something special, unique and of emotional value about our historic home, but also that Craven Cottage is an integral part of Fulham Football Club and always will be. Without TOOFIF that simply would not have been possible.