Welcoming Age UK to Craven Cottage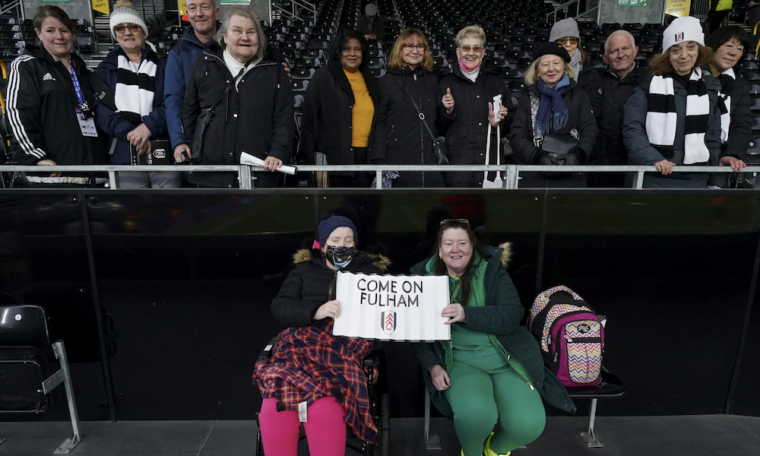 As part of the Fulham Supporters Trust's drive to get more women to football matches, it occurred to me, board member Tamara Dragadze, that there were surely women who no longer had a partner to go with or who would have liked to go but wouldn't go alone.
Our Club's CEO, Alistair Mackintosh, offered free tickets for a minibus load of ladies from Age UK, the organisation I got in touch with and who loved the idea. Stoll, the veterans charity, had vulnerable women also who wanted to come.
Working with our Club's Nicola Walworth (disability liaison officer) and Nina Conway, (the CEO's assistant), Fulham went far beyond the call of duty to ensure that we had a pass for the minibus, passes for four Fulham volunteers, tickets and clappers for the ladies on arrival. Once in their seats, they were given a packed lunch and program each, all complimentary.
Kick off was at 12:30 and although Fulham lost, it was evident they had all enjoyed the occasion. We had some wonderful feedback from Peter Thullison at Age UK, who shared our vision and together we made it a day not to forget.
The day was a great idea. It was exciting, social and uplifting. It goes to the core of so much of what we try to achieve as a Charity for older people as it embodied excitement, friendship, enjoyment and, for many of those who went. something vibrant and new…"

Peter Thullison, Age UK Hammersmith & Fulham
We also had some wonderful feedback from the visitors themselves:
"Thank you all. It was like having a holiday because I hadn't really been out for some time…It was a completely different atmosphere. The people who went were very friendly and it was a really happy day. Thank you Fulham Supporters Trust and Fulham FC."

Catherine
'Fantastic Fun Football at Fulham'
What great alliteration and how splendidly Tamara and her team organised our visit. It was my first live football match but even though it was a loss for the club we did hit our clappers and clap encouragement. On the return bus everyone said it had been a great day out. Added to which it was excellent to have one lady in a wheel chair who was able to leave her flat and be at a live match;  she now has something unique to talk about to her friends. This initiative by Fulham to get elderly women out of their homes, be in the fresh air for a couple of hours and make new friends is something that I very much hope will be replicated by other football clubs. Fulham is a leader and my thanks to them.

Susie
I really enjoyed the day. Nice company with a warm welcome. I was excited because it was my first football match. I loved it."

Anne
Following our arrival at Fulham, we were met at the minibus by Trust Volunteers. They were all really helpful with getting us all to the ground, chatting & giving us information. They also gave us all a Fulham Football Club banner to rattle that got us in the mood for the match before it even started. 
Ruth who has learning disabilities and myself had never been to a football match before and we had a fabulous day from start to finish. After the match was over (unfortunately Fulham lost 2-1) the Supporter Volunteers waved us goodbye once we were safely onboard the minibus heading home. 

We would like to thank Fulham Football club, the supporter volunteers, the minibus driver and all at Age UK who gave us this wonderful opportunity. We will be spreading the news amongst friends and families about the wonderful day. 

Anthony (carer)
I had never been to Fulham Stadium. Up to half time the mood was quiet because Fulham were losing 2-0.  I felt frustrated. I even bought a Fulham scarf to support them. When Fulham scored that was fantastic. Sadly the finally score was 1-2 but I hugely enjoyed the match‼️

Machiko