The Fulham Supporters' Trust is an independent group of Fulham fans. We are there to safeguard the best interests of all Fulham supporters.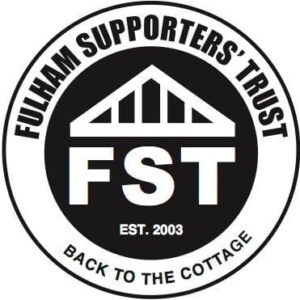 Players, managers, owners and staff come and go, but we, the Fulham supporters, remain through thick and thin. We are the lifeblood of the club.

Without us there is no club.
We began life as the Back to the Cottage campaign and will always seek to safeguard Fulham FC's long term future at Craven Cottage. Today our aims are significantly wider.
We have an award-winning structured dialogue with Fulham FC which allows us to represent the views of supporters on a range of issues and influence the club at the highest level.
We aim to protect Fulham's unique identity at Craven Cottage, keep football at Fulham accessible and maintain a strong connection between the club and supporters.
We do this by
seeking supporters' opinions on a regular basis
ensuring supporters' views are fully considered in decision-making
making sure, as a priority, that Fulham remains at Craven Cottage
campaigning for reasonable pricing, ensuring the matchday experience remains accessible for all
promoting an identity for the club, centred on a strong connection between the supporters, players and the community, irrespective of which division we are playing in
ensuring our support to the team and supporters of all Fulham teams – men's, women's and youth
being an inclusive, positive and representative organisation, open and accessible to all supporters regardless of their age, income, ethnicity, gender, disability, sexuality or religious or moral belief(s) and without discrimination of any kind
encouraging and promoting supporter representation within football clubs and democratic ownership of them.
Above all our mission is to look after the best interests of Fulham supporters at all times.