#AffordableFulham – what next?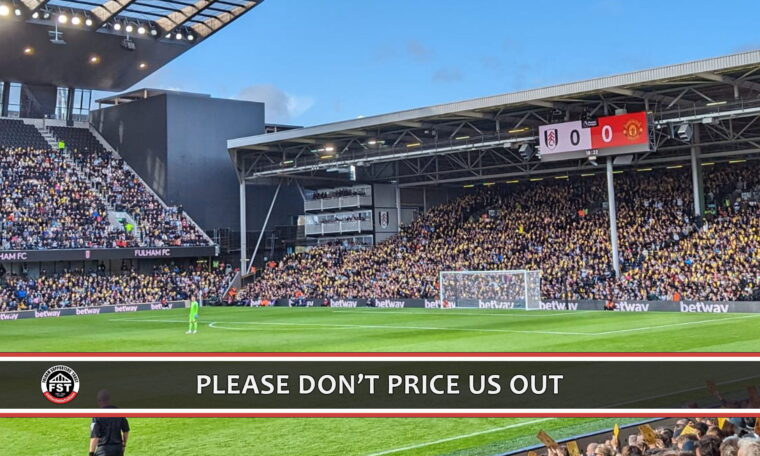 Mondays are never the best when they arrive on the back of a Fulham defeat, and with our loss to Manchester United coming so late in the game, this one was particularly hard to take. But, as you know, Saturday was about a whole lot more than just the match.
We'd like to thank all of you who took part in our activities to shine a light on the unacceptable escalating ticket prices at Fulham and help us in our campaign to create an #AffordableFulham. This was truly a team effort from all concerned and whether you distributed or waved a yellow card, took part in the pre-match walk, spread the word on social media or gave us your support and encouragement in other ways we would like to say a big thank you.
One of the aims of Saturday was to raise awareness of the issue, and we have certainly made a good start there with a significant amount of coverage on TV, in the print media and online. We won't try to reference everything written, but would like to draw your attention to some of our favourites.
In the Guardian match report Jonathan Liew said:
"A final word to the Fulham fans, who devised pretty much the politest protest ever seen at a Premier League ground, even if it sprang from a deep well of resentment. A sea of yellow cards appeared around the ground in the 18th minute, as supporters expressed their disgust at the 18% rise in season ticket prices that is Shahid and Tony Khan's latest attempt to turn Craven Cottage into the exclusive playground of the rich. United may have picked their pockets yesterday. But their own club has arguably been pulling off the same trick for years."
Whilst in an eye-opening piece for iNews, Stefano Hatfield declared
"The most loyal fans are being priced out of watching their football team – it's a disgrace"
and reminded us that
"Fan protests can work. The £30 away ticket price cap on Premier League games was introduced in 2016 after campaigns to ensure away fans, and the atmosphere they bring, could be sustained […] If price inflation persists, then football will kill its own golden goose."
If you are a subscriber to the Athletic, Peter Rutzler's detailed article is well worth a read, as is Dom Smith's report in the Evening Standard.
And perhaps a final word to former Fulham (and Manchester United) defender Paul Parker, extensively quoted in this piece in The Sun:
"The die-hard [Fulham] fans are among the best I played for during my career. I am angry because I feel they deserve to be treated better. I'm delighted they held up yellow cards in protest during the game against the price hikes – and I was pleased to see the Manchester United fans joined in too."
What next?
Now that the strength of feeling on this issue has been clearly demonstrated by the Fulham family, we will be writing to the Club this week to further express our opinions on ticket pricing and to ask to participate in a full review of ticketing policy.
We will ask that the review includes:
Season ticket pricing
Match day ticket pricing
Concessions
Membership packages
Loyalty points.
You may be aware that our friends from Tottenham Hotspur Supporters' Trust have recently sought, and been offered, a full ticketing review and we would like Fulham to commit to one too. As supporters, we have a wealth of experience and insight into ticketing that we can bring to the table, both to try to make prices more affordable and also to prevent scenes like we saw on Saturday where many Manchester United fans can be seen openly celebrating their winning goal in areas of the ground that should only have been on sale to Fulham fans.
We have also written to Lucy Fraser, Secretary of State for Culture, Media and Sport and Thangam Debbonaire, her shadow, and will continue to make representations both locally and nationally in partnership with our sister Trusts and the Football Supporters' Association.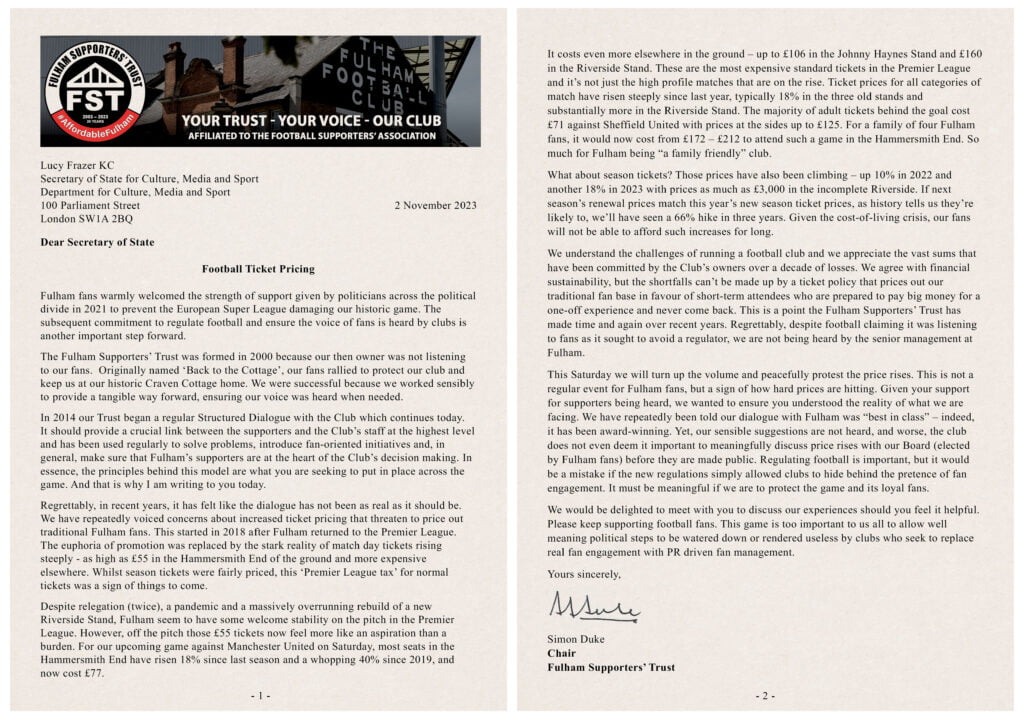 Club meeting
You'll know that the topic of ticket pricing is regularly on the agenda for Club meetings and it will remain there until we can make progress towards an #AffordableFulham.
The November meeting was originally scheduled for this Wednesday, 8th November, but because of unavailability of key Club staff on this date and of Trust board members on alternative dates offered by the Club, we have jointly agreed to postpone until Wednesday December 13th.
We should stress that this change in date became clear towards the end of last week and is not as a result of the weekend's activities. This doesn't mean that there will be no communication with the Club before then; we will continue to make representations specifically on ticket pricing and will also liaise directly on other issues originally planned for the agenda this week.
Moving the meeting to December will also let us seek further detailed feedback from our members at our AGM on 16th November at 7pm. If you are a Trust member and haven't yet done so, you can register using the link provided to you by email and f you aren't a Trust member yet but would like to attend the AGM, you can join here.
At this pivotal time, we thank you for your continued support and are always happy to hear your thoughts (and see any great photos you may have from the Yellow Card display on Saturday).
Thank you
FST Board