Trust letter to Government on pricing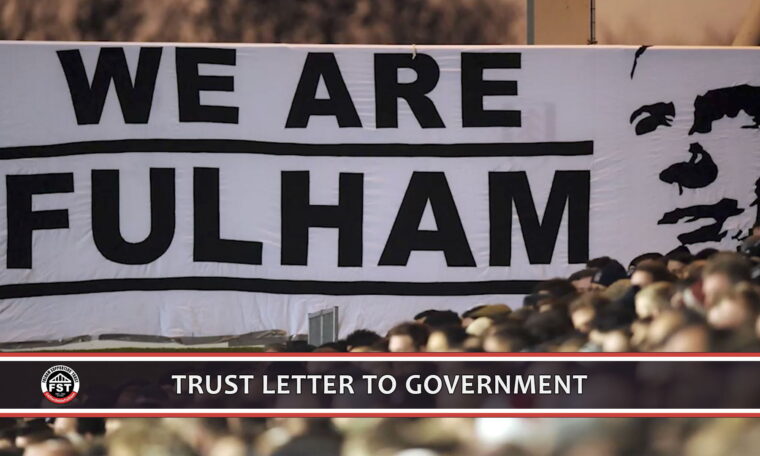 As part of our campaign to raise awareness and seek assistance in creating an #AffordableFulham, Trust Chair Simon Duke has written to Lucy Frazer KC, Secretary of State for Culture, Media, and Sport and her shadow, Thangam Debbonaire.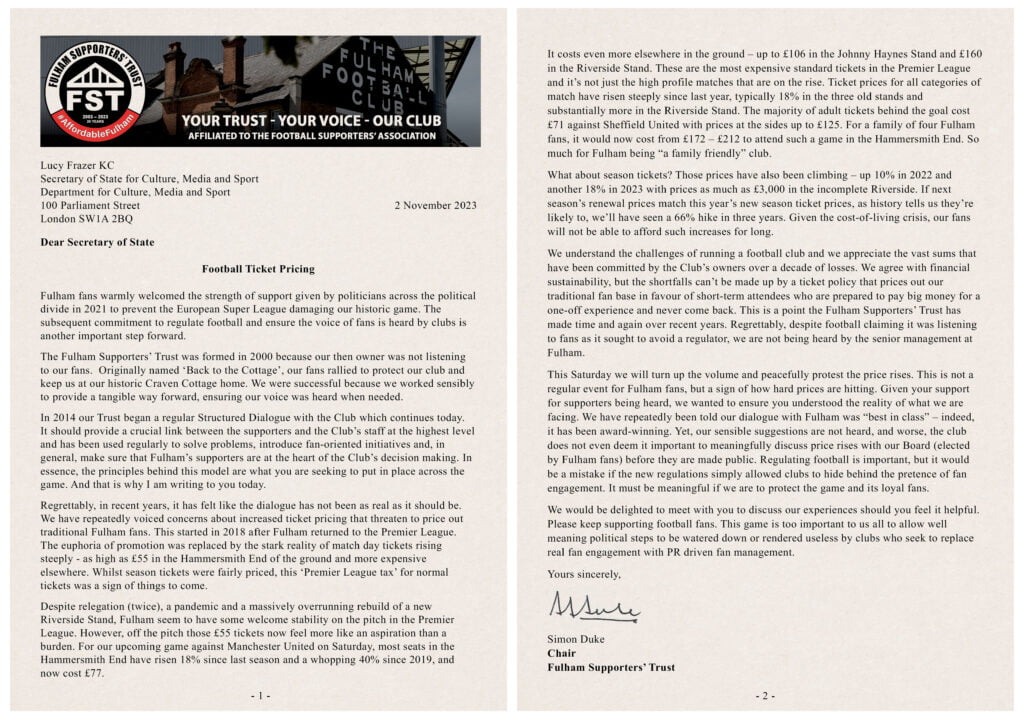 You can read the full text of the letter below.
Dear Secretary of State

Fulham fans warmly welcomed the strength of support given by politicians across the political divide in 2021 to prevent the European Super League damaging our historic game. The subsequent commitment to regulate football and ensure the voice of fans is heard by clubs is another important step forward.

The Fulham Supporters' Trust was formed in 2000 because our then owner was not listening to our fans. Originally named 'Back to the Cottage', our fans rallied to protect our club and keep us at our historic Craven Cottage home. We were successful because we worked sensibly to provide a tangible way forward, ensuring our voice was heard when needed.

In 2014 our Trust began a regular Structured Dialogue with the Club which continues today. It should provide a crucial link between the supporters and the Club's staff at the highest level and has been used regularly to solve problems, introduce fan-oriented initiatives and, in general, make sure that Fulham's supporters are at the heart of the Club's decision making. In essence, the principles behind this model are what you are seeking to put in place across the game. And that is why I am writing to you today.

Regrettably, in recent years, it has felt like the dialogue has not been as real as it should be. We have repeatedly voiced concerns about increased ticket pricing that threaten to price out traditional Fulham fans. This started in 2018 after Fulham returned to the Premier League. The euphoria of promotion was replaced by the stark reality of match day tickets rising steeply – as high as £55 in the Hammersmith End of the ground and more expensive elsewhere. Whilst season tickets were fairly priced, this 'Premier League tax' for normal tickets was a sign of things to come.

Despite relegation (twice), a pandemic and a massively overrunning rebuild of a new Riverside Stand, Fulham seem to have some welcome stability on the pitch in the Premier League. However, off the pitch those £55 tickets now feel more like an aspiration than a burden. For our upcoming game against Manchester United on Saturday, most seats in the Hammersmith End have risen 18% since last season and a whopping 40% since 2019, and now cost £77.

It costs even more elsewhere in the ground – up to £106 in the Johnny Haynes Stand and £160 in the Riverside Stand. These are the most expensive standard tickets in the Premier League and it's not just the high profile matches that are on the rise. Ticket prices for all categories of match have risen steeply since last year, typically 18% in the three old stands and substantially more in the Riverside Stand. The majority of adult tickets behind the goal cost £71 against Sheffield United with prices at the sides up to £125. For a family of four Fulham fans, it would now cost from £172 – £212 to attend such a game in the Hammersmith End. So much for Fulham being "a family friendly" club.

What about season tickets? Those prices have also been climbing – up 10% in 2022 and another 18% in 2023 with prices as much as £3,000 in the incomplete Riverside. If next season's renewal prices match this year's new season ticket prices, as history tells us they're likely to, we'll have seen a 66% hike in three years. Given the cost-of-living crisis, our fans will not be able to afford such increases for long.

We understand the challenges of running a football club and we appreciate the vast sums that have been committed by the Club's owners over a decade of losses. We agree with financial sustainability, but the shortfalls can't be made up by a ticket policy that prices out our traditional fan base in favour of short-term attendees who are prepared to pay big money for a one-off experience and never come back. This is a point the Fulham Supporters' Trust has made time and again over recent years. Regrettably, despite football claiming it was listening to fans as it sought to avoid a regulator, we are not being heard by the senior management at Fulham.

This Saturday we will turn up the volume and peacefully protest the price rises. This is not a regular event for Fulham fans, but a sign of how hard prices are hitting. Given your support for supporters being heard, we wanted to ensure you understood the reality of what we are facing. We have repeatedly been told our dialogue with Fulham was "best in class" – indeed, it has been award-winning. Yet, our sensible suggestions are not heard, and worse, the club does not even deem it important to meaningfully discuss price rises with our Board [elected by Fulham fans] before they are made public. Regulating football is important, but it would be a mistake if the new regulations simply allowed clubs to hide behind the pretence of fan engagement. It must be meaningful if we are to protect the game and its loyal fans.

We would be delighted to meet with you to discuss our experiences should you feel it helpful. Please keep supporting football fans. This game is too important to us all to allow well meaning political steps to be watered down or rendered useless by clubs who seek to replace real fan engagement with PR driven fan management.

Yours sincerely,
Simon Duke
Chair
Fulham Supporters' Trust
Please join us this Saturday at the Tea House in Bishops Park from 11 am, where we will depart at 11:30 for an organised walk to Craven Cottage. This peaceful walk is to show solidarity between us and highlight that we have had enough of the current annual price hikes.
Do also look out for our Yellow Cards as you approach Craven Cottage.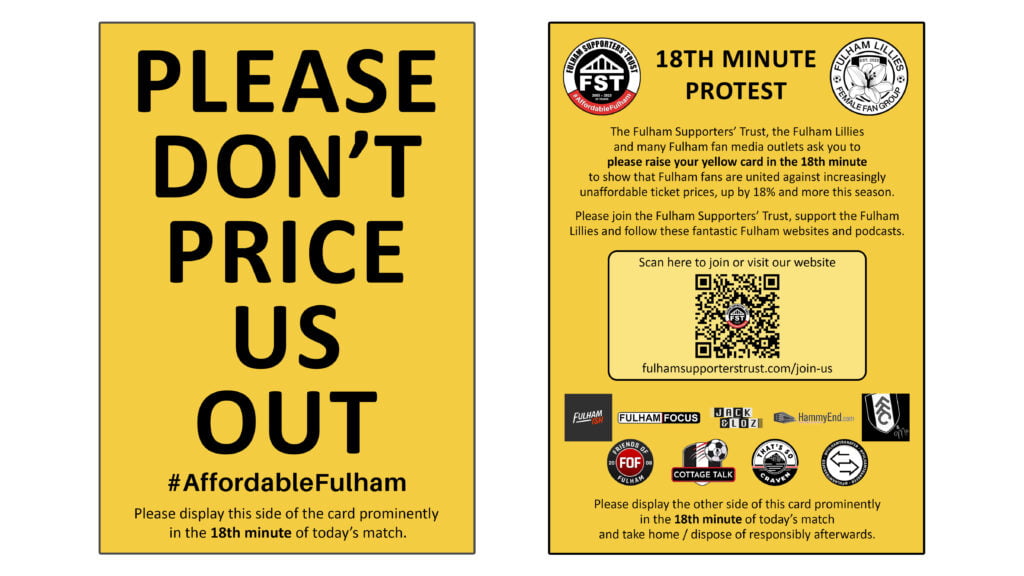 If you are attending the game this Saturday, please pick up a Yellow Card that we request fans to display in the 18th minute of the game, to highlight the typical price increase of 18% this season.