Notes from May meeting with FFC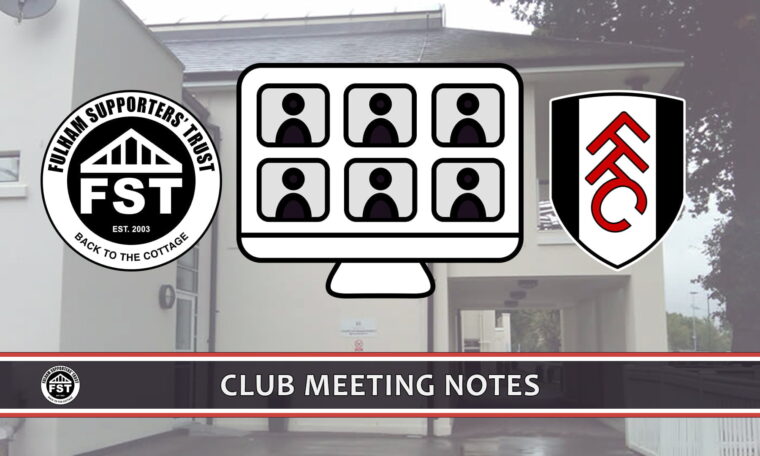 On Tuesday 23 May 2023 at 11:00, the Fulham Supporters' Trust (FST) met with Fulham FC via video conference.
The Club was represented by:
Darren Preston (Chief Operating Officer, DP)
Alistair Mackintosh (Chief Executive Officer, AM) from 11:27
Carmelo Mifsud (Communications Director, CM)
David Daly (Non Executive Director, DD)
Huw Jennings (Head of Football Development, HJ)
Glen Sutton (Chief Profit Officer, GS)
Katy Brecht (Head of Ticketing, KB)
Nicola Walworth (Supporter Liaison Manager & Disability Liaison Officer, NW)
Sam Curteis (Supporter Relations & Communications Executive, SC)
The FST was represented by:
HOW IT WORKS
At our regular monthly meetings, Trust board members ask questions relating to as many topics as possible in the time available, based on responses from members to the advance notification of the meeting and our own observations from interacting with the wider supporter base.
Often members ask similar questions, and, in these cases, we use our judgement to summarise, provide the Club with feedback and gain as much useful information as possible in the time available. We also prioritise new and time-critical topics, whilst also seeking updates on longer running issues.
You can access notes of all previous meetings on our web site, including the most recent information on key topics not covered at this meeting.
If any member has raised a new issue that it was not possible to discuss in the time available, then please do contact us again in good time before the next meeting or alternatively we can seek to raise it between meetings if that is more appropriate.
TOPICS DISCUSSED
The following topics were discussed:
AOB with items where time did not permit discussion covered following the meeting.
SD opened the meeting by congratulating the Club on the excellent season on the pitch and we asked for our congratulations to be passed to all concerned. Prior to the meeting the Trust had asked for our best wishes to be passed to Tim Ream and Andreas Pereira both of whom contributed to the success this season.
SD highlighted the comments which continue to be received from supporters who have a very real feeling that traditional supporters risk being priced out of attending. The Trust has no doubt season tickets will sell but will it be to the right people to sustain our fan base in line with our family ethos going forward.
The Trust will continue under #AffordableFulham to share publicly the direct impact the price rises are having on members alongside analysis with the hope that the Club will understand and bring about a change in policy in the future.
The Trust hope to persuade the Club that success on the field and the financial sustainability off it go hand in hand with a committed loyal fan base, which is achieved through fair and affordable ticket pricing. This relates not only to this season but further seasons as well.
SK highlighted that the consistent messages from supporters is that they would have accepted some sort of rise, but the 18% rise in season ticket prices was far too much. They also pointed to the fact that 18% is adult tickets only and that junior tickets have seen a much larger increase (In most areas 58%). A study by the FSA showed that Fulham were second in the table for season ticket price rises, with Nottingham Forest placed first. However, Forest had frozen season ticket prices in the past few seasons.
DD accepted that fans could be priced out of the Riverside Stand specifically, but he thought the rest of the stadium was reasonably priced.
FM highlighted that a lot of what supporters had been saying was that they thought Fulham was better than this and that the rise goes completely against previous messaging from the Club over several years in relation to the high match ticket prices. FM said the Club had stated that season ticket holders were their most valued supporters and high match ticket prices were in conjunction with good value season tickets. He went on to explain that the Club should not expect fans to be loyal to a Club that is no longer loyal to them.
DP confirmed he would share these comments with AM who was not present for this part of the meeting.
SEASON TICKETS
SD asked the Club about the reaction from the Club regarding season ticket sales and asked how renewals had been progressing.
KB was not prepared to share numbers but said that sales were positive and that the waiting list for season tickets had increased.
In response to a question about season ticket cards, all Riverside Stand season ticket holders will be getting a new season ticket card, whilst renewing season ticket holders should retain their season ticket card for next season unless moving seat in which case a new card will be offered.
STADIUM
AM joined the meeting.
SD asked for the current state of ongoing developments of Craven Cottage, new plans going forward and what season ticket holders can expect for their 18% price rise.
DP listed improvements hopefully occurring over the summer, including new screens for the rear of JH stand and more speakers at the rear of the Hammersmith End. As a result of the Movement Strategies report there may also be the addition of more intermediary steps between the upper concourse of the Hammersmith End to the lower part where toilets are located. It is expected that this will alleviate some of the congestion in this part of the ground.
For the Riverside Stand specifically in terms of what will be available for next season, DP explained that they are waiting on status reports from each of the contractors about progress. Once these are available (later this month/early next) they will be shared with the Trust.
SK stated that there is still an issue surrounding capacity and toilet facilities in both the Hammersmith End and the Johnny Haynes Stand. FM suggested opening out some part of Stevenage Road to cordoned off area for temporary toilet facilities to help the problem, although aware of the difficulties with re-entry.
DP said that although the council were amenable to the idea, this would cause issues around escape routes/procedures in the case of an emergency. There will be no more toilets in these areas of the Stadium as there is so little space available. Discussions around the space of the shop was also discussed and alternative shop areas, but DP also stated that shop space was at it's maximum. DD said opening alternative Fulham shops (either at Craven Cottage or elsewhere) was not an option as these tend to have much lower sales and the majority of sales are now online or in the main stadium store on matchdays.
WOMEN'S TEAM
TD asked what can be done to improve the matchday experience, specifically the provision for catering for the Fulham Women's team supporters and visitors at Motspur Park (citing the Worthing game where there was no provision at all). TD also asked for more promotion efforts than just a page in the men's programme. This was reflected in feedback from people who had expressed that they were not aware of a women's team.
HJ said that whilst the development of the women's 1st and under-18s teams was one of their key aims, Motspur Park is still a working site and therefore often comes with limitations. They had briefly explored using external sites/stadiums for the women's team but felt they did not have 'the Fulham feel' and therefore Motspur Park will continue to be used. However, HJ was hoping to have two match days at Craven Cottage for next season. The question of the provision of regular catering will continue to be explored.
In response to SK's question about women's team supporter liaison relating to specific feedback from a women's team fan, the Club stated that this remained within the remit of the current supporter liaison set-up with NW and SC.
ENVIRONMENTAL SUSTAINABILITY
SK mentioned the Sports Positive table which ranked each club in the Premier League by their environmental sustainability measures. Fulham ranked 17th out of the 20 Premier League clubs and SK asked what actions the Club were doing to improve.
CM stated there was no sustainability officer at the Club although there was a working group. However, flights remained a method for travel to long distance away games, mainly for performance and practical reasons. The Club also highlighted that there had been difficulties throughout the season due to the various rail strikes that had occurred. Sustainability policies are being developed and will be shared once completed.
AOB
Some items were covered outside of the meeting
Fan behaviour at Southampton away – SK highlighted an issue of fan behaviour at the recent Southampton away game. DP was aware and was waiting to receive the CCTV from the home club before proceeding.

Putney End segregation – Some people are being moved from P4 to P3 to allow for increased away capacity and are now asking if they may need to move again as more of the Riverside Stand opens. The Club say that this is unlikely and that they are looking at other options for segregations for Putney End.

Fan input into kit designs – AM stated that fans often write in with their ideas for the Fulham kit and that does generate ideas. AM encourages supporters to continue to do so. DD stated that there is an 18-month cycle for kit designs and that the kit design for next season has already been decided, with the season after next already in advanced stages. There is also an issue around secrecy as kit manufacturers pay significant sums of money for partnerships with the Club and that decisions over kit designs need to be kept to a limited audience. AM said that there is a potential around specific celebration shirts in respect of potential events in the future, for example, a 150th anniversary shirt.
TD went onto express that many women were critical of the of what was available to them and that other clubs have a much larger and far more appealing range. DD welcomed all proposals and encouraged them to send them through. TD will pass this feedback to the Fulham Lillies.
Halal food – A member enquired about the possibility of Halal food options at Craven Cottage. The catering supplier has been in touch and said that there are currently no halal options available but this may be reviewed when the Riverside Stand is open fully.
Meeting closed 12:14