Notes from April meeting with FFC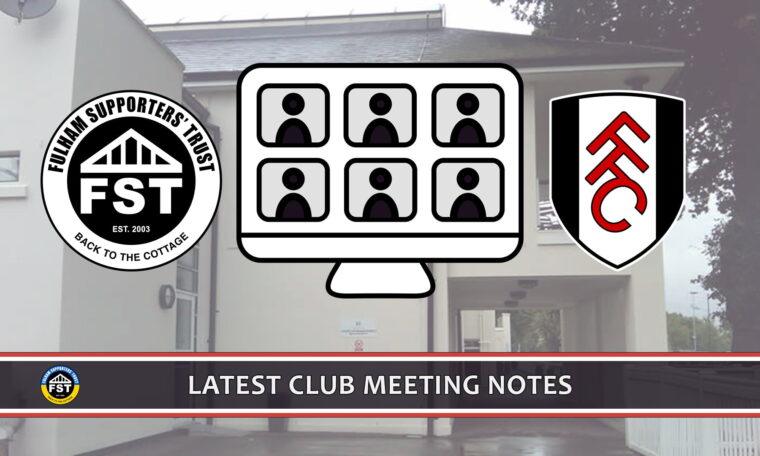 On Wednesday 12 April 2023 at 13.30, the Fulham Supporters' Trust (FST) met with Fulham FC via video conference.
The Club was represented by:
Darren Preston (Chief Operating Officer, DP)
Carmelo Mifsud (Communications Director, CM)
Eleanor Rowland (Head of Safeguarding, ER)
Katy Brecht (Head of Ticketing, KB)
Nicola Walworth (Supporter Liaison Manager & Disability Liaison Officer, NW)
Aimee McKenzie (Operations & Venue Director, AMK)
Chris Baker (Head of Safety, CB)
Sam Curteis (Supporter Relations & Communications Executive, SC)
Apologies were received from
Alistair Mackintosh (Chief Executive Officer)
David Daly (Non Executive Director)
The FST was represented by:
HOW IT WORKS
At our regular monthly meetings, Trust board members ask questions relating to as many topics as possible in the time available, based on responses from members to the advance notification of the meeting and our own observations from interacting with the wider supporter base.
Often members ask similar questions, and, in these cases, we use our judgement to summarise, provide the Club with feedback and gain as much useful information as possible in the time available. We also prioritise new and time-critical topics, whilst also seeking updates on longer running issues.
You can access notes of all previous meetings on our web site, including the most recent information on key topics not covered at this meeting.
If any member has raised a new issue that it was not possible to discuss in the time available, then please do contact us again in good time before the next meeting or alternatively we can seek to raise it between meetings if that is more appropriate.
TOPICS DISCUSSED
Considering the announcement of season ticket prices on the day prior to the meeting it was agreed to amend the original agenda and prioritise this topic.
The following topics were therefore discussed:
SEASON TICKETS
SD opened the meeting by expressing disappointment that not all senior management were present for the meeting where the recent announcement of season ticket pricing was always going to be the main focus. CM, on behalf of the Club, explained that that whilst some were not available it was felt that it was important that the meeting still took place and not be postponed.
SD continued with the following statement based on the Trust's own review of the pricing proposals and feedback already received from members.
The Trust was extremely disappointed at the level of increase proposed and the level of dissatisfaction reflects in members emails we have received.

The Trust was grateful that the information was shared with us before release but there was no opportunity for discussion and the messages/guidance we have been giving for some months on pricing expectations has been ignored.

Whilst the Trust does not use social media as a direct correspondence mechanism with members/supporters, it is quite clear the level of disappointment is wide and across all age groups.

The disappointment extends to a number of season ticket holders who have had tickets for 40+ years and who are now questioning whether the Club value their commitment.

In recent years the Trust has been supportive and defensive of the Club's policy on season ticket pricing, but this year's increases are not ones we can support or defend.

The Riverside Stand pricing is much higher than expected with a top "general" ticket price of £3,000 making it one of the most expensive tickets in the Premier League.

Increases of a minimum of 18% elsewhere, in the current environment with inflation running at around 10%, are not supportable.

A number of members have commented that the Club appear to be disregarding the long-standing dedicated supporters in favour of pricing to attract more one off and tourist type attendees. This is not sustainable over time, particularly should the Club run in to more difficult times on the playing field or, dare we say it, get relegated.

Whilst not directly related to this year's pricing, some members are already drawing conclusions as to what next year's renewal prices may look like based on the "new" price for this season.

The Trust acknowledges the significant financial investment provided to our Club by the owners as evidenced through the recent publication of financial information. We also fully understand the need to make the Club financially sustainable.

Despite these considerations we feel the price rises now proposed are excessive, above inflation and will price out a lot of members/supporters from renewing. If this is what the Club want, then can they please say so as it goes against the family/custodial ethos regularly expressed.

Again, not directly related to ST pricing but if a similar structure is seen for general match days sales for members and others then it can be expected there will be a similar response.
Considering the above, the Trust proposed:
Taking account of the depth of feeling across the supporter base we would like the Club to urgently review the proposed pricing with a view to bringing it down to more reasonable levels. If this is not possible then some guidance as to the thought process for such significant increases would be appreciated.
The Trust also highlighted further actions:
In the spirit of openness and transparency it is the Trust's intention to write an open letter to the owners expressing our disappointment and asking them to reconsider.

The Trust would be happy to meet with relevant people from the Club if this would be felt useful.
Club Response
CM responded that they would pass on feedback. The club have already been in direct communication with supporters around the new Riverside Stand pricing however and he reminded this season the Riverside Stand £1,000 season ticket was a one season only offering with no undertaking to offer renewal.
Regarding the pricing in the rest of Craven Cottage, CM stated that the price comes from a low base in comparison to other clubs like Brighton or Crystal Palace for 'behind the goal' tickets and Fulham is now on par with those clubs, as reference in the article written by the FST. The club believes that a season ticket still represents value for 19 home games on a per game basis. Last season, uptake on season tickets was over 15,000, recognising that it is due to the Premier League and the excitement that comes with it. CM was not a position to speak about exact strategy but highlighted that because of the club's instability in the league in the past few seasons and COVID, there had been limited opportunity to bring prices in line with other similar clubs.
Trust feedback from last year has been taken on board with all prices released at the same time.
The Trust reiterated the position that members would have understood a price rise, but this kind of increase was unreasonable. Any additional revenue generated is relatively insignificant when Premier League TV revenue is taken in to account.
IC said that the mood amongst the fanbase is low which has been backed up by the messages received from members in the past 24 hours, some of which point towards long-standing Fulham fans losing all feeling of being valued as a supporter and now they just feel like a customer to be transacted with. IC stated that there seemed to be a disregard that people are struggling and wished the club recognised that.
SD said that it would have helped if the Club had provided some explanation for the level of increase. The current position of the Club increasing season ticket as well as match ticket prices at above inflation levels will continue to disenfranchise a lot of supporters.
CM and KB pointed towards the benefit and the success of the Ticket Exchange system for season tickets which has been in operation in 6 of the 15 home games this season. In all but one of these, 99% the tickets listed on the exchange were bought. However, in the last home game against West Ham there were considerable tickets that went unsold.
HD highlighted that with a larger capacity coupled with high prices and that it is only open when the stadium is close to selling out, that it could go largely unused next season.
RIVERSIDE STAND AND OTHER SEASON TICKET ISSUES
The Trust asked about the arrangements for the Riverside Stand specifically, where there will be most upheaval and to clarify the timelines of the season ticket sales.
The timeline was clarified as followed:

18 April : Riverside Stand only
On sale by priority group (notified to supporters via email) and ticket type in following order
Group 1 : Former Riversiders who have continued to hold ST anywhere (Platinum & Gold)
Group 2 : Riverside Lower STH (Platinum & Gold)
Group 3 : Former Riversiders who have continued to hold ST anywhere (Silver & Bronze)
Group 4 : Riverside Lower STH (Silver & Bronze)
Group 5 : All other 22/23 STH (All price categories)
Group 6 : Waiting list (All price categories)
9 – 22 May : Hammersmith, Putney and Johnny Haynes
On sale to 22/23 STH for own seat
Non STH seats available to 22/23 Riverside STHs not renewing in Riverside
23 May : Move window 1
On sale only to 22/23 Riverside STHs not renewing in Riverside
Non-renewed Hammersmith, Putney and Johnny Haynes seats now available

24 May : Move window 2
On sale to all STH

25 May : Waiting list
31 May : General sale

In answer to questions from IC around the rationale for the timeline, the categorisation of seats into bronze, silver, gold and platinum and why certain seats in the Riverside Stand were available first, the club stated that this was a business decision.
Other clarifications by the club regarding the Riverside Stand Season Tickets:
General admission
All Riverside Stand season tickets going on sale are general admission only, including the £3,000 seats. 
 
Concourse access
All general admission season tickets in Riverside Stand will only have access to the lower concourse which is the same as this season.
 
Available seats
The visual of the gold/silver/bronze for the Riverside Stand on the website is only an illustration. Actual seats may vary, and supporters will have a tailored offering showing them available seats and categories when they go to renew.
 
Displaced Riversiders
There are currently approximately 1,800 'displaced' former Riverside Stand season ticket holders who have continuously held a season ticket since the old stand was demolished. These fans were split this season approximately 50:50 between the Riverside Lower and other parts of the ground (mainly the Putney End)
 
Options for Riverside STHs wishing to renew elsewhere
If current Riverside Stand season ticket holders do not want to renew in the Riverside Stand, they will still have access to renewal pricing for non-season ticket seats in other areas of the ground from 9 May. There will then be a further one day move window for these supporters on 23 May with access to seats where season ticket holders have not renewed. 
 
Unavailable blocks
The two unavailable blocks immediately behind the dugouts and the end blocks in the upper tier have been reserved by the Club for internal use. The unavailable seats at the rear of the upper tier are due to capacity restrictions as this season. 
When pressed on the above matters the club reiterated that these were all business decisions.
IC stressed that the Trust has received a lot of feedback from Riverside Stand season ticket holders concerned about the strain placed on facilities in the lower concourse by supporters coming down from the upper tier and that it will come as a surprise to many that this configuration will continue.
Other clarifications by the club regarding other Season Tickets:
Away allocation
Due to the slight increase in capacity, as per league rules, there will be an increase to the away allocation which has to be 10% of the entire capacity of the stadium. Therefore, there are approximately 130 season ticket holders in block P4 that will need to move. The club are contacting those people directly. 
 
Moving in groups
If groups of season holders want to move together, they will have to wait until they are all on the same priority window to move together.
 
Season ticket benefits
The stated benefits offered to Riverside season ticket holder next year, which include "Priority access to buy tickets for away league matches, as well as home and away cup ties" are the same as for all season ticket holders. Riverside season ticket holders will not have greater priority for these tickets than other season ticket holders.
The club did not disclose how many season tickets it plans to sell, the split of how many match tickets would available and if they benchmark this against other clubs.
WOMEN IN FOOTBALL
HD then provided an update on the 'Supporting Fulham Females' activities, for which the last presentation was 12 months ago. The presentation covered key areas as follows:
Safety & behaviour
The visibility of the Ful-Stop text messaging service for reporting anti-social behaviour has been seen a success. However, the feedback from ER stated that the service is being misused for trivial or unrelated matters. IC highlighted that mobile phone signal is not deemed good enough to provide consistent service.

Stewarding
ER and CB stated that the Premier League are rolling out a standardised stewarding training programme for all clubs. All matchday stewards will need to complete an online training module before they can steward Premier League games. CB stressed that this is an important step forward as previous training programmes were not tailored to football or football stadiums in particular. The modules are in the final stages before implementation.

Encouraging more females
Social media behaviour
Following FFC Women
ER has established a working group of women at the football club which focusses on three key areas to improve the women belonging in the game, increasing attendance of women at football games and equality of opportunity at Fulham Football Club.
ER is also working on a women in football celebration day to be held at Craven Cottage. The celebration day will highlight the achievements of women working at Fulham or Fulham fans who are women.
The Club have agreed to continue to work with the Trust & Lillies, and plan to increase growth in these areas over the following 12 months.
REGULATION OF FOOTBALL
In response to the news of the introduction of an independent regulator for English Football, DP said that the club broadly welcomes the proposals and they accept that there needs to be more governance. DP was keen to outline that there were some important areas where the club views are:
That there are no unintended negative consequences for local communities or the positive work that clubs do in their local communities.

That it will be a light touch approach and that the club are against salary caps and financial fair play proposals. The club has a long-term belief that this only benefits larger clubs.

Some regulation functions could be delegated to the Premier League.

Ensure that the regulator is fully independent, with those tasked with handing out judgements being fully independent but with the understanding and knowledge of football.

The independent regulator is fully funded.
IC noted that the recommendations included the introduction of fan advisory boards, the subject of which is already under discussion with the Trust.
MANCHESTER UNITED FIXTURE
SD said members had been in touch to express their views on the incident and punishment of Marco Silva and Aleksandar Mitrović, with responses ranging from disappointment in their behaviour to fully supportive of Marco & Mitro and its time to move on. SD mentioned that the Trust Board's view is recognising that it is now in the past and has been dealt with, we need to move on The Trust Board also confirmed Marco & Mitro have their full support. CM confirmed that this message had been passed on to them, which was well received. The Club highlighted that although the FA have stated it is their intention to appeal the bans handed to the pair, that they would have to prove that the punishment was manifestly incorrect.
AOB
Infant priced same as juniors
HD questioned why the club's policy currently is to require that all infants have a seat which is charged at the same price as a junior, (0 – 17 years). CB said that the seat requirement was in line with their safety certificate because every person in the ground must have a seat; this is to guarantee they always fall within their maximum attendance. This is therefore an issue of price rather than capacity, which differs from other clubs. HD is working with the FSA to work on the big disparity between clubs and producing guidance for parents and young children to attend football games. CB is aware that this is something that the Premier League is also looking into.

As a starting point a member of the Trust/Lillies has been invited to join the end of season Safeguarding review meeting to discuss improvements that can be made for next season.

Congestion at Hammersmith End concourse
IC noted the extra cameras at the West Ham game that were used as part of the Movement Strategy work to find solutions to help alleviate the congestion issues at this end of the ground. DP said the results of this survey will be shared with the trust when they are available.
OTHER ITEMS COVERED OUTSIDE THE MEETING
Overcrowding in Riverside Stand Concourse
In response to this issue (some of which was highlighted to the club in response to season ticket pricing and arrangements for next season) the Club responded that the lower concourse size and all amenities are fully in compliance with the Green Guide and Football Stadia Advisory Design Council for the number of people in the stand. Obviously, as final facilities open in their ultimate position crowd flows will improve in line with their intended design. The club have heard of fans queuing for just one set of toilets in the male basement block when there are more toilets around the corner, this is something the club are investigating.

Bishops Park turnstiles
When asked when these will be operational, the club said they'll open as they are able to put more people in the fit-out spaces in the building. The club are working on this with the fit-out contractor and hope to provide more information soon.

Streaming of U21s matches on FFCTV
In response to what can be streamed, there are budget constraints meaning that only 60% of the home games are covered and no away games are streamed (unless there is a special arrangement with opposition club). The club are not permitted to stream any Premier League international cup games or PL2 games that clash with broadcast first team Premier League matches.

Pre-match build up of first team games on FFCTV
The output of FFCTV will be under review in the close season but the audio only offering currently already has some build up.

Fan input into new kit designs
As David Daly was not present this will be added to next months meeting.

Re-entry to Riverside Stand
One member advised that on Saturday Riverside season ticket holders were being refused re-entry to the stand after the game even though they had just crossed the line to talk to relatives. Some had just brought drinks or having drinks brought for them but still not allowed back. The club have said that there is no re-entry into any stand or building. Once you have left the building, people could pass their tickets on to others.

BBC Site
Certain preliminary works have been started to comply with the terms of the planning permission.
The meeting closed at 15:00