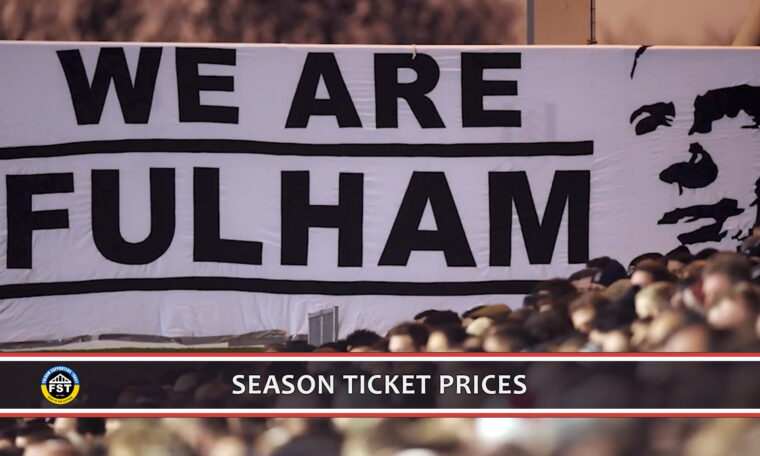 Today's announcement of season ticket price rises by Fulham FC is extremely disappointing, particularly given the challenges we are all facing with our everyday costs.
The prices of adult and concession tickets in the 'horseshoe' of Putney-Johnny Haynes-Hammersmith stands have risen by 18% across the board, with many junior tickets up over 50%, albeit from a low base. This comes on top of price rises in the region of 10% on adult and concession tickets after promotion last season which means that for most of us our season ticket prices are as high as they have ever been.
The rises in the Riverside Stand are even more substantial, with the new tiered bronze-silver-gold-platinum system meaning that some seats have more than doubled in price from this season, which was always declared by the Club to be a "one-off".
To see the full impact of these new prices, here's a direct comparison of renewal prices in 2022/23 and 2023/24. New season ticket prices are higher still.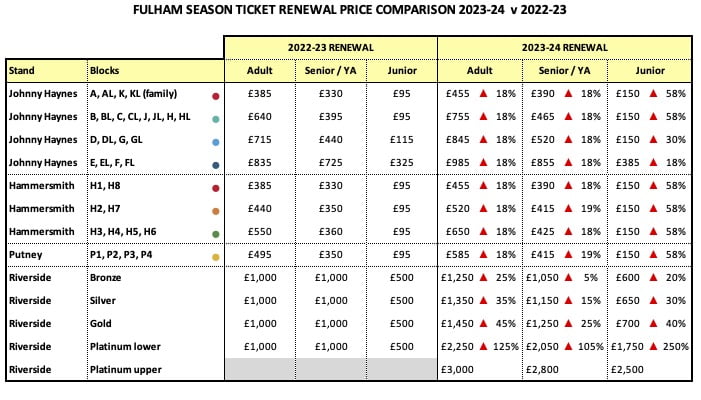 Looking at a season ticket in block H4 of the Hammersmith End, here's how the cheapest renewal price has changed in the 20 years since we first moved "Back to the Cottage", showing a steady rise up until relegation in 2013/14, a reduction during the Championship seasons and a rise again now that we are back in the Premier League.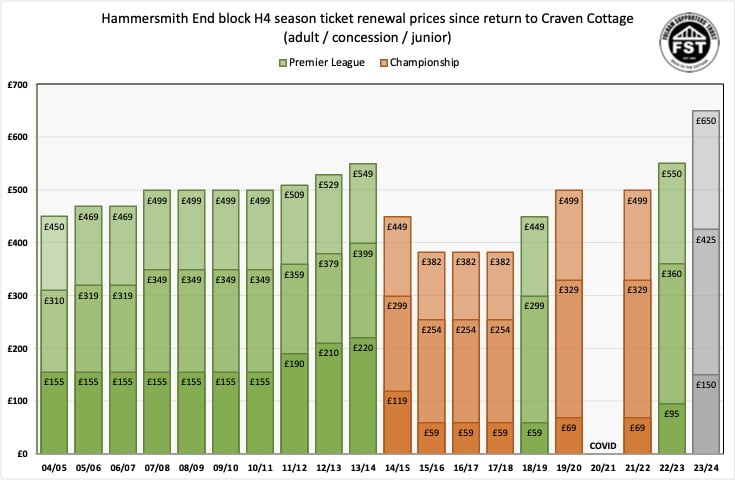 Although a £200 rise across 20 seasons amounts to less than 2% annually, and in 2022/23 the price was essentially the same as a decade before, this is the biggest increase in season ticket prices that we have seen.
It is important to reflect that these prices come only a week after the latest company accounts filed by the Club to June 2022 showed an annual loss of £58 million and that, even today, new Companies House filings show that the Khan family has written off a further £40.5 million by issuing shares, bringing that total above £800 million. These are eye-watering sums, without which Fulham wouldn't be operating as a going concern in the Premier League, but we have to make sure that Fulham fans, both long term and new, can still afford to attend. We are a long way from financial sustainability.
To put Fulham's season ticket prices in context, here's a brief view of some other clubs' season ticket price announcements. Every club has different pricing models, constraints and indeed seat plans, but we think it is useful to compare ourselves at least to Brighton and Crystal Palace as clubs of a similar size. This table contains "behind the goal" 2023/24 cheapest renewal prices which are broadly equivalent to our Hammersmith and Putney prices and shows that while we're not out of line with these clubs, we have caught up very quickly and, of course, our match day prices are often higher.

The other big numbers released today are the Riverside ticket prices. There's no doubt that these prices will come as a shock to many, with season tickets on sale for renewals between £1,250 and £3,000. These are prices that we've never seen before at Fulham, but equally we have never had a stand of this potential quality. It has always been our hope that the revenue generated from the new Riverside Stand would serve to keep the prices in the rest of the stadium reasonable and affordable and this continues to be our view. We would also like to see a focus on improvement of the infrastructure and facilities in the Hammersmith, Putney and Johnny Haynes stands to ensure fans in these stands do not get left behind.
We have our regular meeting with Fulham FC tomorrow at which we'll discuss these prices in detail and provide the Club with any feedback we receive from you.
Thanks for your support.
FST Board