Notes from March meeting with FFC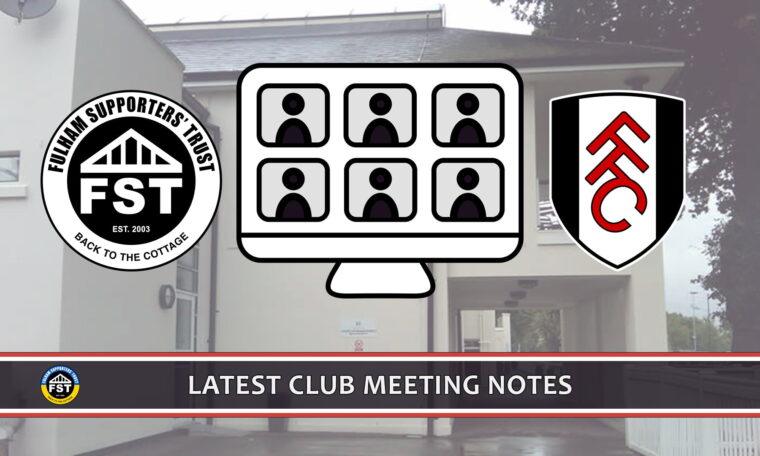 On Wednesday 8 March at 13:30, the Fulham Supporters' Trust (FST) met with Fulham FC via video conference.
The Club was represented by:
Alistair Mackintosh (Chief Executive Officer AM)
Darren Preston (Chief Operating Officer, DP)
Carmelo Mifsud (Communications Director, CM)
Katy Brecht (Head of Ticketing, KB)
Nicola Walworth (Supporter Liaison Manager & Disability Liaison Officer, NW)
Glenn Sutton (Chief Profit Officer, GS)
Sam Curteis (Supporter Relations Executive, SC)
The FST was represented by:
HOW IT WORKS
At our regular monthly meetings, Trust board members ask questions relating to as many topics as possible in the time available, based on responses from members to the advance notification of the meeting and our own observations from interacting with the wider supporter base. The Club then gives its position, which is discussed.
These notes are therefore a statement of both points of view. The Trust continues to press both the Board's and its members' view at this meeting and in separate meetings.
This particular meeting is a combined February/March session, following the necessary postponement of the scheduled meeting last month, although the Trust was then able to have separate meetings with key Club officials about specific topics, many of which we have also followed up in this session and so are including in these notes rather than in a separate communication to members.
Often members ask similar questions, and, in these cases, we use our judgement to summarise, provide the Club with feedback and gain as much useful information as possible in the time available. We also prioritise new and time-critical topics, whilst also seeking updates on longer running issues.
You can access notes of all previous meetings on our web site, including the most recent information on key topics not covered at this meeting.
If any member has raised a new issue that it was not possible to discuss in the time available, then please do contact us again in good time before the next meeting or alternatively we can seek to raise it between meetings if that is more appropriate.
TOPICS DISCUSSED
The following topics were discussed:
SD opened the meeting by highlighting the favourable feedback received to the Celebration Day event at the Forest game with huge thanks to everyone involved – hopefully this had now established itself as an annual event. The Trust also passed on members' comments at how well the medical emergency at the Chelsea game was handled in line with the clear protocols that had now been established.
TICKETING
The Trust had made clear supporters' and its own frustrations around both pricing and arrangements for tickets for the Leeds FA Cup game. These had been separately discussed with AM prior to the game and reported to members. The Trust was now looking forward to what should happen for future games, focussed on 5 key areas:
The overall level of pricing.
The desirability of differential pricing between the Riverside and other stands to enable lower pricing in those other stands.
Discounts for season-ticket holders and members.
A window for season ticket holders to purchase their own seats.
Loading tickets on cards (although understanding this was not technically possible for the moment, but a potential development)
The Club responded that they would consider these issues, as indeed a number of them had been, for both the Sunderland and Leeds games. The Club were pleased with the attendance at the Leeds game, which was a little above their expectations and historically high for a Fulham home Cup tie. The main difference in attendance between Sunderland and Leeds was much fewer children attending the latter, being an evening game, notwithstanding an attractive child discount. So, although understanding some supporters' reaction, even in retrospect the Club would not change the decisions made for Leeds. This applied also to giving supporters a chance to move seats and sample the Riverside Stand, which had sold out quickly. Future decisions would depend on a number of factors including the opposition, the round, the timing of the tie and revenue targets.
SD re-iterated the view that many supporters thought that prices were too high, and the Trust would expect that the Club would look carefully at all the factors for a future tie next season.
Turning to the United tie, the Club confirmed that pricing was set by United, and that coach availability was severely restricted by operators because of the potential rail strike that weekend, although the Club had managed to offer a better-than-normal price for those coaches already secured. The Trust asked why only 3,100 tickets had been taken. KB responded that given the circumstances (transport, Mother's Day, time of kick-off, television, etc) it had been very difficult to estimate the likely sales – Fulham were unable to return any unsold tickets, and the home club, who could sell the tickets, were unhappy if whole blocks remained unsold. Although perhaps cautious, the Club felt that sales much above 3,000 were unlikely in the circumstances, and initial sales supported this.
In response to a question from a Trust member, the Club confirmed that season tickets would be sold in the Putney End for 23/24. Season ticket pricing across all the stands was under active discussion, and the Trust would be given early sight of preliminary decisions. The Club also confirmed there were no plans to change the age thresholds for concessions.
In response to other questions from members, the Club said they were about to trial digital tickets, and were mindful of the issues surrounding transferability, shared and children's tickets.
The Club also confirmed, in response to suggestions from the Trust, that they were looking at changing the loyalty points system next season – one possibility was a dual system rewarding long-serving supporters as at present but also giving weight to those who attended a significant number of away games. Finally, in response to another question from a member, the Club said that a Cup-tie opt-in for season ticket holders was not currently possible under Secutix's systems, but was on a possible development list.
GROUND
SD opened this topic by stressing the Trust's understanding that Craven Cottage is a unique location with inherent limitations and one that we are fortunate to see our team play at. This uniqueness, the listed status of some of the buildings and riverside location do however lead to certain challenges, particularly around planning, which other grounds may not have.
A separate constructive meeting had been held with DP, which was recapped by SD at this main meeting as follows:
Concourse congestion at the Hammersmith
The Club are presently working with consultants to collect information to help people movement planning and in turn make the match day experience better. Any recommendations coming from this review would fall into one of two categories: –
Those that can be implemented quickly; and
Those that are infrastructure related which would require planning permission, more time to complete and capital budget approval (the Club did not own any extra land so extending the stand materially was not possible).
Some changes have already been implemented including moving/removing some catering concessions to free up space. The Club are also looking at other options for fast pour/pre pour of drinks to reduce queuing time. A one-way system has been trialled but not found to be effective. Any capital project recommendations will be considered on a case-by-case basis.
The consultants will be making another visit for the West Ham game.
Remote Cameras
The installation of a number of Artificial Intelligence cameras is being implemented which would enable more real time active congestion management.
Hammersmith End concessions
The Trust had a query from one member regarding the often-early closure of the catering concession just inside the Hammersmith turnstiles. The Club report that this is as a safety precaution as that particular area becomes exceptionally congested as people arrive just before kick-off and the queues for the bars don't allow the search team to operate effectively.
Toilets
The toilets continue to be an issue but other than trying to improve control of access through stewarding there is little that can be done without planning. The lack of soap and sanitary products in toilets was resolved ahead of the Wolves game. It is also noted that there is often an uneven distribution of queues at peak times and supporters may wish to consider checking where queues are shortest, accepting this is not easy!
Sound System
The sound system is still an issue particularly for half time interviews in various parts of the ground and the club are working with audio specialists to try and find solutions. Whilst this might be regarded as an easy issue to solve it is not proving so.
Ticket checks
The more regular ticket checking by stewards at the Hammersmith End is to make sure spectators are accessing their seats from the correct entrance and is in response to a number of people moving and grouping in parts of the stand where they do not have a ticket.
Safe Standing
The possible implementation of safe standing is still under consideration. The club are in active dialogue with Arena Seating, its Structural Engineers and the Sports Ground Safety Authority. This was making progress and it was possible some safe seating, perhaps in H4 and the upper part of the away section, could be introduced during next season, but this would depend on costs and more detailed planning.
VAR Screens
Screens to enable those at the back of the JH stand to see VAR announcements were ordered in November and are scheduled for delivery in Q2/2023. They may arrive in time to be installed before the end of the season.
SD emphasized that a number of these issues have been reflected in meeting notes for some time and the Trust will be looking to work with the Club to bring about speedy resolution.
RIVERSIDE STAND
In response to a number of questions from members and JC, the Club:
Said that the middle upper sections of the new stand would not be opened for the start of next season as the associated hospitality areas were not due for completion until later, and the existing concourse could only support the remaining capacity comfortably and safely; it was possible that more seats, with associated hospitality, would come on stream as the season progressed;

Confirmed that the 1,800 or so returning Riverside season ticket holders would get priority alongside existing Riverside ticket holders – there was sufficient space to accommodate both groups' preferences; the logistics of this would be announced soon;

The remaining facilities in the Stand, including the Hotel and Spa and non-matchday commercial offers, would be opened gradually through 23/24, with an aim to make some available for Christmas activities;

The safe opening of the Thames footpath depended on general building and interior work being completed, which would not be in the next few months;

A video updating the facilities in the Riverside, similar to those undertaken by the now departed main contractors, would be considered – but it needed to show something material, which was less obvious with interior work.
OTHER BUSINESS
TG asked whether the rumours of a voluntary Premier League moratorium on front-of-shirt betting sponsors would affect the current Fulham sponsorship; AM responded that as far as he was aware no moratorium had been agreed by the League, and if/when it was, it was likely only to apply to new sponsors – Fulham's current sponsorship had the flexibility to be continued next season.

TG also asked how far the Club had got with their plans for a fan engagement group, one of the actions arising from the Government review. The Club said a first draft of how this might operate, including the Trust and DSA, was close to finalisation for dialogue with the Trust – if all went well it could operate from the start of next season.

Finally, the Trust asked if WiFi, free or chargeable, would be introduced at the Cottage – the Club said this was a project under consideration but no final decisions were close.
The meeting closed at 14:35.