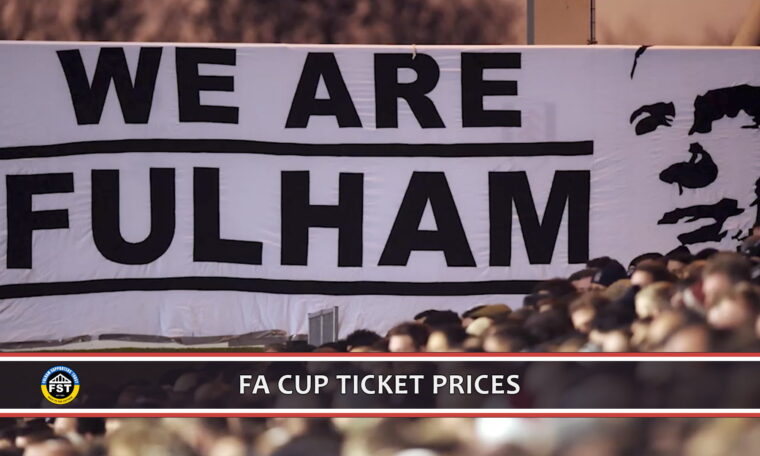 Tonight we have a great chance to progress to the quarter finals of the FA Cup for the first time since 2010 with a home fifth round tie against Leeds. This is a fantastic opportunity for the whole Fulham family to come together at Craven Cottage to cheer Marco's boys one step closer to a return to Wembley and the White Wall.
Looking at the Club web site, we can see that ticket sales have been slow, with only the Riverside Stand selling out and large parts of the Hammersmith End currently unsold. Many supporters believe that a £40 ticket for a midweek cup game on terrestrial TV is too much, especially in a cost of living crisis.
We're fully aware of concern amongst our fans about this pricing and its impact on attendance and we've received plenty of feedback, most of which questioned the price level in comparison with the home fourth round game against Sunderland (£30) and the range of prices other clubs have decided to charge for their fifth round fixtures (£10 – £48). It is clear that other clubs have been more imaginative with their ticketing, including lower overall prices, season ticket holder and member discounts and, in one case, a 50% away subsidy provided by the visiting club.
The view of the Trust is that the pricing of tickets for the Leeds game was poorly judged given a number of factors (mid-week, evening kick off and live on terrestrial television), which has led to what appears to be a low level of sales. In turn this will impact on the atmosphere for what is one of our biggest cup games for a number of years. Had the club consulted with the Trust on what was proposed we would have encouraged them to act differently.
As a Supporters' Trust, our role is to listen to our members and the wider fan base and to take these views firmly but constructively to the Club, seeking answers, making suggestions and trying to influence. We do this not only at our regular formal monthly meetings but also frequently in between and were most recently due to talk to Fulham's senior management last Wednesday. Top of the agenda for last week's meeting was the issue of FA Cup ticket pricing, alongside mitigation of the pre-match congestion experienced at the Sunderland game as a result of 100% paper ticketing.
Although the formal meeting was postponed, over the last few days we have been able to meet separately with Fulham board members to discuss these key issues, as well as a number of other ground operations related topics. We will circulate more detailed notes of the operations meeting later in the week, but with the Leeds game now looming, the Club has published guidance on its web site relating to entering Craven Cottage.
In relation to ticket pricing we have firmly expressed supporter concerns which were taken on board and the Club has agreed to engage with the FST before releasing prices for any possible sixth round home tie. We have also asked the Club to consider the following
lowering of overall ticket pricing
pricing differential between stands to give a broader range of options
season ticket holder / member discounts
season ticket holder priority purchase window for their own seat
tickets to be loaded onto season ticket holders' cards.
As supporters ourselves we share the opinion that cheaper tickets would have resulted in a bigger crowd, a great atmosphere for fans and players and extra revenue for the club in other sales. We'll continue to press for affordable prices whilst recognising the financial realities of owning and running a football club.
Whether you're watching tonight from the stands or from your sofa we hope you enjoy the game, that we progress in the competition and that better consideration is given to ticketing for the sixth round.