Fan Survey 2022 – Results
At our AGM on Thursday 17 November, the Fulham Supporters' Trust revealed the initial headline results of the 2022 Annual Fulham Fan Survey. These were subsequently presented to Fulham senior management at the December club meeting. You can find the presentation we made to the Club here.
Over 1,400 fans took part in this fourth annual survey and were asked about a wide range of issues. The Trust board has now analysed the data and the full results are as follows.
Home match ticket prices
Ticket prices have seen large increases since our promotion to the Premier League. With the exception of one game (Brighton), tickets have been at least £50 for adults and £30 for juniors outside of the family areas. For some games the cheapest non-family area adult ticket has been as high as £65. This is what you told us:
Match ticket prices have had a significant impact on the ability of long-standing Fulham fans to attend home games.
Non-season ticket holders have attended one third fewer matches as a proportion from last season to this season, despite the positive results. 66% said that the cost of match tickets has had an impact on their ability to attend home games.


One third of supporters who bought tickets last season have so far attended no games at all this season.
A further quarter have only been once. This is in comparison to last season in the Championship when, on average, these fans say they would have attended seven home games across the season.


The largest groups affected by the cost of match tickets are people who have supported Fulham for more than 20 years.
However, over half of all other groups said this had a 'significant' or 'slight' impact.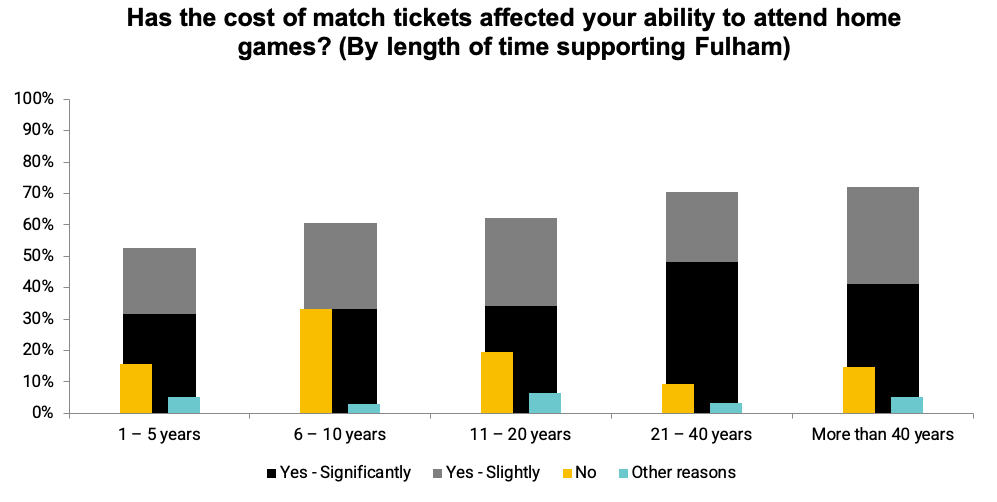 Season tickets
The clear majority (83%) are planning to renew their season ticket for next season.
72% are 'satisfied' or 'very satisfied' with the cost of their season ticket. However, there has been a rise of 5% to 16% saying that renewal will be dependent on price.


There has been an increase in season ticket price satisfaction across all areas of the stadium.
This is in comparison to the last time we were able to ask this question in 2019/20 (the Riverside Stand wasn't open that season).


The Riverside Stand has the lowest satisfaction with season ticket pricing.
Only around a half of respondents said that they were at least 'satisfied' with the price of their season ticket with only 4% 'very satisfied'.
Craven Cottage experience
The facilities at Craven Cottage have been the focus of considerable feedback from supporters and discussions with the Club, particularly over the last 12 months. This involved a walk-around with board members from the Club and Trust to highlight the ongoing issues on matchdays. We therefore asked supporters about how they rate the Craven Cottage experience. Below is a table showing the weighted average of responses.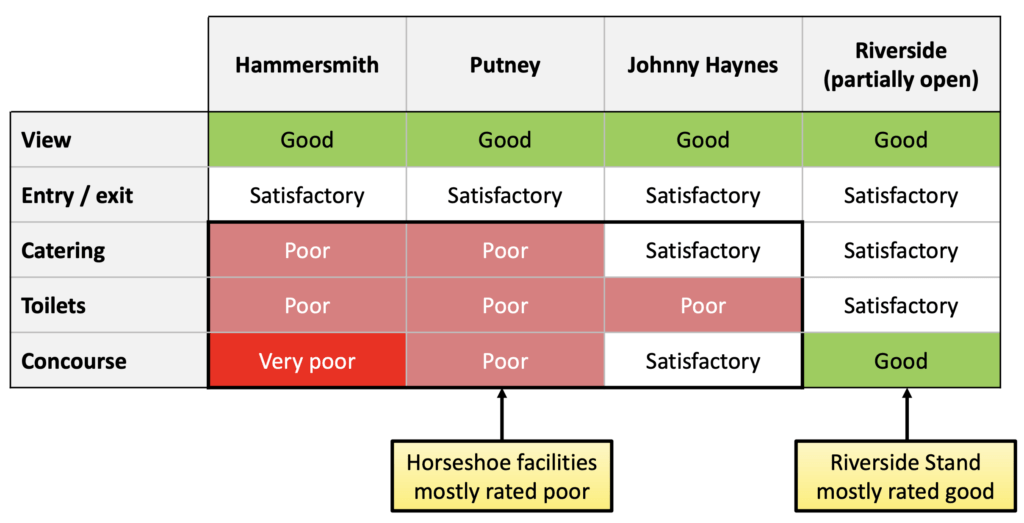 Craven Cottage facilities are mostly rated 'poor' or 'very poor' across almost every area.
Except for the partially open Riverside stand and the view, fewer than 30% of fans rated every aspect of the stand either 'good' or 'excellent'.


The Hammersmith End was rated worst across every area.
A very large proportion of supporters rated the concourse (80%) and toilets (78%) 'poor' or 'very poor'. This supports the feedback we regularly receive from supporters.
Fulham business model
The Club has previously explained that their business model is to move towards financial sustainability, an aim which we support. Given this, we asked fans which initiatives they would consider if the Trust is to continue to argue for moderation in ticket pricing, a different focus on commercial sponsorship and an improvement in facilities.
The most significant response was higher priced premium offerings (48%), with little appetite for increased season ticket prices (11%) or reduced expenditure on playing staff (8%). In fact, the second biggest response to this question (28%) was "none of the above" which is an area we intend to explore further during the course of the year and in surveys in future years.
Other areas
Gambling sponsorship is getting less popular.
Over half of respondents (up 7%) say they are uncomfortable with Fulham's main sponsor being a gambling company. There was a similar rise in the number of fans who choose not to purchase official club kit due to the gambling sponsor, whilst there was an increase of 11% in the amount of people who say that gambling sponsorship should be banned.


Three quarters of people said that they support the idea of a supporter representative on an ethics committee.
The main aim of this committee would be to advise on potential partnerships, an idea proposed in response to the Club's now cancelled Titan Capital Markets partnership earlier in the season.


15% of Fulham fans said that they had been a victim of bad behaviour at football.
A third of all respondents said that they thought behaviour was worse from before the Covid-19 pandemic. Worryingly, 10% responded to say that bad behaviour was having an adverse effect on their attendance at away matches.


Over half of supporters said that their mental health had improved as a result of the return to football after the pandemic.
Virtually nobody said their mental health was worse, with 37% saying it was unchanged.


Support for safe standing remains as high as ever.
However the amount of people who say they would purchase tickets in safe standing areas at Craven Cottage has fallen slightly.


For the third year, 'highest league position' (66%) was considered the top measure of success for Fulham.
Other measures which gained over 50% support were 'entertaining football', 'development of young talent' and 'remaining at / developing Craven Cottage'. Interestingly, 'sustainable football club' rose from 40% to 52% as a key measure last year, but has now dropped back to 38% support.

Our view
FST Chair Simon Duke said in response to the survey:
Can I firstly thank all those who took time to complete the survey. It is important that we get as many people as possible to provide feedback for us to take to the Club so we can be truly representative of supporter views.

The two major areas of concern raised by respondents were ticket prices and the facilities at Craven Cottage. Season ticket prices are viewed as reasonable but there are concerns regarding the price of individual match tickets. This has already been raised with the Club and we will continue to do so. It is to be expected that some parts of the ground will command premium pricing but we want to ensure that there remain other parts of the ground where, in line with our family ethos, pricing will be affordable for all.

There is still a high level of dissatisfaction with the standard of facilities apart from the new Riverside Stand. We have discussed with the Club on a number of occasions the concerns raised by members and will continue to do so. A "walk-around" was undertaken in the summer and we are continuing to press on the actions. Spectator safety remains paramount.

We will also continue to table in our discussions with the Club views on gambling sponsorship, where the majority of respondents are not supportive, fan behaviour, ethics and safe standing.

Our membership is now at its highest level for some time and we are always keen to welcome new members. For those who completed the survey but are not yet FST members could I please encourage you to join.