Notes from December meeting with FFC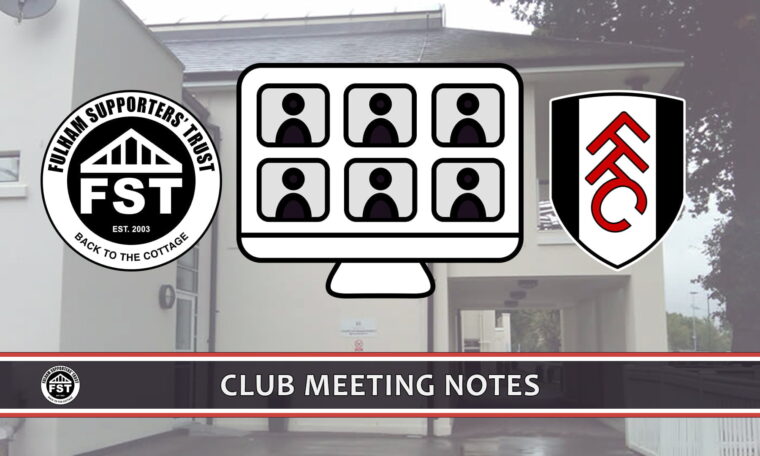 On Wednesday 14 December at 13.30, the Fulham Supporters' Trust (FST) met with Fulham FC via video conference.
The Club was represented by:
Alistair Mackintosh (Chief Executive, Officer AM)
David Daly (Non-Executive Director, DD)
Darren Preston (Chief Operating Officer, DP)
Carmelo Mifsud (Communications Director, CM)
Katy Brecht (Head of Ticketing, KB)
Nicola Walworth (Supporter Liaison Manager, Disability Liaison Officer, NW)
The FST was represented by:
HOW IT WORKS
At our regular monthly meetings, Trust board members ask questions relating to as many topics as possible in the time available, based on responses from members to the advance notification of the meeting and our own observations from interacting with the wider supporter base.
Often members ask similar questions; in these cases, we use our judgement to summarise, provide the Club with feedback and gain as much useful information as possible in the time available. We also prioritise new and time-critical topics, whilst also seeking updates on longer running issues.
You can access notes of all previous meetings on our web site, including the most recent information on key topics not covered at this meeting.
If any member has raised a new issue that it was not possible to discuss in the time available, then please do contact us again in good time before the next meeting or alternatively we can seek to raise it between meetings if that is more appropriate.
TOPICS DISCUSSED
The following topics were discussed:
IC opened the meeting by reporting that, notwithstanding the absence of Premier League football, it had been a busy time for the Trust with a very successful AGM, well contested elections to the Trust board, the annual Trust Supporters' survey and a continuing full Trust in-box from members.
With respect to the elections, the Trust board had been re-elected in full. Tom Greatrex had decided to stand down as Chair after 6 years, but was remaining on the board, and Simon Duke had been unanimously elected as the new Chair, with Dan Crawford unanimously elected as Secretary in place of Simon.
The Club offered its congratulations to all concerned on the Trust board.
THE TRUST'S ANNUAL SUPPORTER SURVEY
IC gave a presentation of the headlines from the survey although there was still some more data interpretation to be undertaken. The slides used are available here, and the key points made by IC, and expanded on later in today's agenda, were:
The survey had attracted over 1,400 responses and seemed largely representative of different elements of the supporter base (The Trust currently had a little over 900 members and there was a good mix of Trust and non-Trust members in responses);

Season ticket prices were generally seen as fair and reasonable, although the response was mixed for the Riverside – the Trust stressed the importance of therefore keeping any increase in prices reasonable;

Match ticket pricing was a significant issue for many, with many of those attending fairly often last year not attending matches this year, largely because of pricing;

There were some serious concerns with elements of the matchday experience in all stands except for the Riverside, particularly at the Hammersmith End;

There was an increasing dislike of gambling sponsorship which seemed to be limiting replica Club shirt sales

There was strong support for a Club Ethics Committee on sponsorship, including supporter representation;

Fan behaviour at matches seemed worse this season;

Support for safe standing areas remained high.
AM thanked the Trust for the information and looked forward to more detail being shared in due course. There were not many surprises to the Club, other than replica shirt sales were actually very strong this year, and Club statistics did not suggest that there were a significant number of supporters who typically attended 7 or so matches, so he felt the conclusion of any downturn in that group needed further probing.
All these issues will form a significant part of the Trust's agenda going forward.
HANDLING OF SUPPORTERS' COMPLAINTS AND ENQUIRIES
DC said the Trust had noticed an upturn in emails to the Trust about a lack of response from the Club to enquiries from supporters which in general the various teams in the Club had always been very responsive in handling. The Trust tried to answer simple queries without troubling the Club, but did not think the Trust's role should be as a forwarder of complaints, particularly unanswered ones.
NW was sorry about any delays in responding, but there had been a huge increase in enquiries this Premier League season, and the Club were reliant on 3rd parties getting back to them with answers on quite a number of issues. KB reported that the ticket office was inundated with enquiries about tickets, more often than not from those who were simply not entitled to buy tickets and who would not give up. It would be helpful to the Club if the Trust forwarded emails on one-off issues directly to the key Club person involved (eg ticketing) and they would aim to ensure these received a direct timely response.
CM specifically asked for any such emails about Fulham TV, on which he was keeping a close eye.
HD said there in the last 2 weeks alone had been 19 different areas raised with the Trust, many more than once.
The Trust encourages supporters always to write to the Club first with specific issues, as this helps speed up response times. DC and NW agreed to keep in touch on this and continue a dialogue as appropriate.
STADIUM SAFETY AND CONGESTION
IC said that the Trust continued to receive serious concerns around congestion, particularly at the Hammersmith End. A walk round with a Club safety officer had been arranged for half-time at the Hammersmith but this could only be partially completed because of the congestion!
Everyone knew that solutions were not easy to find, but the Trust were very concerned about the situation and would continue to press the Club.
DP responded that he had just received a report on the walk around and would provide a fuller response at the next meeting, but the Club would follow up with the safety team with the aim of positioning catering points away from the main congested areas eg with hawkers, to free up some space for those trying to access the toilets. IC responded that he would like to follow up the walk-around with a more detailed conversation outside the meeting.
IC added that there seemed to be more away fans than usual in home areas at the Manchester United game. The Club said that stewards tried to deal with the most critical flashpoints on the day or before entry, but the key was avoiding Fulham supporters passing on, or buying tickets, for away fans. Tickets in the home areas were for Fulham fans and Season Ticket Holders and members who bought tickets for identified away fans had been banned and would continue to be banned – they needed to take responsibility for anyone to whom they supplied tickets.
There was also a particular problem with some websites who were purporting to have tickets for sale, often as part of packages to overseas fans, and they turned out to have sold either a non-existent ticket or to have sold the same ticket many times over, which also caused great difficulty on the day of the match.
The Trust, through these notes, urges Supporters not to pass on tickets other than to personally known Fulham fans.
CATERING
In responses to specific enquiries from members set out by HD, the Club said that there was a limit on the choice of beers and lagers available in the three legacy stands because of limits on space and pipework, but there should be greater choice in the Riverside stand next season when it was fully open. The Club were also monitoring a fresh set of KPIs, including on queuing time, with its caterers and would aim to bring an update to the next meeting with the Trust.
USE OF CRAVEN COTTAGE FOR WOMEN'S AND U-21 GAMES
HD said that the Trust had received a very favourable response to the recent women's game played at the Cottage, and she asked whether a further game was likely this season. AM said that was very possible, depending only on a suitable fixture emerging at a doable time in the calendar. The Club too had been very pleased with the occasion.
HD also asked about U-21 men's games. Here however previously staged games at the Cottage had been less successful, so they were not at the moment a priority and indeed the Premier League had relaxed its requirements for Clubs to play a fixed number of games at their main stadium. The Club was however pleased to see, and would encourage, increased attendance at Motspur Park for both the women's game and men's U-21 games.
OTHER MATTERS
In response to a variety of issues raised by HD from Trust members, the Club responded that:
They would be pleased to receive from the trust seat numbers of those still having difficulty with the Club sound system on match days (Note: the Trust has collected some seat numbers and will be forwarding these shortly);

The Club would consider opportunities for more Christmas events next year given this season's success with these events;

The Club would investigate a reported lack of stock of some children's clothing at this time of year; some items are low in stock and in store only, due to the postal strikes with a strategic shift moving to store from online; there are however more options than last year eg home/away kits, 8 new fashions styles, 4 styles of nightwear, 8 training wear styles, and 7 styles in the SALE section; there may be even more options next season, where commercially viable;

Mascot packages were generally only available for sale to sponsors, hospitality, etc, but junior Fulham members were automatically entered into a draw for some games;

The Riverside walk would be completed in due course;
The meeting closed at 14:40.