Ticket prices – informing the debate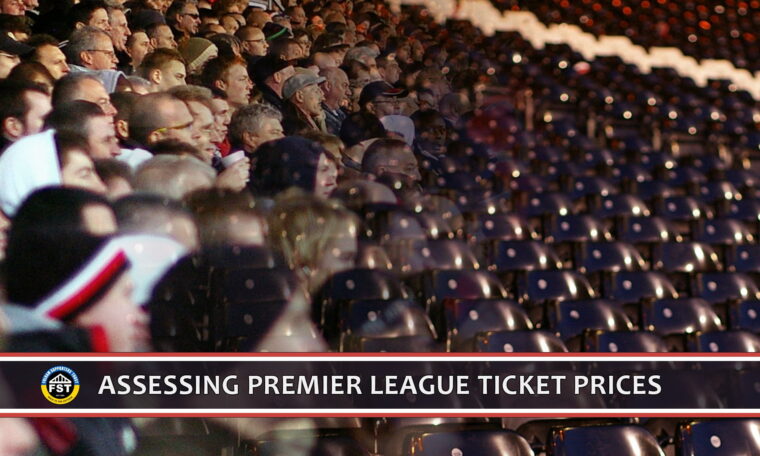 A quick (well slow actually) trawl through the twenty Premier League clubs' ticketing pages reveals a dizzying array of prices, categories and memberships. They range from elegant simplicity like Everton, with their 'every seat the same price for every game' model (unless they choose to drop them!) to Manchester United's 'click a seat and see what you get' offering.
Some clubs are completely up front with their prices and category allocations for the whole season so that non-season ticket holders can plan ahead, whilst others leak them out in dribs and drabs. To be fair, over half so far have announced all of their prices, and most of those have provided the category allocations.
And prices range enormously, with fellow promoted club Bournemouth's £32 'behind the goal' ticket for every match so far looking like the best adult offering.
Of course, no two grounds are the same from the point of view of sightlines, distance from pitch, premium seats and a whole host of other factors, so it can be hard to fully disect a ticketing model when you're not a regular attender. Nonetheless, we've had a go.
The table below shows what we've been able to find out so far about ticketing in the rest of the Premier League. As far as Fulham is concerned, three games have been announced so far. We know that Liverpool is a category A+ game and have assumed that the Brentford and Brighton matches are B and C respectively, although the Club don't formally announce these. So, if this assumption is correct, we still don't know what a category A game looks like.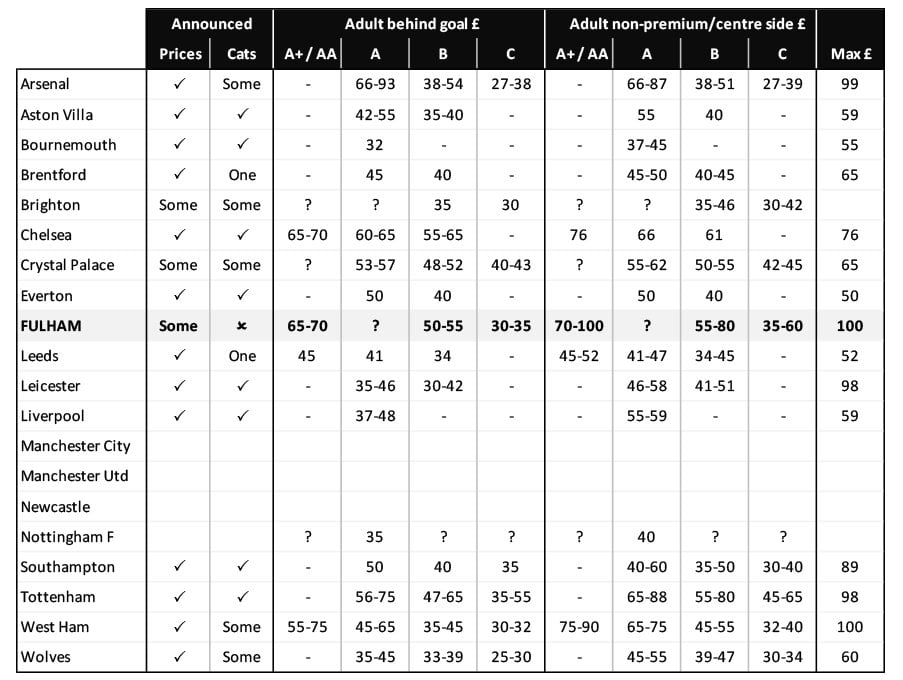 On the left, we show which clubs have already announced their ticket prices and if so, which categories matches fall into.
Then we assess the adult ticket prices in each category for 'behind the goal' and 'non-premium side' seats. This latter category is difficult. One club's premium is another club's bog-standard. As a rule of thumb, we've tended to ignore the most expensive central seats in the main side stand(s). At Fulham, this means not counting the £90 category A+ seats in blocks E, EL, F and FL (there aren't many of these anyway) but we have included the £100 Riverside seats because, although Fulham would say they are 'premium', location-wise you could easily be right by the corner flag.
We can't 100% guarantee that we've spotted every nuance of every stadium, and for those clubs we've so far been unable to find information for we have put out feelers to our fellow Trusts for help.
We'll keep this table up to date and hope it helps you better understand the Premier League ticketing landscape. We will also use this data alongside returns from our fan survey to continue to make a positive case for fair prices for all Fulham fans.