Notes from December meeting with FFC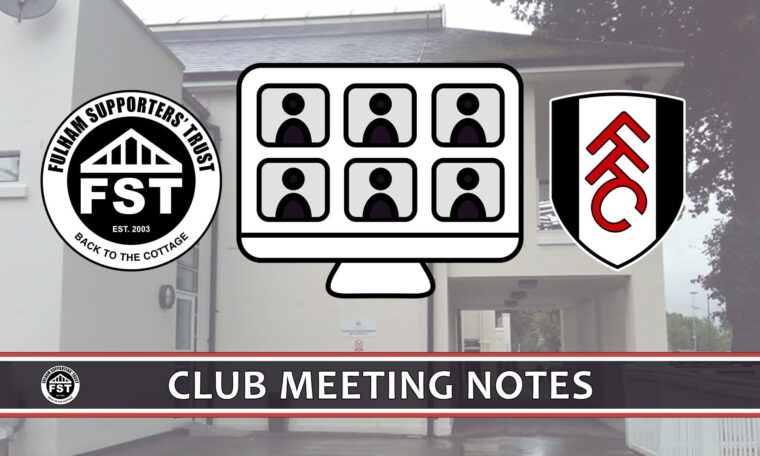 On Monday 7 December at 14:00, the Fulham Supporters' Trust met with Fulham FC via video conference.
The Club was represented by:
Alistair Mackintosh (CEO)
Darren Preston (Chief Operating Officer)
Carmelo Mifsud (Communications Director)
Ally Spicer (Head of Ticketing Operations)
Nicola Walworth (Supporter Relations Manager)
Charlie Harris (Communications Assistant)
Matt Lowery (Marketing Director)
Jon Don-Carolis (Sales Director)
The FST was represented by Board Members:
HOW IT WORKS
The Trust asks any questions that it judges are of interest to supporters, based on responses from Trust Members to the advance notification of the meeting, and by generally interacting with the wider supporter base. There is no restriction placed on which questions the Trust choose to ask or points raised with the Club. These notes are then sent to Members only in advance of being posted on our website at a later date.
This meeting focused almost entirely on the return of supporters to Craven Cottage via the ballot process.
If any member has raised an issue that it was not possible to discuss in the time available, then please do contact us again in good time before the next meeting or alternatively we can seek to raise it between meetings if that is more appropriate.
TOPICS DISCUSSED
Ticket ballots

Introduction and update
Three game cycles
Ballot process
Ticket returns

Matchday operations

Entry and exit
Catering
Other

AOB

Televised fixtures beyond December
FXPro roof advertising
Tributes at games
Pay Per View income
Riverside stand
TICKET BALLOTS
Introduction and update
The Trust opened the meeting with thanks to the Club's staff for their recent hard work within a very short timeframe and with the extensive guidance that has to be adhered to in enabling a limited number of fans to attend matches, beginning with this Sunday's visit of Liverpool. The Trust also welcomed the £40 adult ticket price as a fair setting for a matchday ticket and asked for an update on the progress of the first ballot cycle, entry for which closed shortly before the meeting.
The Club explained that they felt that the ballot process had gone well so far, particularly given that it was a new experience for everyone. Several thousand separate ticket applications, many of which are for multiple tickets, have been received by the Club for games in the first three match cycle.
Asked for clarification of ticket numbers, the Club confirmed that 2,000 tickets would be made available in the Hammersmith (1,100) and Putney (900) Ends for each fixture, with approximately 85% allocated to 'general admission' and 15% to seasonal hospitality ticket holders and sponsors. The Trust are aware that this proportion is similar to a number of other Premier League clubs. The Johnny Haynes stand will be used for officials and press, as it has been since re-start, which are not included in the capacity number.
Three game cycles
The Trust highlighted that it had received a lot of feedback from members and the wider supporter base that balloting in a three-match cycle with a commitment to buy whichever ticket was allocated was problematic, particularly with one weekend match, one evening match and one Bank Holiday match. The expectation arising from previous discussion was that supporters would be able to specify which fixture(s) they were entering a ballot for.
The Trust explained that the issue for many is that whilst one or two matches were possible to attend, balloting for all three together reduced their ability to be able to enter; this was particularly seen to be a problem for families and supporters who had a long distance to travel. In normal times season ticket holders might chose to pass tickets on, but this was obviously not possible in current circumstances. The Trust also drew attention to the fact that every other Premier League club admitting supporters so far were either running individual ballots, or grouped ballots with the option to specify fixtures.
The Club explained that the balloting method had initially been implemented to be able to manage demand for three games in quick succession, and with the limitations of the ticketing software, but that they understood that the system was by no means perfect.
The Trust encouraged the Club to reconsider for the next group of fixtures, not least because potential changes to tier levels could impact on those entering the ballot, and to enable as many season ticket holders as possible who wish to do so to attend a game.
The Club responded that the ballot system will be constantly under review, that they were happy to learn from the feedback and ideas provided by the Trust, and that adjustments may be made for the next games, starting with the Manchester United fixture scheduled for 12 January 2021.
Ballot process
The Club were able to confirm that the ballot is conducted randomly, using features of the existing ticketing facilities. All ballot entrants in this cycle would be able to see at least one match. The process is now to conduct the Liverpool draw and allocate groups to the seat plan, followed shortly afterwards by the Brighton draw. A decision would then be made as to whether some supporters in this first cycle would be able to also attend the Southampton match or whether it would be opened up again. The Trust clarified a number of detailed points on behalf of members, including:
Ballot re-entry after success. The Club will notify supporters who have been successful with one allocation when they can enter subsequent ballots by email.

Retention of credit card information. The credit card details of supporters who are unsuccessful in a ballot cycle will not be retained.

Use of 2019/20 credit to pay for tickets. The Club had expected the IT system to allow payment using credit, but this had not been possible in this cycle because pre-authorisation by credit card is required. A solution is being sought for this issue.

Household purchases. The Club confirmed that supporters applying together as part of a single household transaction would be kept together in the ballot – household groups will not be split.

Selection of £20 concession price. The Club explained that there had been an IT problem early on in the ballot period that prevented the £20 option from being selected, although the correct price was charged. This has been rectified.

Next ballot. A decision has not been made as to the date of the next ballot. This may depend in part on selection of matches for TV.

FA Cup ties. The Club confirmed that any home Cup ties would be run on an individual ballot basis, separate from arrangements for remaining League games.

Supporters in tier three. The Club confirmed that supporters who live in tier three will be able to enter the ballot process as soon as their tier level drops, and as such they will not be disadvantaged.

Supporters without smart phones and printers. The Club appreciates that some supporters will not have the technology required by this process (ticket to phone or print at home). Unfortunately it is not possible to issue paper tickets for balloted matches because of the track and trace requirements, including health questionnaires. The Trust undertook to liaise with the Club where we knew supporters were encountering this difficulty.
We encourage all supporters to read the detailed and comprehensive FAQ on the Club web site which answers many of the other questions we have been asked, including
Rollover of credit to 2021/22 season. This is possible.

Maintenance of 2021/22 season ticket rights. 2019/20 season ticket holders will have their 2021/22 season ticket rights retained regardless of their participation in the ballot process.
Ticket returns
The Trust asked for clarification of the returns process for supporters who cannot use tickets that they are allocated in the ballot. The Club explained that, given the very short timescales involved and the complexities of both ticket allocation and collection of health questionnaires, tickets could only be returned if a member of the party is unable to attend for Covid health reasons or change of tier. The Club reiterated that in these cases supporters should phone the Club to confirm their non-attendance and that, given the low numbers involved, they did not expect this to place undue strain on the ticket office. Should a supporter be unable to attend for these reasons, the whole booking will be cancelled and moved to the next game that the supporters concerned are able to attend.
All supporters should be aware that tickets are not transferrable in any circumstances.
MATCHDAY OPERATIONS
The Trust asked the Club to explain as far as is currently understood the operations that will be in place on matchdays. The main points for supporters to be aware of in advance of the game are as follows.
Entry and exit
Entry to the stadium will be via the Hammersmith End turnstiles and the Putney End exit gates. A queuing mechanism will be in operation in Stevenage Road with Club staff on hand to check tickets and answer questions.

Those with tickets in the blocks closest to the Riverside stand will be placed within the earlier ticket arrival window (75 minutes before kick off), and those closer to Stevenage Road the latter (45 minutes before kick off).

The Club requests that supporters use clear plastic bags for any possessions they wish to bring into the ground. This will greatly ease the search process.

All attendees over the age of 16 will be required to show photo ID for entry to the stadium. The Club will confirm whether a TfL photocard (such as Freedom Pass) will be accepted as form of ID.

Anyone who has not completed the pre-match medical questionnaire (which will be emailed to all ballot winners) will not be allowed entry to the stadium.

The safe departure of fans post-match on Sunday is still to be confirmed. There is a possibility that a staggered exit will be necessary.

The Club has been informed that local tube stations may close for Sunday's match for 15 minutes before and 30 minutes after final whistle.
Catering
There will be no catering options open for the Liverpool game because all concourse space is required for supporters. Opening catering outlets would reduce the number of supporters who could attend. Supporters can bring their own refreshments, including hot drinks, but not alcohol. Again, the Club reiterated the importance of using a clear plastic bag – to minimise the requirement of close contact and searching of bags. The Club will review catering for future matches and seek alternatives, possibly 'hawker' type sales.
Other
The Club Shop will not be open for the Liverpool fixture. It may be possible to open the shop for future fixtures based on experience from the first few matches.

Clappers will be on seats on Sunday.
AOB
Televised fixtures beyond December
Following the decision to end PPV and all fixtures being broadcast until the end of December, the Trust asked when arrangements for January would be known. The Club said it anticipated that broadcast picks for fixtures after the FA Cup Third Round would be announced relatively soon, but was unable to confirm whether all fixtures would continue to be televised.
FXPro roof advertising
FXPro do not pay for the advert emblazoned across the Hammersmith/Putney ends. Should a new sponsorship opportunity present itself, the Club are open to this being replaced.
Tributes at games
In response to recent sad passing of Papa Bouba Diop, and the experiences for many Fulham families over the course of 2020, a suggestion was raised by supporters to have a dedicated tribute match to remember those we have lost, once larger crowds return. The Club confirmed this was something they were open to and it was agreed that the Trust would present ideas at a future meeting, drawing on what a number of other clubs already do. The Club also confirmed that Papa Bouba Diop will be remembered at the Liverpool game this weekend.
Pay Per View income
With regards to the Pay Per View income received by Fulham during that period, the Club were unable to confirm that the money, should there be any, had been distributed.
Riverside Stand
The Club confirmed the Riverside Stand progress continues at good pace, still within Covid restrictions, and that the food and drink options on the ground floor will be open to supporters post-match once the stand is opened. There will also be opportunities to enjoy the Fulham Pier areas of the new stand after games, and also The Flag is looking to be used in some form.
The meeting closed at 15:15.