Notes from September meeting with FFC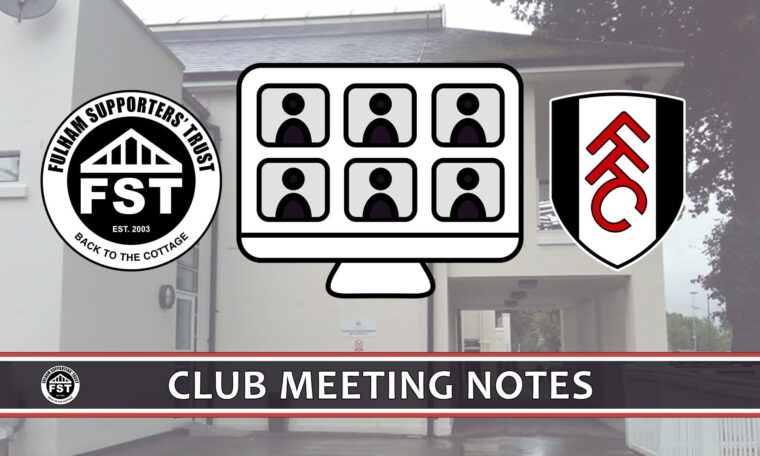 On Monday 14 September at 13:00, the Fulham Supporters' Trust met with Fulham FC via video conference.
The Club was represented by:
Alistair Mackintosh (CEO)
Darren Preston (Chief Operating Officer)
Carmelo Mifsud (Communications Director)
Ally Spicer (Head of Ticketing Operations – maternity cover)
Nicola Walworth (Supporter Relations Manager)
Charlie Harris (Communications Assistant)
The FST was represented by Board Members:
HOW IT WORKS
The Trust asks any questions that it judges are of interest to supporters, as evidenced by responses from Trust members to the advance notification of the meeting, and by generally interacting with the wider supporter base. There is no restriction placed on which questions the Trust choose to ask or points raised with the Club.
These notes are then sent to members only in advance of being posted on our website at a later date.
This meeting focused on the issues relating to any readmission of spectators to home matches for the new season, and on other matters sent to us by members, including the new OneFulham login, return to the Riverside Stand, access to live transmission of Fulham games and new kit policy.
If any member has raised an issue that it was not possible to discuss in the time available, then please do contact us again in good time before the next meeting.
TOPICS DISCUSSED
The following topics were raised and discussed:
READMISSION OF SPECTATORS FOR THE NEW SEASON
Operations
The Trust asked for an update on the work being undertaken to determine the configuration, capacity and facilities available to supporters in the event that a readmission of a limited number of spectators becomes possible this season.
The Club explained that there was still no definitive news from Government or the Premier League (PL) on when some spectators might be admitted to the ground, but some good progress had been made in preparing:
Following the publication of the final guidance from the Sports Ground Safety Authority (SGSA) and discussion at the recent Hammersmith & Fulham Safety Advisory Group (SAG), at which the Trust was represented by Mike Gregg, the calculation of the number of spectators that could be safely admitted was approximately 2,000. These would be seated in the Putney and Hammersmith stands only – approximately 1,000 in each stand – with the extensive PL requirements for broadcast, media, officials and monitoring being accommodated in the Johnny Haynes stand, which was in any event much less suitable for admitting spectators under likely conditions due to its limited concourse space and narrow stairwells.

The key limiting factors on the capacity at which Craven Cottage can operate are


concourse space, where it was to be assumed everyone could be on the concourse at the same time and there had to be at least 1 square metre of space per person, and

access to the stadium, which is only from a single street.


It was likely that spectators would be admitted in two pre-allocated waves, for example one hour and 30 minutes before kick-off, to manage the numbers in the street and at entrances at any one time. All spectators would be likely to be allowed to leave as they chose at the end of the match.

As the opening of existing catering kiosks would further limit concourse space, no kiosk catering was likely, but other options (eg click and collect, click and deliver) were being evaluated along with a limited relaxation of what food and drink could be brought into the stadium.

There would not, because of segregation and space requirements, be any away fans at the Cottage, although some PL grounds might allow away fans.

Further guidance was awaited from the PL on the permissible options for seating configuration, including any necessity to block off unallocated seats, before firm arrangements can be put in place.

Discussion is ongoing regarding the necessity or otherwise to wear masks and the Club is awaiting Premier League guidance. It is possible that masks will be required in the concourses and on entry / exit but not whilst in the stand.

Whilst all Premier League clubs have been working to a target date of 1 October for limited numbers of spectators in grounds, this is subject to public health guidance and recent developments in numbers of Covid-19 cases suggest that date may have to be re-assessed.
Ticketing
With some degree of certainty around the operational aspects of the ground, the Trust asked for an update on plans for ticket allocations, following on from discussions at and since the previous meeting.
The Club stated that current thinking is to hold a ballot for tickets, initially amongst 2019/20 season ticket holders, possibly in cycles of 3, 4 or 5 games, although with individual ballots for each game. To maximise opportunity for those wishing to attend, any season ticket holder successful in the ballot for one game would not be eligible for a subsequent game until demand from others had been met. However, it was emphasised that this is still subject to confirmation, and details of the balloting system will not be announced until there is clarity about which fixtures are available for sale.
On questioning from the Trust, further clarification included:
Credit balances held from last season's season ticket refund process would be available to use against the price of tickets, or could be retained to be used for future season tickets.

No decisions had yet been made on price levels, and would not be until a return date became more definitive. The Trust reiterated points made at the last meeting about level of pricing for tickets.

It was likely prices would vary by match category.

It was expected that ballots would be confined to 2019/20 season ticket holders only, but that access for 2019/20 members was under consideration.

It remained the intention to allow and run ballots for season ticket holders who are in household bubbles to be able to sit together.
NEW WEB SITE AND ONEFULHAM SINGLE SIGN ON
Asked about the new web site, the Club said it had been pleased with the feedback so far and the take-up (approximately 50%) of the new OneFulham single sign on. The Club encouraged remaining supporters to complete the process as soon as practical in order to ensure access to all Club online services.
The Trust questioned the Club about issues that had been raised with the new single sign on process and were told that many of these had now been ironed out. In particular, the glitch on supporters with punctuation in their names was now resolved.
A number of supporters had encountered problems related to multiple client references associated with a single email address. The Club explained that each client reference requires a unique email address in order to set up a OneFulham account, but in the case where alternative email addresses are not available it is not imperative that every member of, say, a family group holds a OneFulham account. In this case the Friends and Family facility would work as previously to allow ticket purchase and allocation of loyalty points.
Supporters having any difficulties with setting up the new account were asked to email onefulham@fulhamfc.com and assistance would be provided.
Fulham FC App
Some Trust members were disappointed that, without apparent warning, the existing Fulham FC app had lost most of its functionality on the launch of the new website. The Club explained that the new web site has much better capabilities for use on mobile phones and that a new app was planned but that there was currently no timescale on its availability. However, they pointed out that the FFCtv app remains available and provides all Club video content, a match centre and live audio commentary. In addition, there are links to the website within the FFCtv app.
The Trust advises supporters who wish to access the new web site via a button on a mobile phone to create a home page icon. This will give quick and easy access to the new web site. You can find simple advice for both iPhone and Android online, for example this web site.
LIVE TRANSMISSION OF GAMES
Given the change of position from the Premier League on broadcast of all games in September, and following the FSA campaign which the Trust supports and is part of, the Club was asked what its position is on games being broadcast or streamed live in the absence or partial absence of spectators.
The Club explained that they were sympathetic to the view that regular supporters should have access where many were unable to attend games in person and would continue to press for proposals enabling that. Asked if the Club would support, when discussions took place at PL level, a temporary move to streaming and/or broadcast, similar to the current EFL model, they confirmed that they would. It seems likely that decisions on broadcasting games would continue to be made in blocks of fixtures as and until government policy on the readmission of spectators was clarified.
In relation to the Carabao Cup, fixtures in September (rounds 2, 3 and 4), not including those selected for TV coverage, were being streamed by the EFL at a match price of £10. This was not related to FFCtv, and may well be single camera coverage.
NEW KIT POLICY
Like the Club, the Trust felt that the new kits had been generally well received but asked whether now that sponsorship was determined for two years, next year's kit could be available well before the start of the new season. The Trust also suggested that, with the yellow kit likely to become next season's third kit, full consideration be given to a red and black design for the next away kit. The Club were pleased to note this view.
AOB
The Trust asked a number of additional questions on the following topics raised by members
U23 and Academy Games
With Motspur Park, as a secure bubble, no longer being available for these games, the Club said it was not proving easy to find a secure alternative that met PL requirements. Many games would take place without spectators at the LSE ground, and other options were still being explored.
Loan regulations
It was clarified that two domestic loans were allowed together with, subject to other restrictions on the matchday squad, unlimited loans from overseas; the Club confirmed that they continued to search to strengthen the team before the transfer deadline.
Riverside stand
In response to an enquiry by the Trust, the Club confirmed that the non-sale of season tickets for 20/21 did not affect 19/20 Riverside Stand season ticket holders' rights to return to that stand when rebuilt.
The meeting closed at 14:05