Black History Month – Rachel Yankey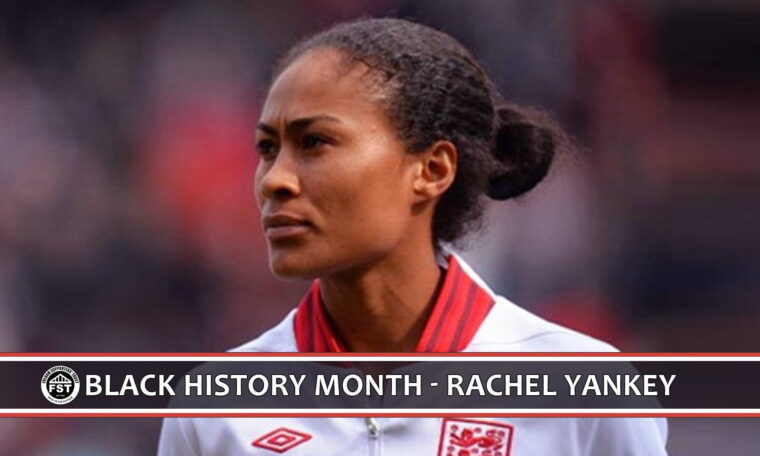 Our series featuring black players from Fulham's past for Black History Month culminates with Farrell Monk speaking to England and Fulham legend …
Rachel Yankey
Major Honours for Fulham
National Premier League (1) 2002-03
FA Cup (2) 2001-02 & 2002-03
FA League Cup (2) 2002 & 2003
It's clear how much Black History Month means to Yankey; the passion in her voice is evident. She points to her first-hand experience of educating young people. "It's a fantastic opportunity to celebrate black people," she explains. "I used to work in primary schools and you have this month dedicated to celebrating black people. The kids select a black hero to research. They get massively into exploring and understanding what those people they choose have done. And you can see how inspiring it is. You really see at the end of it."
For Yankey, the results are clear. "When you are hearing the stories at the end and how they can relate that to their own lives and to people that they have known. Then how they have been inspired by it. I just think it's fantastic."
She pauses for a moment. "On the other side I wish it were all equal and that we didn't have it. If we did not have to have October for this and we celebrated all people equally. It's great that we do it, but I hope in time we don't have to do it."
Like we covered in the feature with Collins John, Yankey points again to education being key to solving this issue, especially within football. "I just think we have keep promoting, celebrating and educating. Look deep into your club and see who has played. There are so many footballers that you just do not even think of."
Yankey is aware that it is a job for everyone. "We all, myself included, just need to do more in terms of telling the story of who have played for our clubs. Doing more to dig deep into the history of clubs and tell more of these stories."
She's thankful that the extremely successful Fulham LFC, which was sadly dissolved in 2006, is getting attention. "It's great that you are not missing us out. If you're there to educate and inspire young people and also adults, when we talk about Fulham Football Club we should never forget the female side of it. The young women/girls who need to be told the history, as well as the boys. There are so many young boys that love to research the history of football, especially black history, but will easily miss out the women's team."
The famous number 11 is spot on to mention that when discussing the history of Fulham, we should never forget that our club had the most successful team in the country at the turn of the 21st century.
It's well known that our former chairman was ahead of the curve with the country's first women's professional football team. Al Fayed had watched the 1999 Women's World Cup in US, witnessing crowds of up 95,000 filling the Rose Bowl in Los Angeles, he was convinced there was potential for the women's game in England. The FA had promised a professional league and so Fulham began in haste, signing talent to spearhead their growth. Rachel Yankey was the first to sign up, becoming England's first ever women's professional footballer.
"Before the professional days you were just registered to a team each year and I was with Arsenal at the time. After the season finished I went to Canada to play and I expected to go back to Arsenal after that. But in Canada I had a conversation with Gary Mulcahey [former head of the community office at Fulham] who had told me about Al-Fayed's plans. The opportunity to play professionally, to train every day, even though Fulham were two leagues below Arsenal at the time. [Joining Fulham] was an opportunity I didn't think I could turn down really."
"We knew when we turned up, you could tell the other team were feeling like 'it wasn't fair.' But we knew we had a job to do and get promoted." Success was instant but they always knew it was work in progress. "Our first season, we won every game up until the FA Cup final when we lost to Arsenal. We changed a lot of things afterwards, but we did well to match them." And that development was clear after that. "It was the best thing for us to lose, because it made us better and work harder. Losing that game really spurred us on and then the next season we won the treble."
That year Yankey scored the second in a 2-1 victory over Doncaster Belles to win the 2002 Women's FA Cup. Following that, the Whites secured another treble, this time securing the Premier League title but it was a short lived peak for Fulham LFC.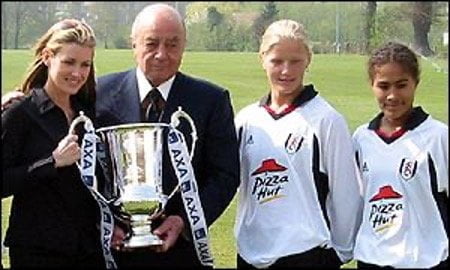 The promised FA-backed professional league never happened. It was unfortunate timing as the men's team form had suffered towards the end of 2002. Al Fayed ended the professional status of the women's team to focus on securing the Premier League status of the men's team. But there is no ill feeling from Yankey. "The players totally understood, albeit we were absolutely gutted. The idea was to get into the professional league and that was cut, so the women's team was losing a lot of money," she says. "Al-Fayed, was right. He was doing the right thing for women's football. Proving that if you could make a team of players professional they can battle against everything and become better." She points to development of the squad as justification. "We had brought in some internationals from the first season, but not everyone was. By the third season, everybody bar one player had got at least one international cap. I think that proves how much improvement there was in the squad."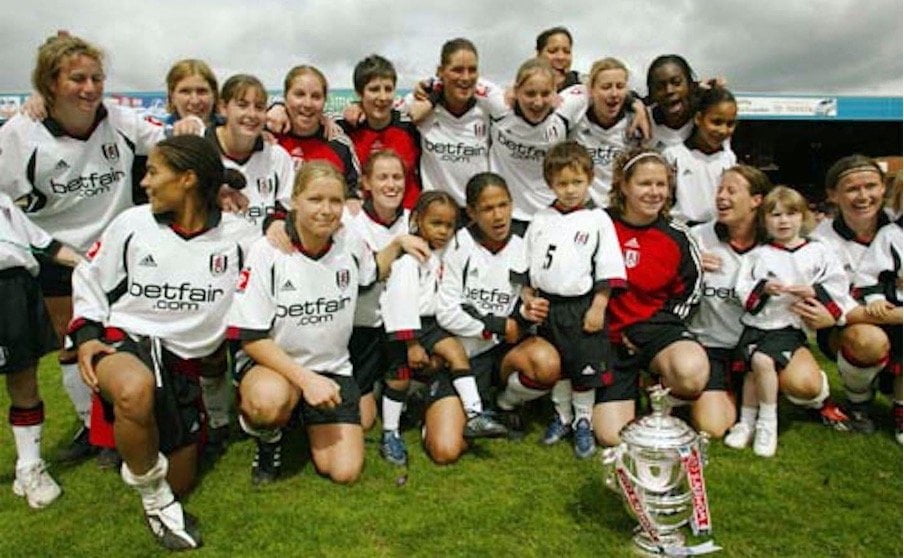 Though after 2004 most of the former professionals had departed, the investment, development and professionalism in those few years at Fulham spread to the wider women's game. England have now qualified for every World Cup since 2007, reaching the semi-finals in the last two. The squad in 2007 featured five former Fulham players. Rachel Yankey often featured during an international career that spanned 16 years. She ultimately won 129 caps for England, surpassing Peter Shilton in 2013 to become the most capped England footballer of all time. But this record has now been beaten five times by former national team mates.
Sadly, some of the Fulham contingent retired from football after losing professional status, "They lost the belief that there would be a professional league. So then a lot of the players thought, 'well it's time to go and focus on something else and a different career'."
Yankey continued to have a hugely successful life within club football. She moved back to Arsenal, winning a further five league titles. When she talks about how things have changed for black women, specifically in football, there is a startling observation. "When I think back, Fulham had quite a few black players. Currently for England, there's only Demi Stokes and Nikita Parris. If you look at the Super League now, there are minimal black players. It is certainly not representative of the country, especially in London. It's scary to think of the talent we are missing."
The women's game might be thriving now, but it seems there's still a lot of work to do off the pitch.
After reforming again 2014, Fulham LFC is now being delivered by the Fulham FC Foundation. To find details in how to join Fulham LFC or to follow their progress, you can find details on the Fulham FC website here.
---
If you would like to learn more about Black History Month or any other issues of inclusion and diversity, feel free to contact the Inclusion and Diversity officer Farrell Monk at any time.