Notes from Sept meeting with FFC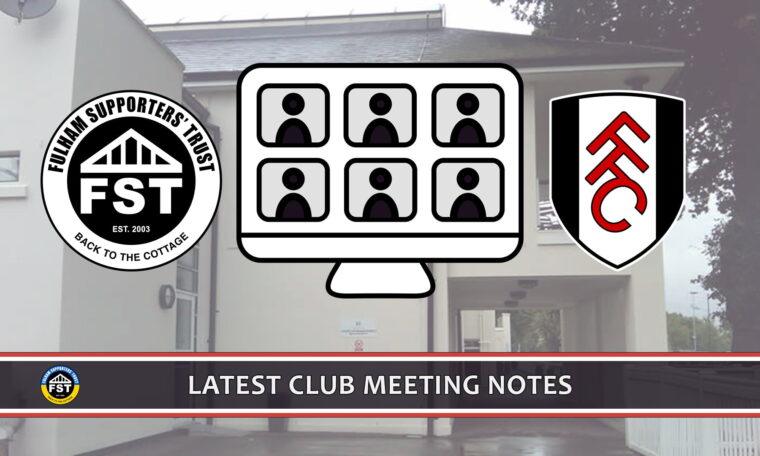 On Wednesday 13 September at 13.30, the Fulham Supporters' Trust (FST) met with Fulham FC via video conference.
The Club was represented by:
Alistair Mackintosh (Chief Executive Officer, AM)
Darren Preston (Chief Operating Officer, DP)
Glenn Sutton (Chief Profit Officer, GS)
Carmelo Mifsud (Communications Director, CM)
Aimee McKenzie (Operations Director, AMcK)
John D'Arcy (Head of Safety, JD)
Katy Brecht (Head of Ticketing, KB)
Nicola Walworth (Supporter Liaison Manager, Disability Liaison Officer, NW)
Sam Curteis (Supporter Relations Executive, SC)
The FST was represented by:
HOW IT WORKS
At our regular monthly meetings, Trust board members ask questions relating to as many topics as possible in the time available, based on responses from members to the advance notification of the meeting and our own observations from interacting with the wider supporter base. The Club then gives its position, which is discussed. These notes are therefore a statement of both points of view. The Trust continues to press both the Board's and its members' view at this meeting and in separate meetings.
Often members ask similar questions, and, in these cases, we try to summarise, provide the Club with feedback and gain as much useful information as possible in the time available. We also prioritise new and time-critical topics, whilst also seeking updates on longer running issues.
You can access notes of all previous meetings on our web site, including the most recent information on key topics not covered at this meeting.
If any member has raised a new issue that it was not possible to discuss in the time available, then please do contact us again in good time before the next meeting or alternatively we can seek to raise it between meetings if that is more appropriate.
TOPICS DISCUSSED
The following topics were discussed:
Riverside Stand
SD asked if the Club could update us with the present position as regards the Riverside Stand following Buckingham Group going into administration and the news that other clubs, including Liverpool, have found alternative suppliers.
DP reported that there is now no relationship with the Buckingham Group but that the work undertaken by Buckingham was advanced enough to the extent that there were only snagging issues outstanding on the "base build". Several other contractors, including Portview who are directly contracted to the Club (not via Buckingham) to undertake the final fit-out, have been engaged to complete this work. The stand is still planned to be complete for full opening at the start of the 2024/25 season.
In response to a question from SD on Riverside operational lessons to be learned from the opening games of the season JD reported that managing the Riverside is an evolving process. Based on matchday experiences changes are made on a game-by-game basis. This includes to the way the stand is stewarded. Answering specific questions from members, JD reported that
whilst there is still congestion observed at turnstiles 51-55 (next to the river) JD reminded supporters that there was less congestion at the Hammersmith End turnstiles which are also available for Riverside supporters.


there was an issue exiting the Riverside after the Spurs game where barriers, used to control the inflow of supporters before the game, had not been fully removed. JD advised this should not happen again.


the number of toilets is correct, and in line with code, for a modern stand of this size. The Club is monitoring congestion and spectator flow in different parts of the stand. It was noted that the relative location of male/female toilets at each end of the stand is flipped which may have some bearing on late arriving supporters at the Putney end of the Riverside Upper.
Other ground related matters
SD asked for an update on the new bag drop arrangements. JD reported that for the Spurs game there were in excess of 700 callers. Resourcing is being reviewed in light of experience. JD made the point that for the Spurs game, turnstile entry for Spurs supporters was much quicker than for home support. This is believed to be due to the away fans being more accustomed to the "A4" bag rule and therefore bringing fewer bags and reducing check times.
In a discussion about turnstile congestion before the Spurs cup game, KB revealed that over 10,000 print-at-home tickets had been issued, which is a record number, and it was clear that some supporters were unfamiliar with their use. The Trust has previously suggested that loading cup tickets onto STH cards would alleviate this problem, but this is not currently possible.
SD passed on positive feedback we had received regarding the new staircases at the Hammersmith End. DP commented that the Club were pleased with the changes to the Hammersmith End not only the staircases but also the installation of additional TV screens and improvements to the catering processes. The real test will come on colder days when the corner area accessing the Riverside stand will be less attractive for supporters to stand at. The Club and the Trust will continue to monitor this.
Transfer window
IC asked how the Club approached the transfer window operationally and how they viewed the outcome.
AM explained that the approach to transfers remained the same as previously reported in which the data and scouting teams led by the Director of Football together produced joint long lists of potential targets on which they agreed in all playing positions. These long lists were then made available to the Head Coach who selected players in each position to strengthen the squad who the Club attempted to sign.
The Head Coach will always look for new signings to complement and fit in with the existing squad and playing style. On occasion agreement may be reached with a target but due to progress in other areas the Club may choose not to proceed.
OS queried how the club had viewed the summer window and AM explained that all clubs agreed that this was a particularly tough one with the additional complication of the Saudi Pro League spending. The Head Coach's aim was to consolidate what was achieved last year where possible rather than wholesale change, notwithstanding the loss of Aleksandar Mitrović who made it clear he wanted to further his career elsewhere, and they feel that they achieved this.
In answer to a further question about doing business late in the transfer window, AM explained that there is no specific strategy to do so, but that different types of player come available at different stages of the window. However, the Club does seek to be "agile" in the last days of the window if there are good opportunities in the market and in general a lot of business gets done towards the end of the window.
AM also commented that the very late intervention by Bayern Munich to try to sign João Palhinha was very difficult to plan for, but the Club were clear that he could not leave without a replacement at such a late stage of the window.
OS asked whether the split of senior responsibilities in the transfer process had evolved or changed over recent seasons, especially with Tony Khan's increasing success with AEW.
AM explained that Tony as the Director of Football is heavily involved in the process on a daily basis and that no players are signed without his and Marco's agreement. AM, supported by DP and Peter Limbert (General Counsel) undertake the negotiations.
Overall the Club are pleased with the players brought in and with those who were retained despite third party interest. It was pointed out that we are not a Club prone to selling players unless they do not fit in with plans of the Head Coach.
In response to the question from OS of rumours circulating that the Club was up for sale AM responded categorically it was not. When asked whether the cost of actions being undertaken by the Club in relation to Buckingham's administration had any bearing on their approach to the transfer window, AM stated that there was no connection.
Ticketing
IC asked about the ticket pricing model for this season, commenting that we were encouraged to see prices for some games, such as Chelsea, a little lower in areas than last season and that the prices for the EFL cup games had been generally well received, especially the £20 adult prices versus Norwich.
AM replied that the Club still intend to price on a demand led, game by game basis throughout the season but that there was no further information available at this time.
IC also thanked the ticket office team for enabling season ticket holders an advance window to buy their seat for cup games, which we recommended last season and has been well received. However, some season ticket holders have had difficulty navigating the ticketing system to buy their seat.
KB replied that the process was different to other online ticket purchases and the club would look to provide step by step guidance. In response to a further question about whether the ticketing system could be improved to make navigation easier, KB explained there is limited scope to make these improvements but that they would work on better communications to help supporters understand the system.
SD commented Fulham and Chelsea are both playing their next EFL cup games at home on the same evening. Last time this happened Putney Bridge station was closed. DP said the Club were not aware of any plans for TFL to do so this time. DP advised that the decision to close Putney Bridge station was taken on the day of the last time this situation arose and confirmed he would be contacting TFL to understand if a similar situation may arise.
In response to a question on international memberships, NW and KB explained that there is no specific international option for membership, but agreed to look at the membership package for overseas supporters to see if it can be enhanced through the provision of online merchandise discount. At present such discount is only available to people visiting the Club shop in person.
IC asked about the difference between the sale of Arsenal away tickets, which used Loyalty Points, and Crystal Palace, which did not.
KB explained that the Arsenal fixture sold very slowly and the decision was taken to make Crystal Palace available to all season ticket holders rather than throttled by loyalty points. There is no perfect system but they are happy to hear suggestions.
In response to a question about digital ticketing, which is being introduced at other clubs, KB explained that we are offered a digital ticketing option by some other clubs for our away fixtures, e.g. Arsenal, but at this stage the Club declined and preferred to use paper tickets. For home games, any introduction of digital ticketing will depend on software upgrades to the Fulham app and linkage to the ticketing system. A particular challenge will be to ensure the Club knows which tickets are allocated to which individuals in the case where one person buys many.
VAR
As requested by a number of members SD asked how the Club felt about recent VAR decisions going against us. AM said the Club were as disappointed as supporters are and views are made to PGMOL. There is nothing more that can be said.
AOB
A period of silence was held for our late former Chairman, Mohamed Al Fayed, before the Luton game. In addition, a wreath was laid pre-game by Mr Al Fayed's son, Karim Al Fayed, Trust Chair Simon Duke and club representative David Daly. Further tributes included players wearing black armbands at two matches, an obituary, photo, video montage being published on the Fulham website and media platforms, and a special programme issued for the Luton game.
The Trust asked a number of additional queries based on individual member requests, which will be fed back in due course.
The meeting closed at 14:50