Notes from August meeting with FFC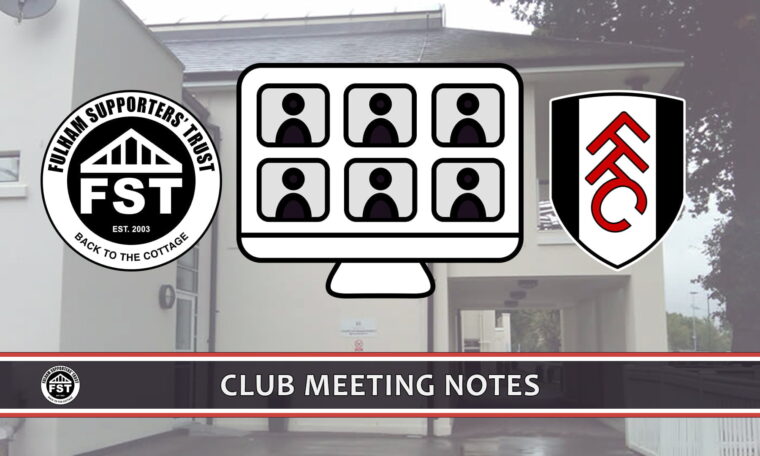 On Wednesday 9 August at 13.30, the Fulham Supporters' Trust (FST) met with Fulham FC via video conference.
The Club was represented by:
Darren Preston (Chief Operating Officer, DP)
David Daly (Non-Executive Director, DD)
Carmelo Mifsud (Communications Director, CM)
Matt Lowery (Chief Marketing Officer, ML)
Aimee McKenzie (Operations Director, AM)
John D'Arcy (Head of Safety, JD)
Katy Brecht (Head of Ticketing, KB)
Nicola Walworth (Supporter Liaison Manager & Disability Liaison Officer, NW)
Glenn Sutton (Chief Profit Officer, GS)
Sam Curteis (Supporter Relations Executive, SC)
Apologies: Alistair Mackintosh (Chief Executive Officer)
The FST was represented by:
HOW IT WORKS
At our regular monthly meetings, Trust board members ask questions relating to as many topics as possible in the time available, based on responses from members to the advance notification of the meeting and our own observations from interacting with the wider supporter base. The Club then gives its position, which is discussed. These notes are therefore a statement of both points of view. The Trust continues to press both the Board's and its members' view at this meeting and in separate meetings.
Often members ask similar questions, and, in these cases, we try to summarise, provide the Club with feedback and gain as much useful information as possible in the time available. We also prioritise new and time-critical topics, whilst also seeking updates on longer running issues.
You can access notes of all previous meetings on our web site, including the most recent information on key topics not covered at this meeting.
If any member has raised a new issue that it was not possible to discuss in the time available, then please do contact us again in good time before the next meeting or alternatively we can seek to raise it between meetings if that is more appropriate.
TOPICS DISCUSSED
The following topics were discussed:
SD opened the meeting by thanking the Club for their support for a new Trust 'Rachel Yankey' trophy for the Fulham Women's player of the year, which would be launched shortly to go alongside the Johnny Haynes trophy. SD also welcomed, on behalf of the Trust, the streaming of some Women's and U18 games matches this season, and the provision of women's season tickets for the first time.
COMMUNICATIONS
SD explained that a theme across several subjects of today's meeting would be the need for the Club, in the Trust's view, to communicate more clearly and sooner to Supporters. The Trust was willing to help pre-read communications to try to ensure that likely questions were fully answered.
FAN ADVISORY BOARD
SD then started by asking for an update on the new Fan Advisory Board (FAB) the Club and other PL Clubs were being required to set up in response to the Fan Led Review.
CM responded that following a meeting Fulham had with the Premier League, it was clear that different clubs were taking different approaches. An initial outline of a fan engagement approach was required by the end of August and would be discussed with the Trust shortly. An objective, which the Trust supports, was to ensure that the FAB was representative of all supporters, including fans of diverse backgrounds and cultures, which attended Fulham and also that there was engagement with fans who attend on match-days. The Trust stressed that it saw the FAB as complimentary to, and building on, its current arrangements, including monthly meetings with the Club and would be pleased to see appropriate other groups, eg the Fulham Lillies, represented. The Club will discuss proposals with the Trust before a submission is made to the Premier League.
BAG POLICY
TD reported that there had been considerable annoyance amongst affected supporters about the notification of the new bag policy, just before the new season commenced and after season tickets and memberships had been purchased. Before discussing some of the detail of the new policy, TD asked why this had been communicated so late and in this way.
JD explained that he was new to post and he had quickly realised that Fulham was out of step with other Premier League Clubs and public venues generally, and that bag searching was delaying entry to the ground; each turnstile should cater for 660 persons per hour and we are operating short of this. The timing was important as legislation was currently completing its passage through Parliament, following the report into the Manchester Arena terror attack. Martyn's Law will require venues to do all that is reasonably practicable to ensure their sites are safe and mitigate against a terrorist attack and having a 'Bags Policy' supports the Club in preparation for this. The Club however acknowledged that the operation of the policy needed to be more fully explained and it was intended to do this before the Brentford game. The Trust offered to assist in previewing the expanded communications.
JD added that the new legislation would also highlight the need for more random searches and hostile vehicle investigation. This would also be noticed by supporters but was all part of keeping fans safe. There would be a Premier League observer at each match for the first time this season, and safety would be a particular focus for this observer.
On specific aspects of the policy TD asked if there would be a pragmatic approach to its implementation, whether it would be possible to have single confidential exemption certificates for the whole season, rather than on a match-by-match basis, and asked for clarification on the arrangements for the bag drop-off point, particularly security and speed of collection, not least for midweek evening games. TD and DC also pointed out that medical certificates would take time for individuals to produce and were unlikely to be available for the first few home games.
JD emphasised that the Club did want and needed to cut back to essential-only small bags being taken into the stadium but promised that the policy would be operated sympathetically at least up to the first international break, when he hoped that it would settle down. Reasonably sized lap-tops alone would be allowed into the stadium which he expected would relieve any pressure on the drop-off area. Security at the drop-off would be good, and he promised to ensure it was properly staffed. Confidentiality for those applying for medical certificates would be tight, and it was understood that these might take time to be produced – no-one would be unreasonably turned away for the early matches. All this and more would be communicated in updated communications. KB added that reminders would be sent with all posted tickets.
The Trust hoped that all this would now be clearly communicated to all supporters.
GROUND UPDATES
In response to questions from the Trust, DP and AM updated:
There would be a clear communication by the end of August on the slow progress on completion of the Riverside Stand; the Club were as disappointed as supporters by the delays;


Facilities for the Riverside Stand general admissions eg general access to toilets and catering, were only ever planned for floor zero and there was no expected change to this;


Kiosk changes had been completed around the older parts of the ground;


Two new full-size staircases had been installed to try to help flows in the Hammersmith End, but these would need monitoring for any unexpected consequences;


VAR screens had been installed in the Johnny Haynes stand and were currently being tested;


Additional screens had been installed on the Hammersmith End concourse;


New speakers, perhaps not for the beginning of the season were being installed at the back of the Hammersmith End, but work was still going on to find a solution to audibility in other areas of the ground;
SD welcomed these updates which were addressing many issues raised by the Trust, but JC stressed it was disappointing that communications about the progress, or lack of it, for the new Stand had not been issued in May, when it was clear that the Riverside Stand would not be fully ready for the new season.
TICKETING
DC asked about arrangements and standards for away tickets. KB responded that away Clubs were required to let Fulham know 4 weeks in advance of a game, the options for away seating, Fulham would then make a choice and generally about a week later the away tickets would arrive. Fulham preferred not to sell away tickets until the actual tickets were available eg for personal callers, but sometimes this was not possible due to late printing and despatch by the home club.
DC then asked about policy on reductions for concessions this season, taking into account that Fulham decided matchday pricing on a match-by-match basis. KB replied there had been no change, and none was currently anticipated, in reductions for concessions except this season a small reduction had been introduced in the Riverside Stand.
CLUB HISTORY
DC explained that the Trust had been approached by a supporter with some old Club memorabilia, and asked whether the Club had any policy for such items in the context of preserving historical records of the Club or for using such items on the excellent Craven Cottage tours.
DD responded that the Club had no space or capacity to house such items, but this issue might be further discussed outside this meeting to see if any way forward on the issue of club history generally could be found, but this would almost certainly not involve looking after more memorabilia.
OTHER BUSINESS
The Trust had carried over a number of questions of the Club in respect of replica kits, and these were discussed outside this meeting and answers are attached;


The Trust asked why supporters in H6/H7/H8 had been moved, with limited explanation, with tickets already purchased for the Hoffenheim game – the Club explained that this for safety reasons related to the new works set out earlier in this meeting, and ticket holders had been given equivalent or better seats in the same stand;


The Club agreed to keep re-enforcing the message in the run-up to forthcoming home games that Wandsworth Bridge would be closed;


SD ended the meeting by wishing all Club teams success in the new season.
The meeting closed at 14.40
ADDENDUM
Information on Replica Kits
The Club's main kit contract is with Adidas.


It is a long-term agreement which has recently been extended for a further period.


As kit provider Adidas supply the Club with match day and training kit for men's and women's teams at all levels from the academy upwards.


The lead time for new kit designs is c18 months. For example the designs for the 2024/5 season will be agreed with Adidas this autumn when work will then commence on 2025/6 designs.


Adidas exercise tight control over the design process and this, coupled with lead times, means it is not possible to immediately work on supporter recommendations although they are welcome and can be considered for later design runs.


Fulham have bespoke kit of high technical quality.


In terms of replica kits, the same quality applies.


Kit launch is timed to fit the build up to the new season.


There is a recommended retail price for replica kit on which season ticket holders get a 10% discount.


For 2023/4, women's sizes are to be available for the first time. Unfortunately, due to production issues only the 2nd and 3rd strips will be available. All shirts should be available in women's sizes for 2024/25.


FST have raised with the Club whether a range of maternity fit sizes can be made available. This will be considered for 2024/5 although may be challenging due to likely volumes.