Season ticket prices – update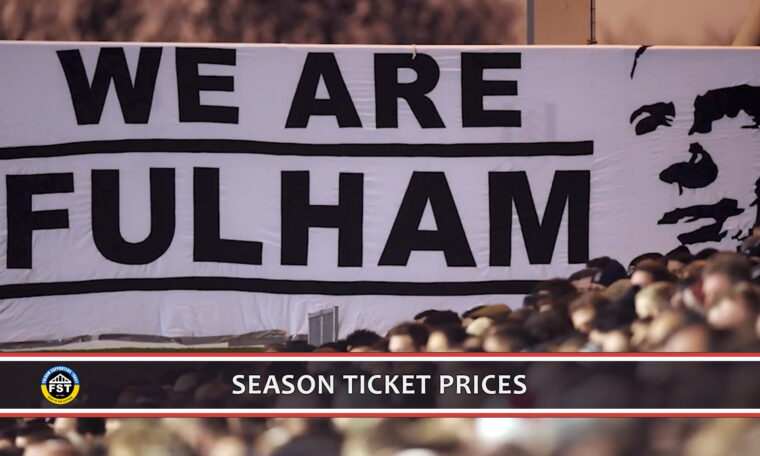 Although we have not received a formal reply to our open letter to Shahid Khan last week, discussions have now taken place with the Chairman's representatives, primarily his Communications Officer who is one of his key aides.
Through these discussions, which we are assured the Chairman is fully aware of, we have made it abundantly clear that the pricing of season tickets for next season is completely out of line with what most Fulham supporters would expect. This is not only for the new Riverside offering, but also for the remainder of the ground where increases of a minimum 18% are going to be imposed. Further, with past experience telling us that each year's new season ticket prices set the level for the following season's renewals, supporters are already speculating that rises of well over 25% are on the horizon for 2024/25.
We fully understand and support the need for the Club to be financially sustainable, but view the proposed structure as a step too far. There is a very real danger that long-standing Fulham supporters will be priced out in favour of more short-term tourist and corporate visitors which goes against the precious and historical family ethos of our Club. Throughout all our season ticket pricing discussions with the Club we have been consistent in expressing our view that affordable tickets must be available in most parts of the ground so that nobody is priced out.
During the meetings, we presented a number of options for consideration to make the pricing more reasonable. Unfortunately, despite our concerns being openly discussed, there has been no movement from the Club to amend the pricing. The Club is fully aware of our disappointment that there has been no change. We also made some suggestions that, although not directly linked to season ticket prices, may provide some relief for supporters; we will now be taking these to the Club's UK management to explore them further.
One very common observation from supporters is that the 18% increase in prices will not result in an 18% improvement in match-day facilities. This primarily relates to ongoing issues with congestion, catering and toilets at the Hammersmith End and in the Johnny Haynes Stand. We know the Club states that it is continually looking at ways to improve the match day experience, some of which is not easy given the uniqueness of Craven Cottage with its riverside location and elements of listed status. We will continue to challenge and encourage the Club in this area.
The Trust board is deeply disappointed that, despite our efforts, we have so far not been able to secure any concession on the proposed pricing. There is a strong likelihood that the Club will be able to sell the vast majority of tickets at the prices they are seeking, but this will not necessarily be to the people we would consider to be the traditional and loyal fan base who have been and will be there in good times and bad. We will continue to make this point.
The Trust will continue to press vigorously on behalf of all our fans. We will report the outcome of any further discussions as soon as possible whilst also considering alternative ways to encourage a change in approach on season ticket prices.
FST Board
21 April 2023