Away Day Guide – Manchester City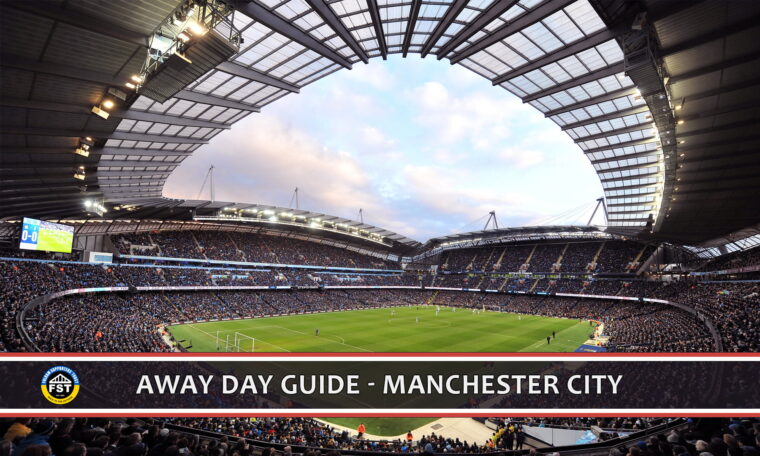 Saturday 5 November 2022, 3pm KO
TICKETING INFORMATION
All away tickets are now off sale for the match against Manchester City. More than 2,000 Fulham fans will be making the trip to the Etihad Stadium.
GETTING TO THE ETIHAD STADIUM
BY CAR
Exit the M6 at Junction 19 and take the A556 towards Stockport. You will need to join M56 going towards Stockport and then the M60 – which will take you through Stockport and towards Ashton Under Lyne. Come off the M60 at Junction 23 and join the A635 towards Manchester. Head off the A635 to join the Ashton New Road (A662) heading in the direction of Droylsden and Manchester. After approximately three miles, the Etihad Stadium will come into view on your right.
There is some stadium parking available (priced at £10 per car) but Fulham fans are advised that exiting from either car park on the Etihad Stadium or any of the unofficial car parks nearby can take hours after the final whistle. There is a car park at St Brigid's Church on Grey Mare Lane behind the away end (priced at £6) but it is similarly gridlocked after full time.
Supporters are advised that the easiest option might be the park and ride service, with the Ashton Moss park and ride easily located for those exiting the M60 at Junction 23.
BY TRAIN
Fulham fans planning to attend the game by train in the light of the suspension of the RMT rail strike tomorrow should be aware that, at the time of writing, the strike timetable still stands – meaning there are expected to be no evening trains out of Manchester Piccadilly. Fans arriving at Piccadilly can walk (which is around 25 minutes) or take a taxi, but the easiest method of reaching the Etihad Stadium is via the Metrolink tram service with the journey taking around eight minutes from Piccadilly Station (priced at £3 return for adults and £1.40 for children).
BY COACH
The club coaches will depart from Craven Cottage and Motspur Park at 7.30am.
AWAY PUBS
The pubs in close proximity to the Etihad Stadium are designated as home pubs only – and will not admit away fans.
The popular Fulham haunt for away games in Manchester has always been Duffy's Bar in Chorlton (398 Barlow Moor Rd, Chorlton-cum-Hardy, Manchester M21 8AD), which is run by a Fulham fan Peter, and the bar has a George Best shirt from his Fulham players as well as plenty of other football (Manchester City, Manchester United) and other sporting memorabilia (including GAA). The beer is very reasonably priced and all Fulham fans are assured of a very warm welcome. Saturday night is usually live music night if you fancy making an evening of it – or are staying over.
Alternatively, there are a number of pubs in the Printworks, Deansgate or Town Hall areas of Manchester, which are ideally located to take a tram to the Etihad Stadium. Some city centre pubs may ask visiting supporters to cover up their colours – but Fulham fans have usually been treated very well at a number of city centre venues. Most city centre pubs offer reasonably priced food if you are peckish.