Bringing a bit of Barcelona to Fulham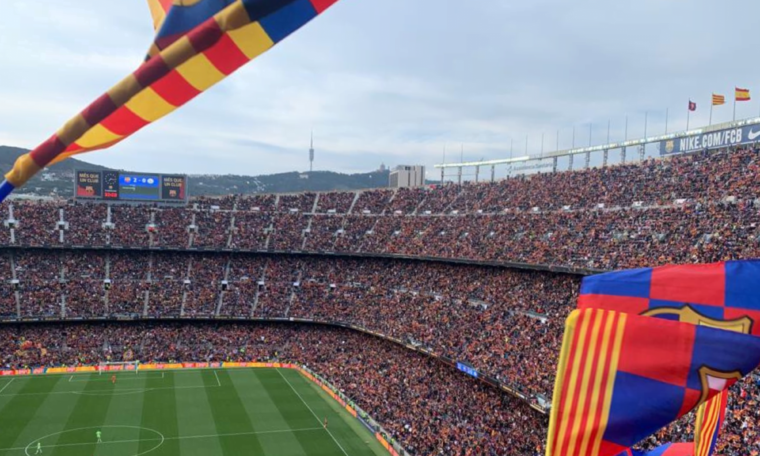 Attendances at women's football matches were already rising steadily across Europe before the landmark moment in Spain that saw the record-breaking attendances at the Nou Camp in March and April this year for the Women's Champions League fixtures for Barcelona Femení against Real Madrid and Wolfsburg respectively. Fulham Supporters' Trust Board member Hayley Davinson, who attended both fixtures, talks about the wider impact this has for the sport, and more specifically, Fulham FC Women.
Barcelona Femení ran out 8-3 and 5-3 winners on aggregate in their Champions League quarter and semi finals over the last few weeks, and yet the eye-catching score lines tell so little of the story.
The world record-breaking fixtures – 91,553 v Real Madrid was toppled just a few weeks later against Wolfsburg with 91,648 in attendance – were a watershed moment for the women's game. Attending both games as a fan who grew up watching men's football exclusively until the recent expansion of the Women's Super League (WSL), felt amazing. The support has always been there (despite the famous attempt to prevent it), and so have the fans, but in these numbers? It felt pretty special.
The question for many people watching, whether that be in Barcelona or on DAZN (where it was recorded that another 1.8 million had tuned in) will have been asking, but how can I replicate this at my club? The question for us becomes: how do we shape our corner of women's football for FFC Women? We won't be breaking the world-record attendance any time soon, but we can regularly pack out Motspur Park, and hopefully Craven Cottage as well as other London venues, in the near future.
We're not expecting sensational growth overnight, as much fun as it was watching the all-conquering Fulham women's side of the early 2000s spring up from nowhere and take Europe by storm. As the first fully professional team on the continent, Mohamed Al-Fayed's considerable investment made following Fulham's women almost as exciting as the French revolution undertaken by Jean Tigana. Subscribers to The Athletic can read more about that journey here. But the club's ambitions were a decade ahead of the FA and the rest of the country and a wonderful side was broken up after sponsors withdrew and dissolution of the official women's team followed shortly afterwards.
We know that Fulham Football Club, having taken the operation of the women's side formally under their umbrella as part of their academy reorganisation last summer, are targeting steady progress over the next four years. We have seen signs of that on the pitch this season with Steve Jaye's side finishing third in the London and South East Regional Premier Division and a pair of outstanding Cup runs. Ellie Olds and Helen Ogle both scored fourteen league goals each and this incredible collection of women will be giving everything to ensure that Mary Southgate holds aloft another trophy at the end of next season.
Even moderate growth doesn't need to be slow and, as a Trust and a Club, we have a responsibility to ensure that Fulham FC Women keeps pace with the evolution of the women's game across the UK, Europe and the world. The Women's European Championship being staged in England this summer will inspire a new set of young girls to follow their local sides. It represents a massive opportunity for Fulham, too. The opportunity for sustainability in the men's game appears vanishingly small, but there is a window for Fulham FC Women, who can both grow their support and lay down foundations for future success – as a side and a business simultaneously. The Barcelona example provides proof that the women's game can deliver unexpected revenue streams. Making millions for the Club may not be on the cards just yet, but the Nou Camp's rebirth as a female football venue will make many a football executive wonder wistfully about possibilities in their own backyard.
Some have argued that the Nou Camp only sold out for this match due to its average ticket price of €11. Well, in my opinion, so what? The Bundesliga is often €20 and we don't see complaints that the pricing is underselling the entertainment. This is entertainment without players on multi-million-pound contracts and television deals that haven't skewed the financial landscape beyond repair. Keeping the sport affordable means the average working person, a young person or a family can attend without having to hugely justify the expense – or begin to demand their money back, should their satisfaction not have been met. In simple terms, it's football as it should be, you just go for the fun. And essentially, this is how you build a fanbase, by making it easy for people to come back, and nurture the growth of what we hope never in future will have to deal with being referred to as 'legacy fans'.
El Clasico Femení was my third visit to the Nou Camp and honestly, atmosphere wise, far and away it was the best. Incredible as the team played against both Real Madrid and Wolfsburg – not just Alexia Putellas, but she is worth the ticket price alone – but so much more for me it was the fans. I was in awe listening to Barcelona fans supporting their team that just happened that evening to be the women, not the men. The two were interchangeable. Yeah, there were tourists, there were some no doubt taken in by the chance to see football for €10 in one of Europe's greatest stadia, but that wasn't the majority. We the tourists were entirely drowned out by the locals. You can't sing Catalan chants without knowing them by heart – I learnt that on the night with the words in front of me – but the sound of the Barca anthem hollering through the stadium was like nothing I'd witnessed for a while (I was stuck in Spain for the Luton game but am assured it was similar decibels). This wasn't just a wheel it out for the spectator's occasion and they weren't a bunch of newbies, these were the Culés, and they made it known that it was Madrid that they were beating. Tickets went on sale to members as a priority and over a third were already taken before they went on general sale for both the Madrid quarter and Wolfsburg semi-final, so people like me had to get in quick to be able to get one, exactly as it should be. The Wolfsburg home tie sold out in just over 24 hours.
So how then, do we bring this energy and excitement about women's football back to Fulham FC Women and – currently, at least – Motspur Park? How do we create an identity for our women's team, whilst also just making it all One Fulham? What should the Trust be doing to ensure our support is for every Fulham team – men's, women's, academy, foundation teams?
We don't want to 'do a Man City', I hope our club never gets invited to the Super League table and even more so that women's football never has to deal with a threat like that. But there is an opportunity now for the Club, Trust and supporters to be building a new(ish) arm to our Club, and this is what we see as pivotal to that growth:
Pride – this was the biggest takeaway, and it didn't happen overnight. The city of Barcelona is proud of its women's team; the Club strategy from when they went professional in 2015 instigated this, but it was the supporters that amplified it
Equality – Women's skipper – and H5 regular – Mary Southgate bringing the Championship trophy onto the Craven Cottage pitch after the Luton game was iconic. More of this and vice-versa, please! Combined men and women's team pre-season photo for August?
Visibility – this has grown over the 21/22 season, but we're really hoping to watch it expand further next season – more coverage of games, helping promote the Women's social channels and more stories about the behind the scenes of who our women's team are and when you can watch them play
Craven Cottage – it was an inevitable one, but it's single-handedly the most important way to get more people caring. We understand fixture clashes are inevitable, but planning ahead once the fixtures are out for what opportunities there are to host at Fulham's home is key
Sustainable investment – we're not expecting anything like the Al-Fayed era splurge, but all projects need support to get off the ground, and this needs to be part of a strategy to see how the women's team can also sustain themselves through matchday revenue and hopefully other ways in the future as they climb the leagues
We're not just expecting this from the Club, either, it's a genuine team effort needed. Our responsibility as a Trust is to ensure that we're open to hearing what Fulham FC Women need from us and to ensure that we can make attending and supporting the team as easy – and hopefully as fun as it has been recently – for those that want to attend. We're having wider conversations about diversity and inclusion with the Club currently, so it's imperative that we're driving these groups to watch either of our Fulham sides.
The Trust is putting together a diversity and inclusion strategy this summer, including the creation of a Women's Supporters Club, working with newly co-opted Trust board member and Her Game Too Ambassador, Amelia Armstrong. We would love to hear from members who have thoughts on how we can champion support for the fantastic Fulham FC Women. Do get in touch via email at: contact@fulhamsupporterstrust.com. If you are not a member, click here for more information on why it's a great way to add your voice to our work on behalf of all Fulham supporters.