Away Day Guide – Blackburn Rovers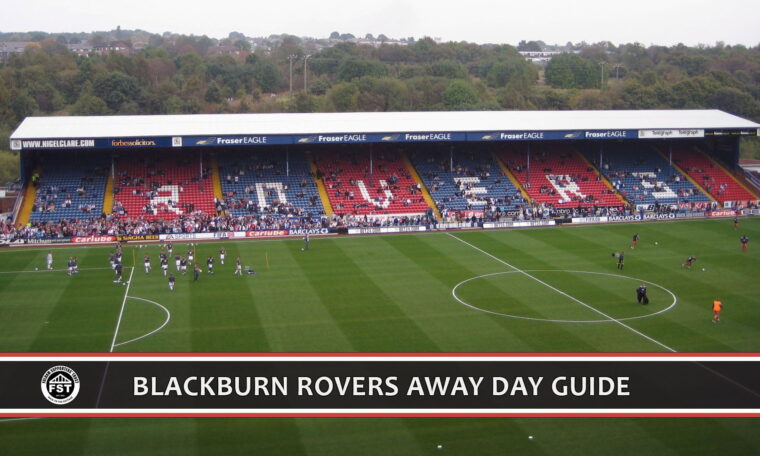 Perhaps no trip to Ewood Park will ever be as memorable, but it's worth the journey just to reminisce. To those taking on this midweek trip, we salute you, and give you all the required information for your journey.
TICKETING INFORMATION
Tickets for the trip to Ewood Park are priced at £20 for adults, £17 for senior citizens, £12 for those aged between 18 and 23, £7 for children between 12 and 17 and £5 for under 12s.
GETTING TO EWOOD PARK
BY CAR
Come off the M6 at junction 29 and take the M65 towards Blackburn. Exit the M65 at Junction 4 (the A666) and follow the signs for Blackburn. Head right at the first traffic lights and Ewood Park will be around a mile along the road on your right.
There are a number of private car parking facilities in the immediate vicinity of Ewood Park – priced around £5 – with Branch Road the most likely spot. The Fernhurst pub, part of the Hungry House chain (see below) also offers some car parking for £5 as well.
BY TRAIN
Mill Hill railway station is just fifteen minutes' walk from Ewood Park. You can catch a train from Blackburn station and the journey is about three minutes. Blackburn station is about 25-30 minutes walk from the stadium, so a bus (numbers 1, 3, 225) from the bus station directly outside or a taxi are likely to be your best bets.
BY COACH
The club coaches will leave Motspur Park and Craven Cottage at 12 noon. Coach tickets are £30 for adult season ticket holders and £20 for junior season ticket holders. The prices rise to £35 and £25 respectively for non season-ticket holders.
AWAY PUBS
Away supporters are admitted to the recently-constructed fan zone at Ewood Park, but the closest pub to the ground is the Fernhurst pub, part of the Hungry House chain (466 Bolton Road, Blackburn, BB2 4JP), which is about five minutes walk from the away end. Fulham fans should be advised that this venue fills up very quickly on matchday and the management enforced a 'no singing' rule as it is considered a family friendly establishment.
The Golden Cup (610 Blackburn Road, Darwen, BB3 0AJ) is a small, friendly Thwaites pub, which is about twenty minutes' walk from Ewood Park. They have enthusiastically welcomed away supporters in the past, with an excellent selection of local pies on sale.
The Black Bull (Brokenstone Rd, Darwen, BB3 0LL) is popular with real ale drinkers and usually has at least eight ales on tap as it is attached to the local Three B's brewery. The Anchor Hotel (317 Blackburn Road, Darwen, BB3 0AB) also welcomes away fans and is a lovely venue with some cracking Cask ales available.
Supporters arriving at Blackburn station might consider stopping off at The Postal Order (15-19 Darwen Street, Blackburn, BB2 2BY), a Wetherspoons chain pub just around the corner from the railway station on Darwen Street.
Alternatively, Heineken (£4 a bottle), John Smith's (£4 a pint), Strongbow Dark Fruits (£4.30 a bottle) and various wines (£4.30) are available on sale at the ground itself. Blackburn have previously offered two pints of lager for £7.70.