Supporting Fulham FC Women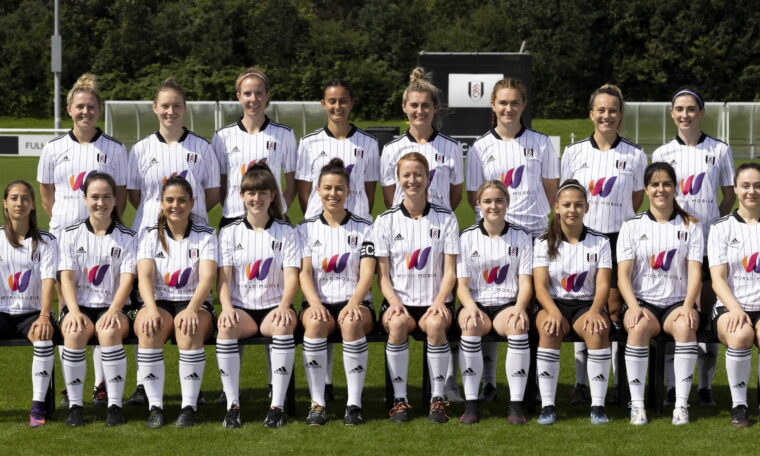 It's been a tough couple of years for our Fulham FC Women's team. After the highs of a crowd of over 500 for a big grudge match against Dulwich Hamlet in November 2019, things were looking up, before March 2020 swung around and the world ground to a halt. They've just started again in the London & South East Regional Premier League at the start of September, and a bright start to the season has seen them put five past Aylsford for their opening match and earn a hard-won point last weekend in the first home game of the season against Saltdean.
This FFC Women's team is looking up, and as a Supporters' Trust, we fully intend to be there alongside them as they grow.
Many of you will remember the pioneering work of the FFC Ladies team that in its previous incarnation were around since 1993, who became the first professional team in Europe in 2000, and in their pomp won the treble of the FA Women's Cup, League Cup and Premier League in 2002–03, scoring 68 goals and conceding just 13. Sadly though, with the League not receiving financial support, the professional team was unable to continue and was disbanded in 2006.
Fast forward a few years and the team began again in 2014 as FFC Women, affiliated through the Foundation and with an aim to develop women's and girl's participation in football. Post-covid, they are raring to go for their first full season in three years, as coach Steve Jaye explained when we caught up with him recently:
"The squad prepared well during pre-season, which saw a number of new players join. The introduction of a structured physical development programme alongside our technical/ tactical coaching, and other aspects of our football offer, has seen large improvements in the squad's ability this season.

Something we are really proud of is the culture the group is living in each and every week. The squad consists of players from a variety of backgrounds and how these individuals mix will be an important component for our success this season. We are looking forward to seeing what the club can achieve on and off the pitch this season as we build Fulham FC Women as an environment seen as developing the women's game."

Steve Jaye, Fulham FC Women Head Coach
As the team grow on the pitch, we absolutely want to be there alongside them, and encourage and support the fans that will be following too. As a board, we've been discussing internally how best to support this side of the Club as it develops, and have updated our aims as a Trust to explicitly include our support of the Fulham FC men's and women's team, and fans attending both matches.
Currently, our plans to support this growth are to:
Ensure our website, social media and comms always support both the men's and women's Fulham teams
Provide the essential information required for supporting Fulham men's & women's team, and ensure fans of either side know that they can contact us for support
Provide equal support to both teams and work with the Club to develop these relationships
Develop awareness for fans to attend FFCW's matches with information on fixtures and how to enjoy
Work with the Club to encourage fan participation and increase awareness of the team
From the Club's perspective, an important goal of the next few years is focused on increasing participation. Supporting Fulham FC Women isn't just about promotion to higher leagues (although of course, it will be a goal!) and those eleven women on the pitch, but it's also about a commitment to growth across the ages, as Huw Jennings explained.
"We want to embrace the rapid emergence of the women's game. The FFC Foundation has done some excellent work in establishing the women's programme and building a solid base for our programme. In bringing the Women's team into the performance side of the Club, we want to incrementally grow our programme and develop a long-term investment into our players. Over time we hope to develop the team, increase our investment in youth and encourage enthusiasts for the women's game to consider Fulham as their Club of choice."

Huw Jennings, Head of Football Development
We're so excited to watch the growth of fan participation of FFC Women. We want to be ready as a Supporters' Trust for the increase in followers of the team, and be there to support anyone that decides to start attending matches – some of which may not be aware of the Men's team, or about the Trust and our aim to look after the best interests of all Fulham supporters. We are in the process of planning more content for our website and social channels, including all the essential information that you need for attending Motspur Park on matchdays. We want fans to know that they can get in touch about any feedback they have in exactly the same way supporters attending matches at Craven Cottage can.
Of course, the most exciting development for most fans will be to see Women's matches held at Craven Cottage, a view shared by fans, the Club and the Trust. As mentioned in our recent September meeting notes with the Club, pre-Covid plans had been underway to host a double-header match, and this is still within the grounds plans, albeit currently this has been complicated due to Riverside building works.
This excitement for growth is being mirrored around the country and the FSA has been supporting this through the development of the Women's Game Network, which board member Hayley Davinson and member Tamara Dragadze are in the process of joining. There they will be able to feedback and learn about initiatives other clubs have instigated and how all members can help the movement gather pace.
It's still early days for this re-formed female side of Fulham Football Club, and the Trust are very much here to support it. From youth level upwards the excitement for females to be playing football is nurturing some roots into the Club that we very much hope to see flourish in future.