Notes from July meeting with FFC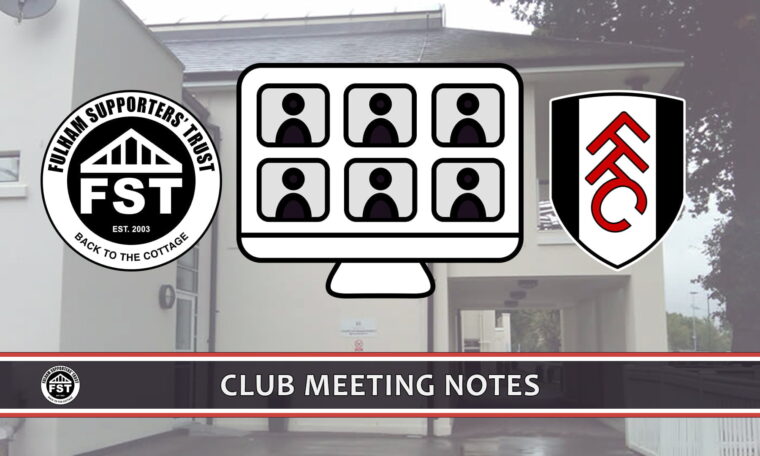 On Monday 12 July at 13:30, the Fulham Supporters' Trust met with Fulham FC via video conference.
The Club was represented by:
Alistair Mackintosh (CEO)
David Daly (Non-Executive Director)
Carmelo Mifsud (Communications Director)
Charlie Harris (Communications Assistant)
The FST was represented by Board Members:
HOW IT WORKS
The Trust asks any questions that it judges are of interest to supporters, based on responses from Trust Members to the advance notification of the meeting, and by generally interacting with the wider supporter base. There is no restriction placed on which questions the Trust choose to ask or points raised with the Club. These notes are then sent to members only, in advance of being posted on our website at a later date.
If any member has raised an issue that it was not possible to discuss in the time available, then please do contact us again in good time before the next meeting or alternatively we can seek to raise it between meetings if that is more appropriate.
TOPICS DISCUSSED
FOOTBALL PREPARATION AND STAFF CHANGES
Marco Silva's appointment
The Trust offered a warm welcome to Marco Silva; we are excited to see what he has in store for us. We also asked if anything more could be said about Scott Parker's departure other than has already been shared by the Club. There was nothing to add to information already in the public domain.
We were told that Marco Silva comes with excellent references and the desire to play exciting football, win games, and gain promotion.
Personnel changes and staff structure
The Trust noted a number of recent staff changes and potential new appointments and asked for an update regarding the current structure.
We asked how the structure of the Club has been impacted by the departure of Scott Parker, who took five people with him. The Club said that Marco Silva is bringing a team of five whose previous roles match the vacant slots exactly, so there will be no gaps to fill on the coaching, performance and analysis team.


The Club confirmed that the U23 Head Coach role is open and currently being advertised. We were told that Club policy is to recruit from within as well as from outside.


Some changes to the Academy structure are planned and will be announced shortly.
Since the meeting took place, the Club has formally announced these changes.


In addition, James Ellis from the scouting team has accepted a role at Arsenal and leaves with the good wishes of all at the Club.


The new Director of Scouting has not yet been appointed, but the search has progressed and is now at the interview stage. Both Marco Silva, and when he starts, the Director of Scouting will report to the Director of Football.
CLUB FINANCES
Accounts from our promotion year 2019/20 have been published and show an operating loss of £45 million after player trading (principally the sale of Ryan Sessegnon). We asked for the Club's thoughts on such a large operating loss. The Club told us that the Khan family continue to support the Club financially to the fullest extent possible and all agreed that these accounts underline their commitment. We also discussed the fact that losses at this level are not sustainable in the long term and the Club highlighted the new Riverside Stand as material evidence of the owners supporting the Club to become sustainable with new revenue streams.
The Club also explained that buying success on the pitch, however, isn't as feasible an option as it was when Mr Al Fayed took ownership, because of the Financial Fair Play regulations now in force. Back then we were buying players and paying them salaries above normal lower division rates, with no immediate negative repercussions, because there were no FFP constraints. These days the rules are much tighter, and to remain within FFP the Club sometimes had to go for the loan rather than buy option on players.
The Trust would like to see the Club become financially self-sustaining as soon as possible and noted that the new Riverside Stand was an important element in achieving that objective. In acknowledging the significant financial support of the Khan family, the Trust understands that the spend on players and other overheads needs to be carefully balanced against revenue streams to ensure we remain compliant with FFP rules. The Trust agreed that there needed to be a careful balance of, for instance, ticket prices and spend on players.
COVID RELATED ISSUES
The meeting took place prior to the Monday afternoon Government announcements.
Matchday Covid rules
The Trust asked how the matchday experience would be affected if all Covid restrictions are lifted. The Club replied that they will be looking to return to a pre-Covid match day experience whilst complying with any Government and football authority rules. As things stood at the time of the meeting they were not planning to impose any additional restrictions such as wearing face coverings etc.
The Club also highlighted that, from the experience of operating at reduced capacity during 2020/21, Craven Cottage is disproportionately affected by social distancing rules.
Covid and ticketing
The Trust and Club both hope that there will be no return to reduced capacity stadiums. However, if restrictions are re-introduced, then tickets will be made available by ballot, which will be carried out fairly such that all supporters have an opportunity to see a similar number of matches. Pro-rata refunds will be provided to those season ticket holders who are asked not to attend in these circumstances.
Season ticket holders with particular difficulties around attendance due to Covid should contact the Club by email at enquiries@fulhamfc.com
TICKETING
Due to holidays, the ticketing team weren't able to be represented at the meeting. However, the Trust held a later session with the Club to discuss ticketing and members' questions in this area.
Season tickets
The Club is very pleased with both the renewal rate for season tickets and also the healthy number of new season ticket holders. All supporters will receive a new season card by post towards the end of July. New season tickets are available to be bought in all open areas of the ground.
Matchday tickets
The Club will encourage supporters to use the 'print at home' option where possible for match tickets and also ticketing by mobile phone (as was used for the balloted games in 2020/21) which will be introduced shortly. Physical match tickets will still be available for those that need them.
New ticketing system
The Trust asked for an update on the new Secutix ticketing system and highlighted some teething problems and questions from members in this area. In particular, we learned the following
Loyalty points – all supporters' loyalty points have been transferred into the new system. The Club is aware that supporters cannot currently see their Loyalty Point balances. This will be corrected shortly.

Cup Tie Scheme – the Trust asked whether the Home Cup Tie Scheme is still active. The Club confirmed that a Cup Tie Scheme would be in operation but that it had not transferred over from the old Ticketmaster system. There will be further communication about setting this up.

Seat maps – some supporters have struggled to identify their seat on the seat plans provided by the new ticketing system. The Club explained that an enhanced seat map function would be available before the start of the new season.

OneFulham accounts – any supporters who have been unable to link their season ticket to a OneFulham account are encouraged to contact onefulham@fulhamfc.com for assistance.
The Trust keeps in close contact with the ticketing team and will help iron out any early difficulties using the new ticketing system, if these cannot be resolved directly with the ticket office. We are encouraged by the hard work going on behind the scenes.
Championship tickets
On the day of the ticketing meeting, the first three Championship matches were put on sale to members with Hammersmith End adult prices of £30. The Trust believes that these are fair prices, in line with the those charged during our last Championship season, as we have previously recommended.
TRUST INITIATIVES
(Standing agenda items, discussed each month)
We provided the Club with brief updates on progress and a heads up for future discussions on these FST initiatives:
Annual Celebration / Memorial Day – One day a year to remember, honour, and celebrate members of the Fulham family who are no longer with us. The FST and Club will be meeting to discuss further.

Women's football and the wider female supporters' experience – An exciting initiative to promote the female game and encourage more women and other minority support groups to feel welcomed and safe at football. The Trust hopes to present further detail on this at our August meeting.

Mental health – The Trust thanked Club and players for their support and planned future involvement in our mental health project, which will really get under way after 19th July.
The Trust will share further information about these initiatives via our website and emails to members.
GROUND
Riverside build progress
There is still fit-out work to be done. The Club hoped that anecdotal reports of shortages of building materials such as plasterboard will not have a negative impact.
Viewing the new stand
The Club appreciates the keen desire of supporters to visit the new stand, especially if they intend to purchase seats, but it is unlikely for anyone to view in person because it is still a building site and there will be works going on right up to opening; virtual views will be made easily available.
Available seating this season
No Riverside as yet, but perhaps some partial opening towards the end of the season; seating will be in the remaining three stands
General ground maintenance
A repair schedule for the rest of the ground is being implemented, which includes toilet facilities.
AOB
Forever Fulham
We asked if the Club could create a space on their website with recipients of the Forever Fulham award, which is given to players who have played at least 100 games, and sharing the interviews if possible. The Club responded positively to this suggestion and since the meeting has provided this updated link on their web site.
Televised / streamed matches next season
We asked if televising of games would revert to pre-pandemic arrangements and whether midweek Championship games would continue to be available on Sky as they used to be. The short answer was yes. Some matches have already been selected for broadcast. The Club anticipates that as per last time, an annual subscription will be available for fans overseas, and the club will look to stream matches to UK subscribers where broadcast regulations permit.
Variety of food available on matchdays
We shared requests from members for catering concessions to sell food to accommodate special requirements around allergies and faith. For example, gluten free options including gluten free beer, and Halal food. The Club agreed to take these requests away but much depended on demand, given the limited catering space available.
Muslim Athletes Charter
A member had asked whether Fulham intended to sign up to this Charter which has been adopted by Premier League Clubs. The Club said they will look into it and assured us that they already do consider and cater for the needs of different faiths among the players, including places for prayer, which is one of the requests made in the charter.
Next season's kit
The new home shirt will be launched before the end of this month, and the away kit close to the first home match. The 3rd kit will as usual be last season's away kit, which was yellow. The new away shirt colour is a closely guarded secret, but we did manage to prise the information that it won't be lime green.
Away fans and away travel
Away fans are expected to be back as per the pre-pandemic situation, and the Club will be putting on coaches for travel to away games, as previously, from both Motspur Park and Craven Cottage.
The meeting ended at 14:30