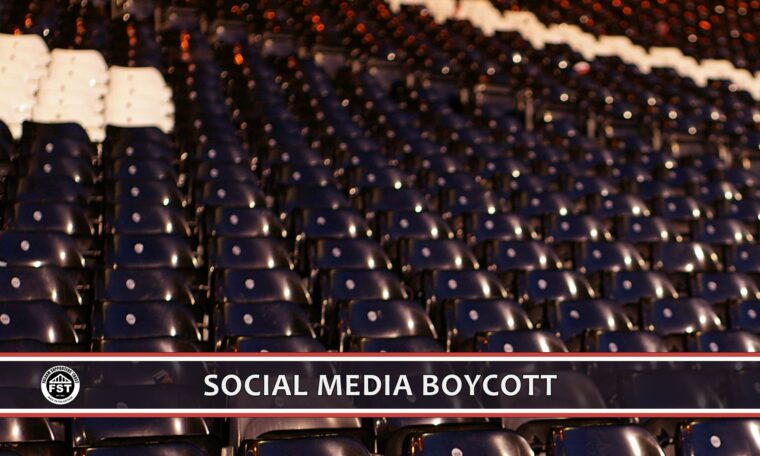 This weekend, from 3pm today until 11.59pm on Monday 3 May, there will be a social media boycott by many in football. The FSA, which is the national umbrella body for supporters' groups and Trusts around the country, is amongst the initial signatories and organisers, along with the football authorities in England and also in Scotland, the players' union, managers and referees' bodies and campaign groups such as Kick It Out. The FST, along with many other fan groups around the country, is joining this boycott.
Nobody expects a three day boycott of social media is going to stop all discriminatory abuse, and that is not the position of those who are taking part in this action. What it does do, though, is highlight the lack of action taken by social media platforms when there has been horrendous abuse of individuals in football; too often the stance has been simply to ignore it, or be very sluggish in taking the types of action appropriately within the remit of the platforms.
They could, and should, consider preventative filtering to stop discriminatory abuse being sent or seen, ban perpetrators and stop account re-registration and have a rapid response when abuse is posted. In short, the platforms should act to make it harder for abuse to be posted, and be quicker to remove it when it is.
It is often players who receive a huge volume of abuse, and it is through players that the calls to highlight the part that social media platforms can play have come. Just over a week ago, many players stood with supporters, and stood up to be counted against the proposals for a breakaway closed shop Super League which would have undermined the English leagues when it would have been easier for them to say nothing. On this, we think supporters should stand with players.
While there is, perhaps understandably, some cynicism about the motivation of some who are joining this action, that should not overshadow the reasons for taking part in this boycott. Social media platforms are a part of the problem, and should be seeking to act. It won't eradicate the worst abuse in and of itself, but platforms acknowledging and acting to be part of the solution would be a welcome first step.
That is why the Fulham Supporters' Trust will be silent on social media this bank holiday weekend, as hard as that might be even if we pull off an historic result on Saturday. We hope you will consider doing so as well.
Tom Greatrex
Chair, Fulham Supporters' Trust