The FST meets… Megalie Mendes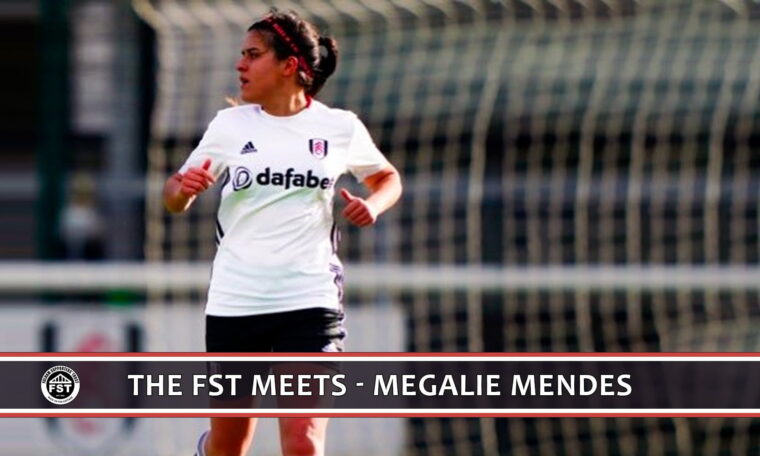 "Coming here, for me it's such a different experience because I'm not used to people giving this attention to women's football"
Having moved from playing netball and hockey in her formative years, it was time spent in Spain that made Fulham FC Women's wingback Megalie Mendes decide that football was the one for her. With a move to England on the cards, she knew it was time to take the next step with football and after a range of trials, she found a home with the Fulham Women's team. Board member Hayley Davinson caught up with her over Zoom to hear about how the 'other' Fulham team are keeping up during the lockdown, and to hear about the positive future that the women's game is looking ahead to.
"Apart from playing football a little when I was very young, I played netball and hockey when I was at school and university [in South Africa, where she grew up] as there was a lack of interest in women's football. There was no infrastructure, they don't really support women's football, and it was not a chosen school sport. I played for a year with a club but it was very disorganised".
That all changed when she moved to Barcelona after university and discovered futsal, which quickly turned an interest in playing into a passion. Something she felt she had to pick up when eventually planning to move to London a year later, suitably helped by taking in some games at the Nou Camp.
Arriving straight off the plane and instantly looking for team trials, Fulham had piqued an interest. Originally she had thought it may have been convenient as she had just moved to Fulham, before realising training was a little further away at Motspur Park.
But, that journey came with its perks, getting to train at the incredible facilities meant getting to enjoy a lot that has been unexpected. "A lot has changed since I've been there, there's been much more promotion of the women's team by the Club… we also got invited [pre-COVID] to one of the matches by the men and we walked the pitch and got introduced to the fans at half time, it was so cool".

It's impossible to talk about women's football currently and not swerve to the topic of the radically shifting attitude towards the sport, something that Megalie has been made acutely aware of, coming from a country where it hadn't previously been quite so embraced.
"Coming here, for me it's such a different experience because I'm not used to people giving this attention to women's football. It was a club not in the top league but we're playing at the same facilities as the men, like literally, it blows me away."
That was probably most keenly felt when the mixture of support from the Fulham F.C social channels and the magic of the cup combined in November 2019 and the team played Dulwich Hamlet to a crowd of 500 people. It may have been in the hundreds, but the impact that made to playing was not forgotten. "It was a massive, massive difference, like I remember that game. All our friends came, lots of little girls came and they wanted their picture with us afterwards. It was weird for us! But it's nice, I think it's nice for them to see role models, just people that they can relate to." As a female that grew up supporting the men's team and not getting involved with playing football, I wholly concur, and it's hard to underestimate exactly how impactful these matches and this visibility of the game is to our younger, female, Fulham fans.
Sadly, of course, the wages aren't quite matching the men's salaries (for now, at least) so that means that Megalie manages another challenging role, where she is the Marketing Director for a sports technology company, Playermaker. It's something that she relishes, however, and football brings an excellent respite from. "I need it. It's something to decompress, so I don't always think about work. I always feel so much better. Maybe my head is all over the place when I'm going there. Once there, I really focus, and then afterwards I feel so much better."
With a mixture that ranges from marketing professionals to teachers to school and university students, there's a strong mix of characters in the team who are keen to harness the growth of the women's game specific to the Fulham Women's team, particularly as they have noticed the changes in attitudes, even within the last year or so. "Even when I've been chatting to my colleagues, there's been a shift in the men's mentality… [now it's] 'Yeah, I'd love to come and watch you' – I've personally experienced it".
Mainly though, they all just can't wait to be back playing. The FA have been cagey still on what will be happening to the Women's Leagues, and this could well mean for a second season there will be no promotions or relegations. For a team looking upwards, this is a difficult challenge but something they are keen to bounce back from, as soon as the climate allows it. 
"[I hope] to be back playing and have an uninterrupted season, for people to be able to come watch our games again and to see more investment from the club to promote the female game, and of course to be back on the field with my teammates. Maybe even have a game at Craven Cottage!"
We want to tell more stories about women's experiences of Fulham – be that players or fans, of any age and background. If you've got a story to tell, get in touch – we'd love to hear more.
Many thanks to Megalie for taking part in this interview. We look forward to the return of women's football and supporting the Fulham FC Women's team.