Black History Month – Barry Hayles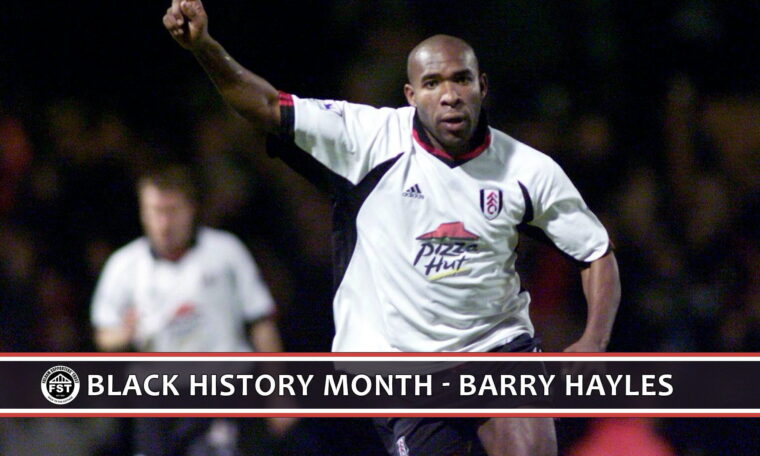 October marks Black History Month, and the Fulham Supporters' Trust would like to celebrate the significant contribution people of colour have made to Fulham Football Club, both past and present. Over the course of the month we'll be chatting to various black people from our club's history about Fulham and ask them what Black History Month means to them.
First up, Farrell Monk caught up with …
Barry Hayles
Debut: home vs Chesterfield – November 1998
Appearances: 214
Goals: 57
For years, Black History Month has been the only time of year that the UK talks about the achievements of black people in this country. That is something that needs to change, but Barry thinks we are heading in the right direction. "It's been so significant over the past few years, especially with what's been going on recently," he says. "I think about how black people have been treated over the hundreds of years; it's important to highlight it all to ensure we can bring about equality." Although he admits more could be done. "Not everyone realises it's happening really! So it's best for the football community to highlight Black History Month as much as possible."
It's currently the International break. When Hayles joined Fulham in 1998, we were the only club outside England's top two divisions that had games postponed due to having more than three players away on international duty. That's certainly not the case for Barry's current club, Merstham, where he combines playing with the role of assistant-manager. "Unfortunately not, we're part-time!" he laughs. Sadly, the Surrey outfit fell to a 2-1 defeat at the hands of Kingstonian the evening before we spoke.
London born and bred; Barry admits that getting a chance to move back to the area was one of the main reasons that he chose Fulham. "I'm a Londoner and Fulham were on the up; I couldn't turn it down really!"
Bristol Rovers fans were understandably displeased by the loss of their star striker. But it could've been a lot worse for the Gasheads – arch rivals Bristol City were in for Hayles. Thankfully for the Gas, and for us, he chose Fulham. £2.7m was more than enough to persuade Rovers to sell; it's a substantial sum for a third-tier club these days, let alone 22 years ago. They were keen to cash in.
"Fulham requested that I wasn't cup-tied so the manager [Ian Holloway] said I should say I was injured for the cup game, to make sure the move went through", Barry admits.
Hayles enjoyed six successful years at Fulham, including two promotions, an FA Cup semi-final appearance and European football [when the Whites reached the third round of the UEFA Cup in 2002], so you'd forgive him for not being able to choose a favourite moment immediately.
"Where to start?! Although I think I would have to go with my first goal against Southampton to knock them out of the FA Cup. I didn't hit the ground running, so to finally get my first goal really settled me in." That goal knocked out the Premier League outfit, before we famously overcame table-topping Aston Villa in the following round. It led to Fulham's longest FA Cup run since the final of 1975.
All things considered, it's safe to say Barry certainly made a positive impact over the course of his stay in SW6.
---
Keep an eye out on the Trust website in the coming weeks for further interviews and articles on other people of colour who have contributed to the history of Fulham Football Club.
If you would like to learn more about Black History Month or any other issues of inclusion and diversity, feel free to contact the Inclusion and Diversity officer Farrell Monk at any time.