Season Ticket Options – Q&A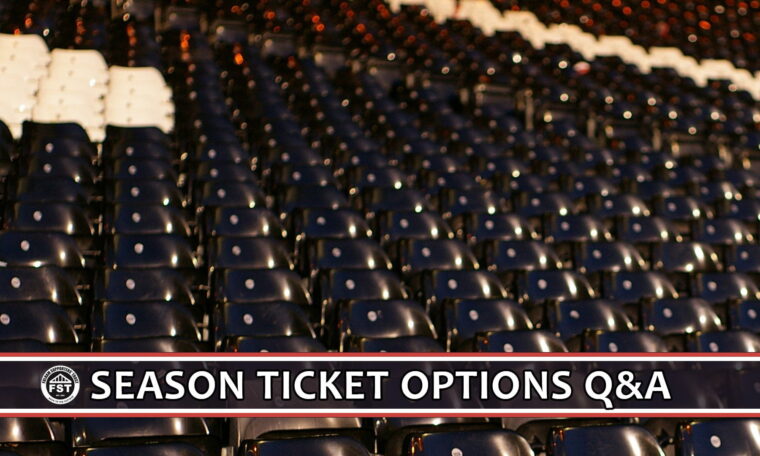 Earlier today, the Trust board met with Alistair Mackintosh and his team by video conference for our regular monthly meeting. Most, but not all, of the meeting focused on the recently released options for 2019/20 season ticket holders.
Given that time is pressing for decisions to be made, we have produced a Q&A below which summarises answers to a range of questions raised by members and others who have contacted us.
We hope you find this Q&A useful in making your decision. If you aren't yet a member, please do consider joining the Trust.
---
GENERAL QUESTIONS
How many season ticket holders have responded so far?
At time of meeting, just under 4,500 season ticket holders have made a choice.
What is the take-up so far?
Approximate one third split between streaming, credit and refund.
How many season ticket holders have opened the email from the Club?
Approximately 75%
OPTIONS OVERVIEW AND DEADLINE
What is the rationale for the options provided?
The Club wanted to provide choice, including a refund option for those who required it or who were unhappy with the other options. Some other clubs have not provided so many options.
The Club appreciates all choices made and recognises that different supporters will have different circumstances.
Why is streaming the default option?
A choice had to be made quickly. This reflects EFL policy as of Friday 5th June, following the agreement between EFL and Sky on broadcast arrangements for the end of the season. The Premier League guidance was different.
The Club wants supporters to make an active choice from the four options presented.
Why is there a short deadline (Friday 3pm) for choices to be made?
The key is to identify quickly all those who wish to stream the remaining matches so that technical and support arrangements can be made before the first match, including distributing FFCtv codes to those who require them.
Those Season Ticket Holders who positively sign up for streaming will be prioritised over those who do not answer by Friday 3pm.
Are season ticket holders' seats still reserved for next season, regardless of choice made?
Yes
CONTACTING ALL SUPPORTERS
How will the Club contact those without an email address or those who opted out?
Anyone who didn't make a choice in the first 24 hours will receive a hard copy letter, which is in the post now, regardless of whether they have an email address. Households will be consolidated into one letter where possible.
It is possible that some who made a choice in the first 24 hours will receive a letter – this can be ignored.
What about juniors with no email address?
These will be picked up by the letter on a one per household basis.
THE ONLINE FORM
How can supporters, including juniors, with no email address make a choice?
You don't need an email address to fill out the form, just a client reference code. However please include an email for a parent or legal guardian.
How can supporters who are not online at all make a selection?
The ticket office can help if needed.
Do all members of one household need to make the same choice?
No, everyone can be different. A separate form needs to be completed for each season ticket holder.
When filling in the form for multiple people, refresh the browser each time.
Will supporters receive a confirmation email once they have made their choice?
No. The thank you message at the end of the form confirms completion.
Can I complete the form on behalf of somebody else?
Yes, if you have their permission and their client reference.
DONATION, CREDIT AND REFUND OPTIONS
Why does the Foundation donation option not include FFCtv as a way to increase funds?
It was a decision taken by the Club, which funds the Foundation.
Are the refund, credit and Foundation donation amounts the same?
Yes, they all equate to 4/23 of the season ticket price
STREAMING OPTION
Can concession season tickets be used to select the streaming option?
Yes. Some other clubs are not allowing this but Fulham are.
CLUB MEMBERSHIP
Will there be any refund options for Club members?
Options for Club members will be looked at once the urgency of the season ticket refunds has passed.
FFCtv – ACCOUNTS
Do supporters need an FFCtv account to take the streaming option?
Yes, all supporters wishing to stream will need to set up an FFCtv account if they don't already have one. Guidance of how to create an account and use the service will be provided by the Club.
Is there a guide to signing up for FFCtv?
The Club is producing a step by step guide for those not familiar with FFCtv.
Is there a cost to set up an FFCtv account?
No, not to set up an account. However there is a cost should supporters wish to also subscribe to the range of behind the scenes 'paywall' content provided by a FFCtv monthly or season pass.
Supporters who have an existing annual FFCtv subscription will have the duration extended to cover the re-started season. Those who pay monthly will have their charges – which had been suspended – restarted from 11th June.
How will I get access to the FFCtv match streams?
A code will be sent to all supporters who select the streaming option to cover all nine games.
Is the paywall content included with the season ticket streaming option?
No, the streaming option provides a nine game live match voucher only. The paywall content is provided with a monthly or season pass.
Will 'as live' 90 minute replays still be available?
Yes, but only to those who subscribe to a FFCtv monthly or season pass. It won't come with the season ticket streaming option.
Can all supporters, season ticket holders and non-season ticket holders, buy match passes?
Yes, for a per match cost of £10. However any game selected for Sky TV will NOT be available to FFCtv on a per match basis, only to season ticket holders selecting the streaming option.
Will season ticket holders get priority access to FFCtv over match by match purchasers?
No
The terms and conditions say "the Club reserves the right to substitute the FFCtv voucher code for an alternative of equal or greater value". What does this mean?
This is standard in most terms and conditions to cover an eventuality where FFCtv (in this case) is not available. The only eventuality that might cause FFCtv to not be available might be curtailment of the season due to Covid.
FFCtv – TECHNICAL
What work is being done to ensure FFCtv works well with the higher usage?
StreamAMG (the streaming provider) provide services for several other Championship clubs who sit outside of the EFL's iFollow platform. They are testing continually ready for the season resumption and are scaling up support capacity.
Will there be an FFCtv check session or test event?
This is a big part of the reason for wanting supporters to sign up quickly. Once those selecting the streaming option have set up an FFCtv account and received their nine game match code they will be directed to a test video to make sure everything is functioning normally.
Can AppleTV or Chromecast be used?
No, this is prohibited as part of the deal between EFL and Sky.
Can one FFCtv account be shared by multiple devices?
No, only one device can be logged in to each FFCtv account at one time. This device can change on a match by match basis.
Will any additional sound options be available apart from commentary e.g. artificial crowd noise?
No. This would risk delivery of the service as it requires an additional piece of software. The audio will be the sounds of the players plus commentary.
Note that there is a full set of FFCtv FAQ on the Fulham web site.
BROADCAST RELATED
Does the Club pay a per season ticket holder fee to Sky for FFCtv broadcast rights?
No
Will international or Sky TV picks affect availability of matches for FFCtv?
All UK based season ticket holders selecting the streaming option will be able to watch all nine remaining matches (excluding the play-offs) on FFCtv.
Any game selected for Sky will NOT be available on FFCtv to match by match purchasers but will be available to season ticket holders who selected streaming.
Overseas based season ticket holders who select the streaming option MAY NOT be able to see all nine remaining games if some are selected for international broadcast.
Will the play offs be on FFCtv?
No, they will only be on Sky TV.
Will midweek matches be available on the Sky Red button, as earlier in the season?
No. This service has been suspended.
Will FFCtv be available to shielding supporters when crowds are next allowed in?
This wouldn't be possible according to the current TV deal but if contracts change in the future it may be able to be discussed.
OTHER
Will home match programmes be produced?
Digital match programmes will be available for £2. The Club is consulting with its programme provider over whether printed programmes may be made available via the Club shop.
Will away match programmes be produced?
This will vary by club, but Fulham do not expect to be able to source any copies.