Bill Muddyman – Fulham Legend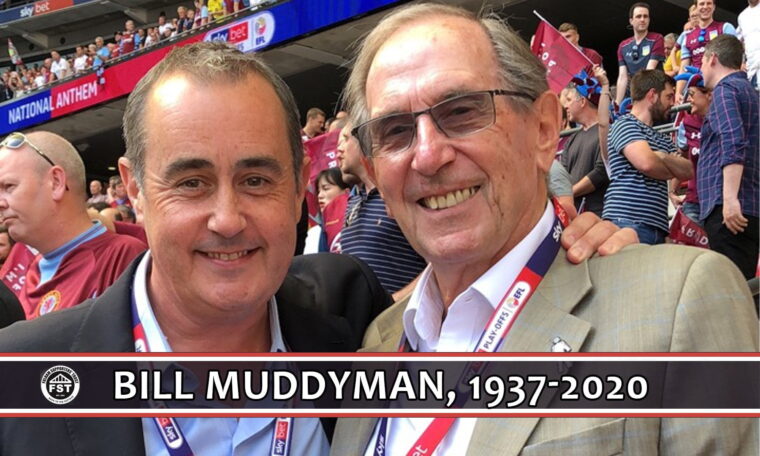 TOOFIF editor and new Fulham Supporters' Trust Honorary Life Member David Lloyd reflects on the massive contribution made by Bill Muddyman, who has died at the age of 82, to our Club and to him personally.
"Happy Days are here again!" proclaimed the front cover of the matchday programme for the Division Three fixture against Chesterfield on 11 April 1987. And there was every reason to rejoice because the grotesque Fulham Park Rangers merger had been firmly put to bed and its instigator, David Bulstrode, Chairman of both Fulham and QPR, had been ousted by a new consortium that included Cyril Swain and David Gardner.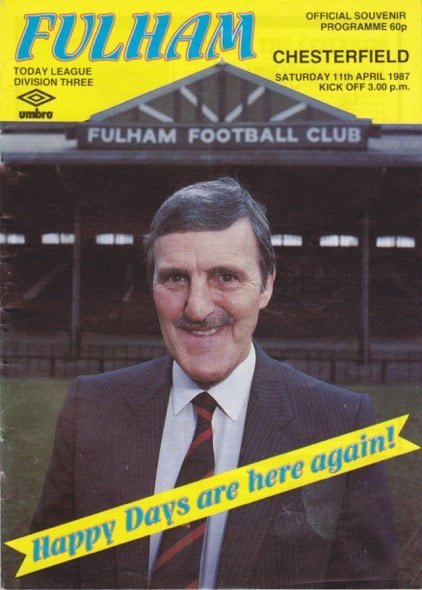 The unmistakeable face of Fulham's new Chairman, Jimmy Hill, graced the programme's front cover. Buried within its pages were a few words from our new Vice-Chairman, Bill Muddyman.
Let me introduce myself. I was born in Fulham, just off the Fulham Palace Road, and went to Fulham Palace Primary School, which I understand is now called Melcombe School. From there, I moved on to St Clement Danes School and continued to live in Fulham until I was married.
I attended my first match at the tender age of five, persuaded by my brothers, and have kept up an interest in Fulham Football Club ever since. The last thing I ever imagined was that I would become involved in the way that I have, and even when I agreed to attend the historic meeting at the Wig and Pen Club I still thought it was an uphill battle. However, the enthusiasm for Fulham Football Club that was generated at that meeting, led by Jimmy Hill who finally agreed to be Chairman, convinced me that not only had I a part to play, but that in some way it was fate.
I was very impressed with the attitude of those who will be my colleagues and together I can promise you that we will do our best for Fulham Football Club in the future. We certainly won't fail through lack of ambition or hard work by everyone involved. All we need now is your support!
It may have been a Happy Day on 11 April (we even beat Chesterfield 3-1, having lost our previous home game, against Port Vale, 0-6!), but as we all know it got a whole lot worse before it got better. Relegation to the bottom division ensued and the Club's very existence came under real threat as crowds dwindled and because the fabulous Craven Cottage site still belonged to property developers. It was hardly a rosy time to be a Club director.
The Club's delaying tactics (plus a brilliant rearguard action by the stalwart supporters) were given a mighty boost by the property market collapse. But it's worth remembering that even if we could somehow raise the millions of pounds to buy back the freehold of the ground at a "bargain" price, the best-case scenario back then for the Cottage was a forever-limiting 12,000 ground capacity part-funded by having other buildings on the site. Against the option of going out of business, that seemed highly desirable, even if it would have probably meant lower-division football and relative obscurity.
In that Chesterfield programme, Jimmy Hill wrote about the new board: "There is not an 'Elton John' amongst them." Maybe not, but there was a Bill Muddyman. Having astutely persuaded the ubiquitous Jimmy to be the very public face of Fulham FC, Bill pulled a lot of the strings backstage. And we have Bill to thank for looking beyond that limited model of the Cottage.
So, not only was Bill instrumental in saving our wonderful football club but he also oversaw our miraculous revival. With the Mickey Adams promotion season ensuring that the sporting world took notice of Fulham once again in 1997, Bill Muddyman sold Fulham to Mohamed Al Fayed.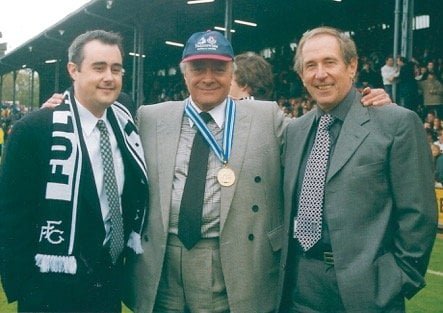 Incredibly, not only was a Premier League adventure on the horizon but a highly unlikely European Tour as well. Bill continued to attend Fulham games and was a driving force in getting the George Cohen statue erected. He enjoyed the highs as much as any Fulham fan and was especially pleased to enjoy our Play-Off success at Wembley with his son Andy. Happy Days indeed!
I have a special reason to thank Bill Muddyman. It was at his chateau in the south of France that I proposed to Heather. That 'Cottage Chance' weekend was almost 30 years ago. Much more recently my eldest son Matt accompanied me to Cassis to interview Jean Tigana at his vineyard. Surreal is hardly the word.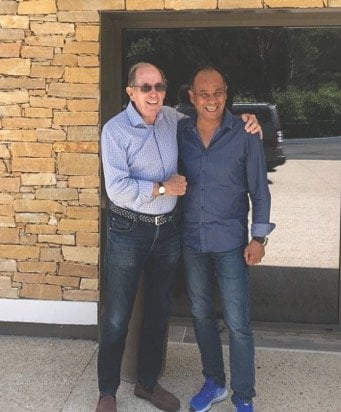 Jean was on brilliant form and he remains incredibly passionate about his time at Fulham. Also present at the interview was Bill; he'd not only engineered the whole thing but, with his partner Linda, was putting us up too. Jean drove us to a fantastic beachside restaurant that, naturally, served the splendid Domain La Dona Tigana wine. The four of us were treated like royalty by the staff, and Jean and Bill were supreme company. Matt and I kept exchanging disbelieving glances; what a truly fantastic experience.
Thank you, Bill.