Notes from February meeting with FFC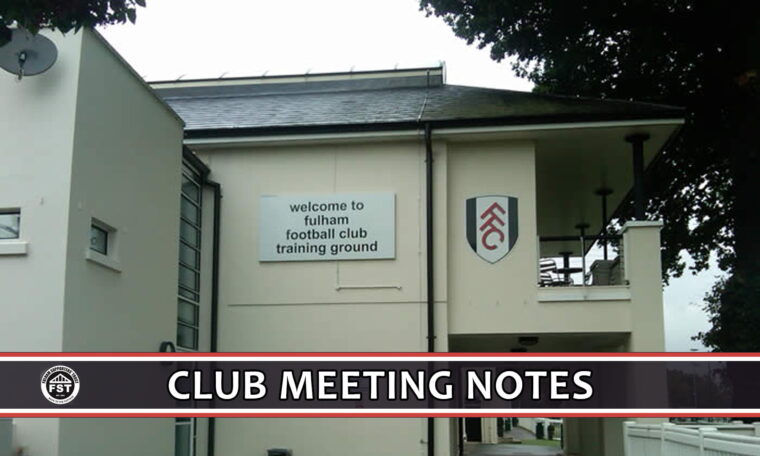 On Monday 10th February at 12:30, the Fulham Supporters' Trust met with Fulham FC at Motspur Park.
The Club was represented by:
Alistair Mackintosh (CEO)
Katy Brecht (Head of Ticketing)
Nicola Walworth (Supporter Relations Manager)
Carmelo Mifsud (Communications Director)
David Daly (Non Executive Director)
The Trust was represented by:
HOW IT WORKS
Each topic below is raised by the FST in an attempt to discuss issues raised primarily by a number of our members. Individual questions from members are sent to the Club outside the meeting, and we encourage members first to raise these directly with the Club via enquiries@fulhamfc.com.
If any member has raised an issue that it has not been possible to discuss in the time available then please do contact us again in good time before the next meeting.
We encourage members to provide us with as much detail as possible (e.g. time, duration, date etc.) when raising issues either with the Trust or directly with the Club.
TOPICS DISCUSSED
The Trust began the meeting by congratulating Katy Brecht and enquiring who would be covering her role during her maternity leave (from May 12th). Interviews are currently taking place, and Tracey will also be on hand in the ticket office with her wealth of experience.
Congratulations were also offered to Javier Perreira upon his return to the club. We asked about this new role. The club explained he has joined the current team of directors to add strength and depth to key areas of the Academy, recruitment, and in particular support for transition for those arriving into the first team squad.
The following topics were then raised and discussed:
SAFE STANDING
Due to recent announcements of reports finding in favour of Safe Standing areas and that they are likely to gain approval in law, the Trust asked the Club what their current views were in respect to building Safe Standing into any future plans at Craven Cottage. An issue that has been discussed between the Club & Trust previously, the Club explained that they have been looking into different scenarios for which the possibility of Safe Standing could be an option. This would not be a return to previous terracing but would resemble this as described by the FSA in this link. The Club are aware there is desire from certain fans for it, and upon overarching agreement that it should be put in place, most fans would support the move.
We reminded the Club that our 2019 survey showed a 73% support for Safe Standing in principle, though many of these responders would not choose this option themselves.
The Club is examining various scenarios and considering a wide range of factors, although there is no immediate plan to implement Safe Standing, neither by the government with regards to changes in the rules nor the Club in making these changes. As and when there is more information, the Club and the Trust will discuss further.
GAMBLE AWARE
The FSA recently wrote to the FST and to the Club for discussion and promotion of the 'Gamble Aware' campaign, and the Trust asked what the Club's current views are on this topic. They told us they do comply with all requirements around gambling and have a proactive campaign in all areas where betting sponsorship is visible. They look to work with companies (as betting sponsor or main sponsor) who aim to be responsible betting companies and will continue to do this.
The Club said they will respond in writing to the letter from the FSA.
The Trust subsequently asked the Club if they can look to utilise the Gamble Aware hub material in the same way as a number of other clubs have agreed to do.
COMMUNICATIONS
The Trust had received emails about news from the Club:
Requesting more content in the matchday programme about youth players, which the Club took on board. They asked us what content is most interesting to fans – please let us know what you would like to see featured, and we will feed it back to the Club.

We shared a request for the Forever Fulham half time interviews to be put up on the website and discussed a possibility of doing a longer interview before or after the game without the pressures of time constraints, specifically for the website.

For those wanting more video content, please note that Fulham Fix is free to view via the Club website.

Alfie Mawson – Scott Parker updated in his pre-match interview.

Bowie – The Club announced this signing as soon as it became official.

Harvey Elliott's fee – there is no news. There is not an expected timeline for resolution of this, which is en entirely normal scenario.

Issues and problems with FFCtv had been reported to us and have been handed to Carmelo Mifsud for him to take further.
AWAY TRAVEL
There have been requests for further subsidies, or even free travel especially for far away games and those which are being covered on TV and therefore risk losing out on fans making the effort to go because of cost and logistics.
We understand that any possibility of this will depend on the timing and location of specific games. An assist from the Club for travel to Leeds is potentially on the cards because people will not be able to get home by public transport. The Club told us they appreciate that travelling support and travelling supporters themselves are important.
Problems with coaches for Manchester City away. It was acknowledged that the failure to properly inform travelling fans was an oversight by the Club and they will ensure that this does not happen again. The Club travel stewards are to do further checks on both sides of bridge in future.
'Sit where you like' at Charlton etc, which caused problems for fans who had bought front row tickets so that they would be able to view without having to stand – The Club were not informed that this was going to happen. Sometimes this is a decision by the home club, made for a variety of reasons.
MATCHDAY – CONGESTION & CATERING
With regard to the regular complaints of congestion at half time, the Club say they continue to look for ways to improve the situation. They tried hawkers selling hot dogs to take away from the queues but uptake has been low. With the lack of ability to change the structure of Johnny Haynes or Hammersmith End, there is little that can be done physically.
People are standing at half time on stairways in the Johnny Haynes stand, presumably to avoid the crush but this does not help, and stewards are still blocking handrails especially in Hammersmith End. The Club say they will again emphasise that this needs to be conveyed to stewards at their briefing.
The Trust suggested that the Club should install signage reminding not to block stairways and handrails – which would also remind stewards to keep them clear, especially the newer stewards.
We reported that queues for food and drink have improved and more beer is available, but someone had reported that too many were poured at once and therefore people were not picking up the older pints. All the above issues are continually under review.
TWITTER
We told the Club we are aware from conversation and social media that some people have received banning orders because of the nature of their Twitter posts about players. We asked what is the Club's policy about this. They replied as follows:
Essentially, the Club is free to make decisions of this nature. The Club has a duty to protect its staff and this includes the players. Although supporters have the right to comment on the team and the players, we have a responsibility to ensure that our staff do not receive unfair abuse. One of the tests we use is whether or not the comments about a player would be acceptable in the workplace (i.e. meaning FFC, not that of the person making the comments).
The Club will monitor social media accounts and forums, particularly when they are reported by a player or another third party. The Club has the right to take action if it feels that the line has been crossed or the comments are discriminatory.
AOB
Barnsley incident – some people had asked for an update. The Club is aware that the case was dropped.
A request for a common meeting space in the new stand, such as previously existed on the river front between Riverside and Hammersmith End, was noted.
London living wage status of Fulham FC. The Club and all their contractors comply with LLW. Accreditaton is en-route.
Diggers that were seen at the old BBC ground were for separate work nearby by Network Rail.
The meeting opened at 12:30 and closed at 14.15