Away Day Guide – Barnsley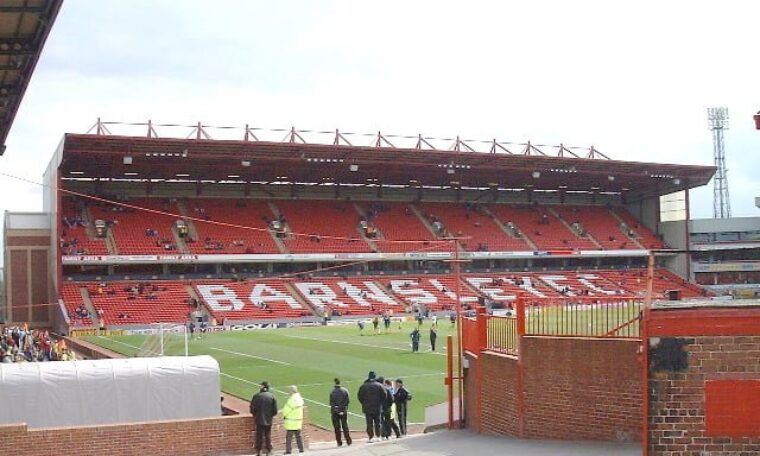 On Saturday 3rd August we travel to Oakwell for our first game of the new Championship season (3pm kick off). FST board member Dan Crawford presents our away day guide to Barnsley.
TICKETING INFORMATION
Tickets are still available for Fulham's first Championship fixture of the season and will be on sale on the gate on Saturday. Fulham fans can buy tickets by calling the Ticket Office on 0203 871 0810 (option 3) before 3pm on Friday 2nd August.
On Saturday, tickets will be available from the North Stand turnstiles but will be cash sales only, priced at £30 for adults, £22 for adults aged 65 and over, £22 for young adults aged between 19 and 21, £12 for juniors aged between 12 and 18 and £7 for juniors under 12, who are accompanied by an adult. Supporters are advised that junior supporters will need to bring proof of ID/age and that junior tickets will be sold from the home ticket office.
GETTING TO OAKWELL
BY CAR
Come off the M1 at Junction 37 and take the A628 towards Barnsley. You can stay on this road until you reach Oakwell – following the signs – and the ground will come into view on your right. Please be aware that most of the car parks at the ground will be available for permit holders only. Your best bets for car parking are the Queens Grounds (priced at £5 for cars, post code S71 1AN) and the MetroDome, although this can be very slow to get out of after the final whistle.
BY TRAIN
Barnsley Railway Station is approximately a ten minute walk away from Oakwell. After exiting the train station, head left and towards the bridge that the dual carriageway goes over. Walk under the bridge, turn left up the slip road and then take your first right and walk towards the MetroDome leisure complex at the top of the hill. The ground will come into view as you head towards the MetroDome. Supporters should note that the Jumble Lane bridge crossing will be closed for around an hour after the game.
BY COACH
The Club's official coaches will depart from Motspur Park and Craven Cottage at 8.45am.
AWAY PUBS
One of the regular away fans' haunts is the Metrodrome Leisure Complex, which is located close to the ground itself. The complex has a bar inside and can open additional bars for larger away allocations.
The Dove Inn (102 Doncaster Rd, Barnsley S70 1TP) has proved popular with Fulham fans in the past. Featured in the CAMRA Good Beer Guide, the Dove is linked to the Old Mill Brewery and welcomes a mixture of home and away supporters. The Dove is just five minutes' walk from the ground. Also located on Doncaster Road, is the Barnsley East Dene Working Men's Club, which admits away supporters for a small donation and also offers car parking for £2. The Harbour Hills Working Men's Club (Vernon Street) also normally welcomes away fans.
There are a number of other real ale options in the town centre. The Arcade Alehouse (31 The Arcade, Barnsley S70 2QP) is a highly recognised micropub, which typically offers five or six real ales and ciders as well as local pork pies at very reasonable prices. The Alehouse has previously welcomed away fans.
The Old No7 (7 Market Hill, Barnsley S70 2PX), popular with Fulham fans on previous visits, offers a good choice of ales from Acorn Brewery and other guest breweries as well cider and a number of craft beers and pork pies.
The local Wetherspoons is the Silkstone Inn (64 Market St, Barnsley S70 1SN), which is also listed in the CAMRA Good Beer Guide. The Joseph Bramah (15 Market Hill, Barnsley S70 2PX) on Market Hill is another Wetherspoons option and usually welcomes both home and visiting fans.
Alcohol is available inside Oakwell, with bottles of Carling (£3.70), cans of Worthington (£3.50) and cans of Kingstone Press Cider (£3.90) all on offer.
The Trust would like to thank Barnsley FC and the Barnsley Supporters' Trust for their assistance in putting together this information.
Barnsley FC have also kindly provided two very useful documents for travelling fans which can be accessed via our web site by clicking the links below
We look forward to seeing you at Oakwell.