Notes from July Meeting with FFC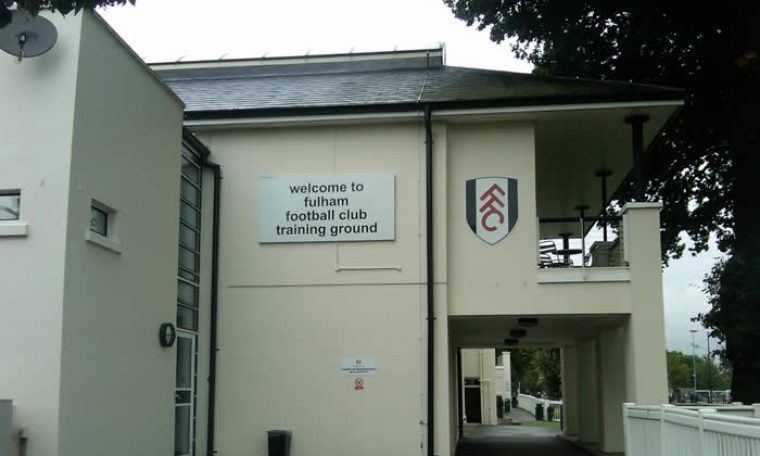 On Monday 8th July, the Fulham Supporters' Trust met with Fulham FC at Motspur Park.
HEADLINES
Season ticket renewal rates are high with waiting list of almost 2,000
Season ticket sales now limited to Putney End
Putney End unlikely to be available for match by match sales
Full details of season ticket exchange and upgrade schemes to be announced shortly
Non-standing away ticket scheme to continue
Putney End operations will be unchanged (unsegregated) on the concourses
Demolition of Riverside stand planned for September
Time lapse camera will be implemented by Riverside contractors
Academy operation and contracts explained
ATTENDEES
Fulham FC
Alistair Mackintosh (Chief Executive Officer)
David Daly (Non-Executive Director)
Katy Brecht (Head of Ticketing)
Charlie Harris (Communications Assistant)
Huw Jennings (Academy Director)
Rob Paddon (Head of Venue Sales)
Sean Davies (Head of Retail)
Fulham Supporters' Trust
Tom Greatrex
Ian Clarke
Sue Couch
Dan Crawford.
NEW KIT
The Trust thanked the Club for the early launch of the new kit for the forthcoming season and making the Foundation sponsorship option available for junior supporters. SD explained that being in the second year of the Club's existing sponsorship deal with Dafabet gave them more flexibility to launch the kit. He also stated that August 1st is always the deadline for a club to announce their sponsor and still get the graphics put on a shirt by the manufacturer. Due to the industry timelines, SD and DD confirmed that the Club will soon be in discussions about next season's kits.
SEASON TICKET RENEWALS AND NEW SALES
The Trust fed back a generally positive response to the Club's handling of the move of existing season ticket holders in the Riverside Stand to the Putney End and their assistance in dealing with individual cases raised over the summer. The Club said they are very pleased with the current rates of renewal, which are projected between 85-90%. AM confirmed that the waiting list for season tickets numbered just under 2,000. He expects a large number of the Club's home games to sell out this year and recommended that supporters sought either a season ticket or a membership to maximise access to tickets. KB confirmed that the Club are still selling season tickets, but they are now only available in the Putney End.
MATCHDAY SALES
KB and AM confirmed that the Club won't be able to make an estimation of match-by-match ticketing availability until season ticket sales are completed. It is likely that there will be little to no availability in the Putney End for individual match sales. AM and KB added it is probable that only restricted view seats will be available on a match day basis. Match pricing for the whole season will not be announced – the Club have decided to price tickets on a match by match basis as was the case the last time Fulham were in the Championship.
TICKETING SCHEMES
The Trust thanked the Club for the forthcoming implementation of the season ticket exchange and upgrade schemes that we discussed and requested last season. Details of the operation of these schemes will be made available once season ticket sales are complete and matchday pricing plans have been finalised.
KB and AM revealed that the season ticket exchange scheme will become operational when a pre-set percentage of the capacity is reached for a particular match. Refunds will be in the form of a credit against the following season's season ticket. The Club do expect there to be some teething problems as the IT operation is complex and they may decide to operate the season ticket exchange on a stand-by-stand basis.
KB and AM confirmed that supporters will be allowed a maximum of six season ticket upgrades per season (from concession to adult). There will be a flat fee for each upgrade depending on the price of the match ticket.
The Club's membership scheme was launched on the day of the meeting (Monday 8th July). The cost will be £40, with members qualifying for a £5 discount on all fixtures (last season this only applied to category B matches) and priority for match tickets, but the number of tickets they will be able to buy will vary depending on the match in question. AM confirmed that there would be no cap on the number of memberships sold. He views membership as a way of allowing supporters who are unable to purchase a season ticket to have a bond with the Club. It is likely that supporters will need at least a membership in order to get a match ticket next season.
AWAY TICKETING
KB and AM highlighted that the rules regarding away ticketing are different in the Championship. The EFL is less strict on block by block release so it is easier to sell individual tickets. The Club are currently waiting on Barnsley to release tickets for the opening fixture of the season and they hope that ticketing details will be available for supporters shortly (these are now on sale to members and season ticket holders).
The Club feel that the non-standing scheme trialled last season proved a success and are intending to continue with it this season, as long as home clubs give their approval.
CUP TICKETING
KB confirmed that there is supposed to be a 15% of capacity allocation for away fans at FA Cup fixtures. This may impact upon Putney End season ticket holders, but there is the possibility of applying for an exemption down to 10% of capacity in extenuating circumstances. The Club confirmed that they will be looking to apply for this.
PUTNEY END MATCH OPERATIONS
The Trust raised the concerns of some correspondents that there could be problems in the Putney End this season due to the larger number of home supporters alongside away fans. AM reiterated that away and home fans will be segregated on the stand side and that the general Putney End operations will remain as they have been, with no segregation below the stand, the same turnstile block entrances for home and visiting supporters and shared catering facilities.
AM stated that the Club did not expect that there would be any issues. There will be a changed demographic in the Putney End due to the relocation of Riverside Stand season ticket holders and there will also be fewer away fans than in previous seasons. He felt there was no immediate need for higher-visibility stewarding, which can cause more problems than it fixes. The local Safety Advisory Group will monitor any issues at the ground and take action if necessary.
CATERING
The Club do not plan to make any changes to the catering offerings this season. In response to a number of requests for more unique Fulham catering, AM confirmed that this was being considered as part of the plans for the new Riverside Stand.
CUP MATCHES
The Trust reminded the meeting of issues last season with lack of turnstiles and catering facilities at early round Cup matches. AM recognised this and agreed to ensure that similar issues don't occur this season.
RIVERSIDE STAND
AM revealed that, whilst work was progressing to timescale, the actual demolition of the old Riverside Stand is due to begin in September, so the season is likely to start with an empty stand still in place. The Club are planning to put a hoarding in place before demolition. The Club are working with their contractors to implement a time-lapse camera, as per the suggestions from many supporters.
The George Cohen statue is to remain in its current position – it does not need to be relocated due to the building works. The Hammersmith End 'mound' will remain unless the contractors experience problems during the building works. AM said that Craven Cottage's exact capacity will vary throughout the season due to the progress of the building works.
HISTORY AND HERITAGE
The Trust referred to the importance of preserving and promoting Fulham's history and heritage within the new stand. AM said that there will be a big non-matchday element to the new stand, which is currently being discussed, whilst some will be for matchday only. Both AM and DD envisaged that history and heritage should be strongly featured in the matchday areas.
The Stevenage Road press room is considered a place where history and heritage can be strongly featured as well and this is thought to be a good fit, given the historic nature of the stand. The press room is going to used for directors' hospitality during the transitional period, starting with the home friendly against West Ham, but then will become a space that supporters could use. Over the next two years, the Club would like to see how it can also be utilised on non-matchdays. AM also raised the possibility of more fan-centric history and heritage appearing within and at the back of the Hammersmith End.
ACADEMY
HJ spoke about the changes to the Club's academy set-up during the close season. Steve Wigley, previously the Club's Head of Academy Coaching, had expressed a preference to work more closely with young players and has been installed as Head of Player Development andUnder 18s Head Coach. This created a vacancy for the Head of Academy Coaching, which was filled by Ben Bartlett, who had links with Fulham through his previous role with the Football Association. Colin Omogbehin has stepped up from his U18 role to become joint Head Coach of the Under 23 side with Mark Pembridge, which was a job-share that both coaches requested. Ali Melloul has stepped up from hisrole as Youth Development Phase Manager to work alongside Steve Wigley.
HJ admitted the Club was disappointed with the teams' performances last year, although he stressed that the individual improvement of players was paramount.The U23 side always targets reaching the play-offs and, whilst there isn't a specific target for the U18 team, the Club wants them to be competitive against the best academies in the country.
HJ stressed that the development of young players has to be handled on an individual basis. The Club is keen to loan out some of their young talent, but players and clubs have to be matched very carefully. He considered Marek Rodak's loan spell at Rotherham as one of the highlights of the 2018/2019 season, but conceded that there were disappointing loans too.
HJ has held meetings with National League clubs to discuss potential loan moves and that a number of League One and League Two clubs are interested in taking Fulham players on loan. He stressed the importance of balancing any temporary exits with Scott Parker's plans as a number of young players are currently training with the first team. He felt that having academy players as the nineteenth or twentieth man in a first team squad doesn't help them develop and regular football was always beneficial.
HJ recognised supporters' disappointment in the loss of young Academy players, giving Mattias Käit and Jón Dagur Thorsteinsson as recent examples. The decisions surrounding individual players as to whether they will be playing and when they will be leaving are always made by football professionals. He stressed that the Club's category one academy status is massively important and is recognised by the owners.
Productivity points gained by players playing first-team football help the Club to retain their category one status. For instance, the Club made a decision to allow Stephen Humphreys to join Southend in January and his performances for Southend, where he scored the goal that kept them in the Football League, have helped to accrue productivity points for Fulham.
HJ also clarified some of the rules regarding academy players. Academy players are not allowed to have an agent until the calendar year of their sixteenth birthday. He did reveal that agents often interfere at earlier ages and the Club reports them to the football authorities when they identify this behaviour. Many more agents are being banned now for these offences than previously.
Clubs can initially sign young players on academy player contracts, previously known as 'schoolboy' terms, until a player leaves school. They would then progress to a scholarship agreement, which is an education and training contract linked to the Government national apprenticeship scheme, which can last for two years or be extended to three. A young player cannot sign a professional contract until their seventeenth birthday and the maximum length of this contract is three years. HJ felt that the academy is well supported by both the Club and the wider fanbase and thanked the fans for their on-going support.
The meeting closed at 1.54pm