Trust asks Fulham fans to 'bring a pound to the ground' and support the Fulham Foundation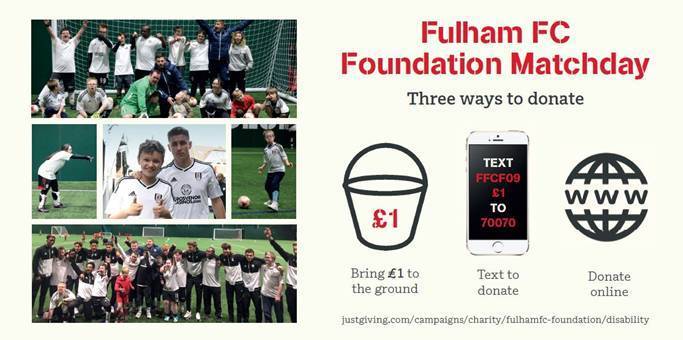 The Fulham Supporters' Trust is asking Fulham fans to support the work of the Fulham FC Foundation on their charity matchday at Craven Cottage this afternoon by bringing a pound to the ground to support the Foundation's award-winning work.
The Trust have worked with the Foundation on a number of innovative projects over the last few years, including their FanActiv fitness programme, the Walking Football initiatives that supporters will have seen displayed at half time on the pitch at the Craven Cottage and the 'Fulham Memories' project championed by George Cohen.
The Foundation's work includes running highly commended programmes for supporters and youngsters with disabilities. Trust communications officer Dan Crawford said: 'I have personal experience of how the Fulham Foundation's work with disabled fans helps boost our confidence in a wonderful environment close to the football club we all love. The Foundation depends on the generous donations it receives from Fulham fans – so I would like to urge all Fulham supporters to bring at least a pound to the ground today ahead of this afternoon's game against Birmingham City'.
The following is a message to Fulham Supporters' Trust members from the Fulham FC Foundation:
For more than ten years, Fulham Football Club Foundation (FFCF) has delivered pioneering disability programmes in the community and today we're raising vital funds to support our Fulham Badgers, Active Autism and Inclusive Champions programmes.
FFCF's Official Charity Matchday is on Saturday 9th December when the Whites host Birmingham City at home, KO 3pm. For supporters attending the match, FFCF has just one ask: Bring £1 to the ground. Volunteers will be collecting donations in and outside of the ground pre-match. Can't make the match? Supporting the cause has never been easier.
If you can't make the match or haven't got £1 to hand, you can text FFCF09 £1 to 70070 or donate online here.
From everyone at Fulham FC Foundation and Fulham Football Club, thank you for your support!