Trust welcomes Brian McBride back to Craven Cottage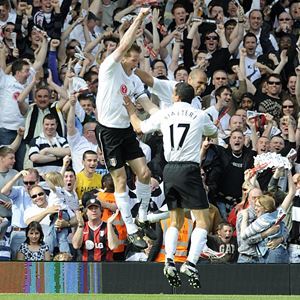 The Fulham Supporters' Trust are looking forward to welcoming former Fulham captain Brian McBride and his family back to Craven Cottage this weekend.
The revered Fulham and American striker and his wife Dina accepted an invitation from Fulham Football Club and the Trust to be guests of honour at Saturday's home fixture against Preston North End, who gave him his first taste of English football in 2000. McBride will make his first visit to the Riverside bar named in his honour when he joins Fulham fans for an evening of memories, questions and answers tomorow night before meeting supporters in the reopened stadium shop on Saturday lunchtime before being introduced to the Craven Cottage crowd at half-time of the afternoon's Championship clash.
Fulham Supporters' Trust chair Tom Greatrex said: 'We made the suggestion of bringing Brian back to Craven Cottage during our September meeting with Fulham Football Club. We are delighted that the Club have moved so quickly to make this happen and I know the fans are looking forward to welcoming Brian and Dina back this weekend. Brian's place in Fulham folklore was firmly established over his six years at Craven Cottage, culminating in his pivotal return from a serious injury to lead Roy Hodgson's team in the Great Escape in 2008'.

McBride, who was twice voted the club's player of the year, scored 40 goals in 153 appearances for Fulham and became the first American to captain a Premier League. Since retiring from professional football, the fourth highest scorer in US national history has set-up his own football academy, a company designed to help the next generation enjoy football and become a board member of Urban Initiatives in his home city of Chicago.