Erik Nevland Becomes Patron Of The Fulham Supporters' Trust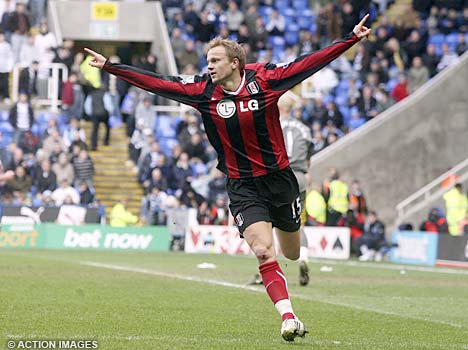 Today we are delighted to announce former Fulham forward Erik Nevland as a patron of the Fulham Supporters' Trust.
Erik played a vital role in some of the most remarkable years since we successful campaigned for our return to Craven Cottage, scoring unforgettable goals in our Great Escape run of 2008, a regular in a side that achieved our highest ever league finish in 2009, and of course made numerous appearances throughout the incredible Europa League campaign of 2009/2010. His final Fulham appearance was during that night in Hamburg, before his return to FC Viking of Norway, the club at which it all started.
Erik Nevland certainly endeared himself to the Fulham fans with a selfless attitude, fantastic work ethic and no little skill, but Fulham certainly endeared itself to him. Now a self-confessed supporter of Fulham Football Club, he is even raising his son as a Fulham fan, and on the weekend when Nevland retires from professional football we would like to wish him like in his future endeavors and welcome him as a patron; we couldn't think of many more we'd like to be involved in our organisation.
Erik said: "As a former player and a Fulham fan its an honour to be asked to be a patron of the FST, and its something I'm doing with pleasure!"