FSF Southern Division AGM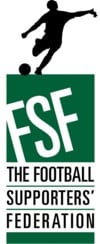 The Fulham Supporters' Trust sent a delegation to today's Football Supporters' Federation AGM held in Westminster.
The meeting heard reports from representatives of the FSF's afiliated members in the southern region, which gave an opportunity for supporters to discuss common problems currently occuring in the game, and was also updated on the progress made on a range of issues by the FSF's national delegates.
The Fulham Supporters' Trust gave an update on the issues affecting Fulham supporters and took part in discussions on stewarding, the governance of the game and indicated a willigness to send representatives to the forthcoming Fans' Parliament, scheduled for July at Wembley Stadium.
Trust members may be interested in heading to the FSF's website for more information on the work done by the organisation.