Former FST board member Michael Gregg looks back on a terrible 2018-19 season for Fulham and forward to what we might expect next year.
Michael Gregg
The only way now I can look at things as a Fulham fan is forward. Who in their right mind wants to look back on a season (my 41st) which has broken so many records and statistically looks like being the worst season in Fulham's history, and that's with 3 games left.
After the euphoria of the Play Off final win on May 26th last year I doubt many clubs, or its fans, have had such a turnaround in feelings. Back in the last few days of the transfer window last summer Fulham was spending money left right and centre and, in the end, spent around £100M to solidify their Premier League position. It was not to be and a mixture of poor signings, poor personal performances by players and mistake after mistake by them, poor managerial decisions and of course three managers has been almost a mirror image of the last relegation season in 2014.
As I write this a couple of days after we played Bournemouth we find ourselves with a Caretaker Manager in Scott Parker.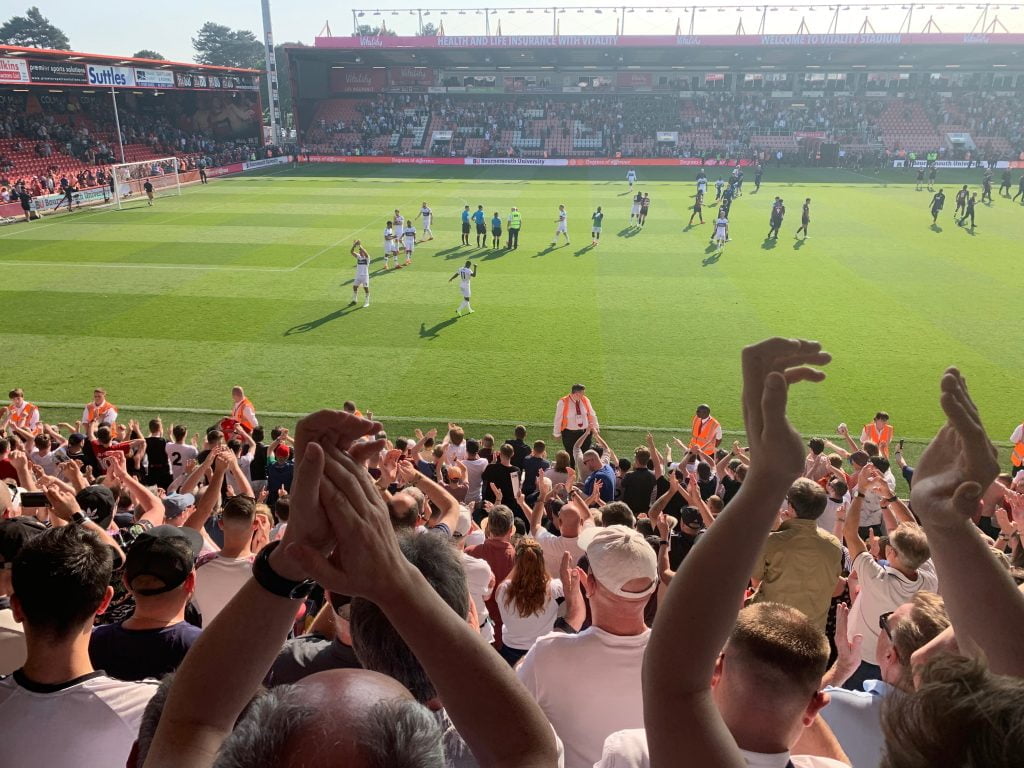 His first 4 games in charge included games against Chelsea, Liverpool and Man City. Along with two away games at Leicester and Watford his managerial career read played 5 Lost 5. The game away to Watford consisted of one of the worst second half performances I have seen this season – and there has been a lot of competition for that title. Parker had 5 games to show what he can offer to Fulham as a manager in the Championship next season, a league that finds people out very quickly. 2 wins in 2 games may well have swung the full time job towards him.
The club and its Owner need to make a decision quickly on who they want to lead the team into next season. I'm not convinced Parker is the right man for the job but he has the advantage of firstly having the seat and secondly knowing the squad we have. Personally, I would try to take Graham Potter away from Swansea. He's had a year at a club which was relegated from the Premier League, working on a tight budget he has held his own in the Championship while producing a team with youngsters that can play a bit. He has that word experience. Experience of the Championship, something which is essential I believe when in that division.
When we last entered the Championship it was following 13 years in the top division. It would be fair to say that the club and the majority of fans were not ready for the challenges that league brings. Its tough, its unrelenting, Saturday games, Tuesday games, Saturday and so on. The Premier League is forever stop start with hardly any midweek games. Out of 38 games this season and ignoring bank holidays we have only played 5 games between Tuesday and Thursday. I miss the midweek games under lights at Craven Cottage – their return is one plus point of relegation.
To get through a long Championship season you need a fit, strong team. Many fans talk about the Championship as being about real football. Its maybe a romanticised view of things but its true the games are much more open and there is more to play for than in the money pot of the Premier League. The top flight involves 14 teams trying to get whatever they can off 6 other clubs and then scrambling around for 40 points from the other 26 games. In the Championship, no matter where you are in the league, you always are aiming for something. It could be the 50 points to stay up or the 70 odd points to make the playoffs. When there 5 games left before last week, arguably the team in 10thwas still fighting for a Play Off position and the 3 teams just above 22ndplace were not safe from relegation.
Anyway, we are back and what are the challenges for Fulham?
Firstly, the Ground, Craven Cottage. Plans are in place for us to knock down the stand which runs along the Riverside. Its been long in the planning and hopefully we will see it torn down this summer and work begin. What this will do is give the ground an odd three-sided stadium, a reduced capacity of around 19,000 with limited away fans. If we maintain our average crowd from the four years as we did last time in the Championship, there's a good chance almost every game could be sold out. Playing wise with no stand the pitch will be open to the elements with the end and, yes, rain coming from that direction usually, the style of play will be affected for both teams. A smaller capacity and compactness of the fans will hopefully raise the decibel levels within the ground. We are a quiet bunch of fans at the best of times: we are going to have to raise our game on that front and no matter how many clappers we are given its going to be tough.
In terms of playing style, Fulham have to find a way to get back to the passing system we had in place under Jokanovic. I doubt we will ever reach the heights of quality we saw under him, but our squad as it is, can really only play one way. When Claudio Ranieri introduced a more direct style in his brief reign, it failed miserably. It's also not the Fulham way. It isn't the way the majority of team who do well in the Championship get out of it. The top 6 teams in the Championship are in the top 10 teams for Possession. You will always get the odd team, like Cardiff, who defy those odds, but keep the ball and you are in with a chance.
The squad we have will change, but maybe not as dramatically as we have seen in previous seasons. Fulham got a lot of criticism for the fact we signed twelve players last summer. That's the headline, but if you dig deeper you realise why we had to do that – and its not unusual for a team going up to sign that many. Bournemouth and Watford who both went up in recent years did the same. The reason it was picked up by so many is the £100M figure. We will see the loans, of which there were far too many, leave and a couple of players return to us. If we don't sell anyone and take up the options on a few players whose contracts are up, then we still have the core of the 2017/18 promotion squad. In fact nine of the team that started at Wembley could conceivably kick off next season at the Cottage. That's highly unlikely no matter how much I hope for it. The club have some key assets which it could if it wanted to cash in on.
Mitrovic is being linked with £50M moves away to China. He's cut a sad figure at times this season up front, usually on his own watching our defence make mistake after mistake. Every Fulham fan would want him to stay but I don't think he will. If we do get those kinds of offers in for him, I would not begrudge him leaving. It would only leave us with Kamara and Fonte as the clubs' strikers so I would expect another couple of strikers, maybe Dwight Gayle, to come in.
Seri, a big purchase with a good reputation in France I fully expect to leave. He's had a tough time from the fans and splits opinions. He's not one I fancy in the Championship so expect him to take an offer to get back to France.
Ryan Sessegnon, one year left on his contract and highly rated has had a tough season showing what he can do. But let's remember he's only 19 next month and already has over 100 games under his belt. I would like him to stay but if he doesn't sign an extension, we would have to sell him.
Tom Cairney is another key player where there is debate on should he stay or leave. I do wonder if his lacklustre performances this season will have scared Premier League suitors, such as West Ham off? If we are to give the Championship a really good go, then players like Cairney will be key.
There are other players within the squad you could argue should leave or will be targeted but most are under long contracts and while financially we may be under some pressure, if you look at the club accounts and project the figures, we can probably get away with one season of keeping almost everyone together along with adding maybe only half a dozen players to improve the squads pace firstly and defensive attributes. When you still have players of the ability of Tim Ream, Alfie Mawson, Joe Bryan, Kevin McDonald, Stefan Johansen, Cairney, Andre-Franck Zambo Anguissa and others who, while maybe failing at Premier League level, are clearly good enough for the Championship, then you can see we are in a far better position than when we were relegated last time.
We know the league, we have the experience in the players if not the management, we know what to expect this time. It will be tough, really tough. It will also be a chance though for the club to find itself again. Find a style and a purpose, something that disappeared when we sacked Jokanovic. It is reset time this summer. Have we learnt the lessons from previous years transfer wise? Will we do our business early? Will we keep the loans down to a minimum? Will we get a new manager? Lots of questions to be answered and hopefully those in charge are working on getting many of them answered as quickly as possible.
I'm looking forward to next season, I want to forget about this one and never speak about it again. I'm excited about being back in a league where every game could be won or lost, where every game has meaning, where every team has a chance. Are we up to the challenge to come back at the first attempt? I see no reason why we can't give it a really good go.