FST board member Dan Crawford reviewed Louis Saha's autoboigraphy Thinking Inside The Box (Vision Sports Publishing) back in 2012 when the former Fulham favourite was playing in Tottenham colours.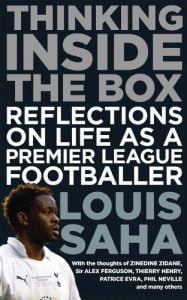 Louis Saha loves scoring against Fulham. He's done many times for Manchester United, Everton and he might sign off at White Hart Lane with the winner in our last game of the season for Tottenham this afternoon. Of course, the elegant French forward used to love putting the ball in the net at Craven Cottage too. It was under the tutelage of Jean Tigana, Christian Damiano and Roger Propos that Saha finally fulfilled the potential most of France had heard about since he shone as an eye-catching youngster at Clarefontaine – shooting Fulham to the promised land of the Premier League, with 32 goals in a fine season, and topping the top flight scoring charts in 2003-04 before leaving for Old Trafford under something of cloud when Manchester United came calling.
Saha's ill-advised comments as he sought a move that undoubtedly benefited his career might still rankle with a section of Fulham's supporters, but reading through his memoir, initially released in France last summer and critically lauded for its honest appraisal of race relations (which is in now vogue following the Front Nationale's strong showing in this month's Presidential elections), you can't help but admire him. The striker admits that he had written around 150 pages before realising that he wanted to write a different autobiography from the type footballers usually publish. He decided to turn journalist, interviewing his compatriots, fellow players and managers, to give the fans an unseen insight into the life of a professional footballer. The result is a compelling read that strays far from the pitch and touches on the frustrations of both an injury-ravaged player and a man who has a lot to say.
Saha's interviews elicit empathy for Patrice Evra, the Manchester United full-back, who cuts a forlorn figure on a Italian platform as he tries to get to Sicily to join his new club, and almost gives up before being offered support and shelter by a stranger from Senegal. There is a revealing one-on-interview with Sir Alex Ferguson, which follows a painful chapter in which Saha reveals the agony behind his failure to be passed fit for the 2006 Champions' League final, and a chapter written by his wife Aurélie, on how she came to London at nineteen, life as a footballer's spouse and the women 'wannabes' who get so much press attention. Saha compares the spirit of 1998, when France won their own World Cup, to the dismay of 2010, with his own frustrations about missing the 2006 final sandwiched in between.
Saha's searing honesty is in sharp contest to the guarded memoirs released by his fellow players while they are still picking up their pay cheques. English professionals, like many of the squad that have been to the last few major tournaments, have 'written' autobiographies that stick rigidly to what happened on the pitch, decrying a few managers, and passing on the tamest of anecdotes from their team-mates, knowing that they still need to forge a career. Saha talks candidly about his life and profession, writing revealingly about the moment when he nearly lost it all, setting aside what has previously described as 'the Professional Sportsman's Personal Sacrifice contract' and foolishly riding a motorbike prior to Fulham's first Premier League home game against Sunderland in August 2001:
"She was sleek and black with knobbly bits here and there. She was oh, so sophisticated. I loved her charm, her feline shape and sassy ass which made my jaw drop. Once I'd seen her in the magazines she was always on my mind. For months I waited, eager to devour her as a wolf waits for a sheep to stray from its flock. Did I own up to my obsession? Of course I said nothing to my family; especially not my father as he is so serious and wouldn't have understood. I told my girlfriend and our conversation was electrified. I felt small but gave in to temptation. When I removed the packaging, I let out a little whimper. I was not licensed to drive my beautiful KTM Duke and had less experience with motorbikes than an eight-year-old. I remember how I rode her with a great big smile on my face; my dreads whipped by the wind as I went no more than 20 or 30 miles an hour. What a loser!"
It was, Saha admits, 'a lesson in temptation'. And he learnt quickly as his friends Manu and the former Arsenal and French international forward, Sylvain Wiltord, accompanied his now-wife to A&E to watch the NHS surgeons try and patch up Fulham's star man, who had bagged a brace at Old Trafford, only days earlier. Somehow Saha managed to score the crucial second as Tigana's side picked up their first Premier League points, but it was a little too close for comfort.
Now 33, Saha gives little indication that's he ready for the pipe and slippers of retirement. His form since joining Tottenham on loan in January – he's scored four crucial goals and created plenty more – arguably should have persuaded Laurent Blanc to take him to Poland and Ukraine, but it'll certainly ensure that there will be plenty of suitors should David Moyes not decide to extend his contract at Everton beyond the summer. There are plenty of Fulham fans – myself included – who feel he'd be the perfect foil for the potent Pavel Pogrebnyak, especially if Saha – who sighs as he says 'I've nearly been great' – still has a point to prove.
Great, like legend, is a word overused in modern sport. Saha's been most impressive as a man, unfailing polite and friendly, as well as articulate and confident in discussing France at the crossroads with Jeremy Paxman on Newsnight last week. In a book I'd recommend you all read, he shares his pride at his nine year-old son correcting his English. Even if the title's a play on his predatory instincts inside the penalty area, long may 'King' Louis continue thinking outside the box. It's very refreshing.